It's hard to describe the beauty of Viewpointe Estate Winery. As you round the corner and drive up to this estate and see it juxtaposed against Lake Erie, you can't help but be a bit in awe. It's just a stunning property – especially on a day as beautiful as the one when Shawn and I visited last year.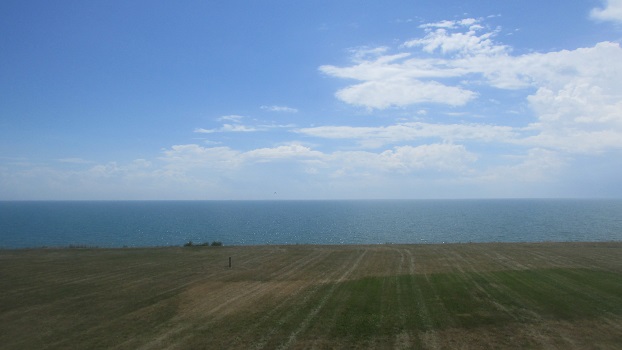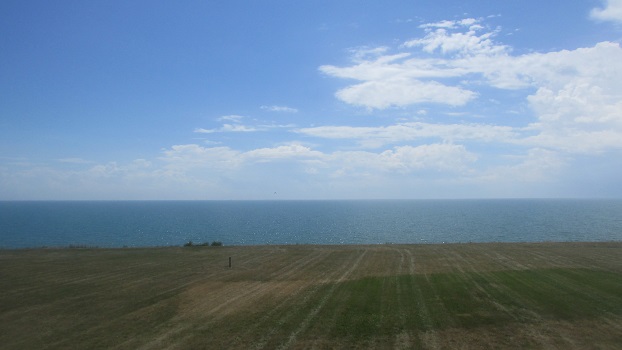 Viewpointe is both a winery and a restaurant, although it's unique in that the restaurant is all outdoors. This was particularly impressive for us since our visit coincided with an absolutely brilliant thunderstorm that blew up off the lake as we waited for our lunch to arrive – we entertained ourselves while we waited by taking photos of Shawn with enormous storm clouds behind him.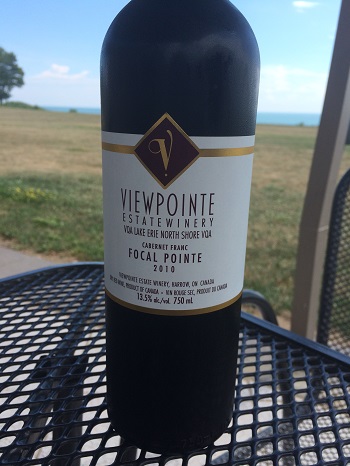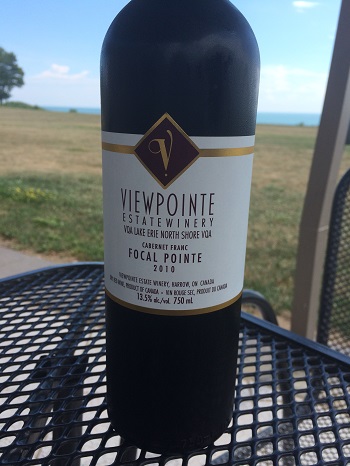 The covered section of the patio offered ample cover when the storm finally hit and it was absolutely amazing to watch it move across the water as we ate our local perch (delicious) and enormous salad (so very good) and I enjoyed a glass of their very good local Riesling (dry, but fruity – nice acidity, green apple and pear on the palate). Mother Nature might not always provide such striking entertainment, but the patio is a must-do if you're visiting in summer. Right on the lake, the views can't be beat and the food here is very good.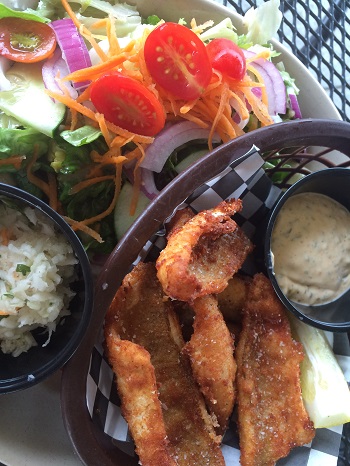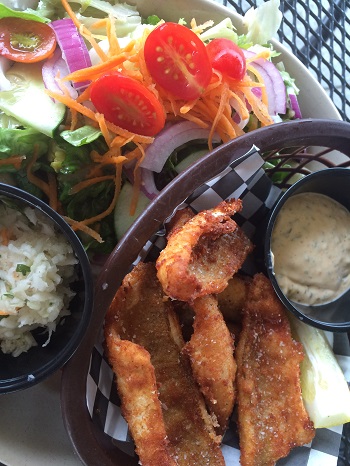 We toured the entire property while we were there and got to see their busy tasting room and ample space for corporate events and weddings (both inside or out). It's a big estate with lots of options. They opened in 2006 and celebrated 10 years this past November. They are focused on local as much as possible in both the wines and their restaurants, including the weddings and events they cater. All wines are made from grapes grown on site and they are very proud of keeping things regional.
With three separate vineyards, all with different terroir, Viewpointe offers a range of wines, from their easy-drinking Big Bluff red blend (11 months on French oak, big, fruity and Merlot-dominant), to their rich and spicy Cabernet Franc, which has lots of deep red fruit and hints of black pepper. They have a barrel-fermented Chardonnay that is big and oaky with lots of butter, lemon and vanilla on the nose and a nice richness on the palate. This one screams out for big, creamy foods.
After a tour and tasting and our delicious meal, Shawn and I made sure to pick up a bottle of the Cabernet Franc, which we look forward to enjoying one evening soon. I'm hoping Mother Nature might gift us with a storm that night – it won't be half as spectacular from our balcony in the city, but it would be a wonderful reminder of our visit to this lovely estate.
We visited Lake Erie North Shore as guests of Ontario's Southwest and Tourism Windsor Essex, so my tasting and lunch were complimentary. My opinion, including that you should totally buy the Cabernet Franc and order the perch when you visit, are my own. Seriously, the perch is incredible.