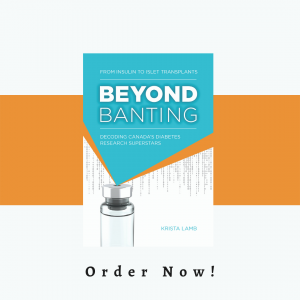 On March 1, 2021 Rock's Mills Press released Beyond Banting: From Insulin to Islet Transplants, Decoding Canada's Diabetes Superstars, a new book by Krista Lamb.
The book, which was released to coincide with the 100th anniversary of the discovery of insulin, looks at the robust and exciting innovations in diabetes research that have taken place in Canada since Sir Frederick Banting's seminal discovery.
"When I speak to people about diabetes research, they are familiar with Banting and Best, but they often have no idea of the significant contribution Canadian researchers have made since Banting's time," says Lamb. "This book shares compelling stories about the scientists who are continuing to develop new treatments and working towards a cure. There is so much happening in this community that everyone in Canada can take pride in."
Beyond Banting tells research stories from a non-academic perspective, showcasing the scientists behind the microscopes and the many ways these research projects extend into the lives of everyday Canadians. From the first successful in-human islet transplants that took place in Edmonton, to the development of two ground-breaking new diabetes drugs in a Toronto laboratory, this book takes readers across the country for an in-depth look at how Canadian scientists are changing the world.
"We're very excited to be working with Krista on Beyond Banting," said David Stover, publisher at Rock's Mills Press. "Most of us know the story behind the discovery of insulin, but it's amazing how many important advances have been made since that time—and how many of those were made in Canada."
Lamb is the producer and host of the Diabetes Canada Podcast, which won the Canadian Podcast Award for Outstanding Health and Fitness Series in 2020. She also hosts the From Beta Cells to Bicycles podcast for the BC Diabetes Research Network and  the Actions on Diabetes Podcast. Throughout her career, she has written extensively about health and research topics and she currently provides communications support for a wealth of Canadian not-for-profit organizations.
Beyond Banting is available now:
Purchase from Campus eBookstore Canada