Planning a few days away to explore the wines of Lake Erie North Shore (LENS)? Shawn and I were recently invited to check out the area and we highly recommend it! Over two days, we visited four wineries, a distillery and a wealth of other local venues. From the bountiful local fruit stands to the delicious restaurants (many offering amazing local perch) and beyond, this is a gorgeous part of the Ontario's Southwest and well worth visiting.
Below, is a short version of what we discovered on our trip. I'll have even more info in future posts where I go in depth into our winery visits and winemaker chats.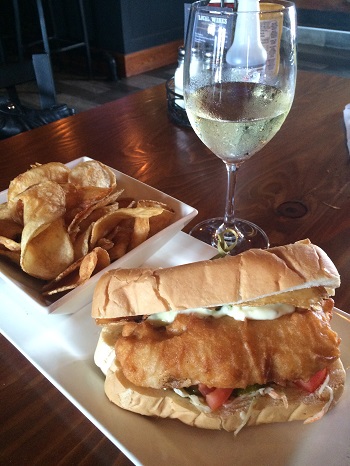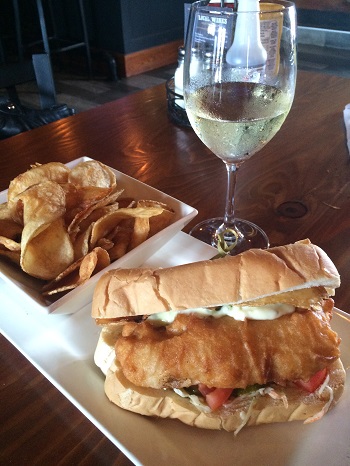 We started out from Toronto on a Wednesday morning and made it to Billy's Taphouse in time for lunch. Billy's is a great option for local craft beer and wine (I tried the Colchester Ridge Estate Winery Chardonnay), along with locally-sourced ingredients (they have their own garden). They have an extensive menu of delicious pub-style fare and a relaxed and fun atmosphere.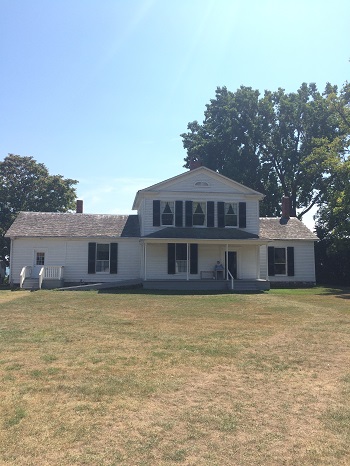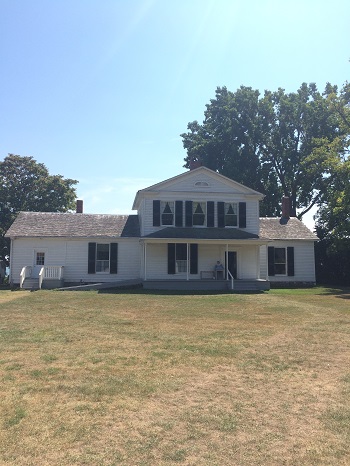 The John R. Park Homestead was our second stop and a huge surprise for me. Pioneer homesteads and wine trips seemed like a weird fit, but after a few minutes chatting with curator Kris Ives, I was completely sucked into the experience. The Homestead itself is a fantastic way to step back into the past and truly immerse yourself in pioneer times and the staff and students in period costumes do much to make this as realistic an experience as possible. We enjoyed visiting the blacksmith shop and learning about the process of making authentic textiles with a student expertly working a loom, but it was the foodie experience that had me hooked. This is a locavore's dream with a working orchard from which they make authentic pioneer-style cider and they recreate pioneer recipes from items grown on site. While walking through the extensive grounds Kris mentioned their pick and sniff tours, where school children learn about the many things grown on site and I thought that would be a brilliant tour for wine students wanting to better understand the aromas of so many of the scents that are found in our wines.
While we were sad to leave the homestead, we were excited to move on to winery stops at North 42 Degrees Winery and Sprucewood Shores Estate Winery. North 42 Degrees is under construction right now, with their new tasting room and restaurant set to open in November 2016. I had the chance to taste through their wines and interview winemaker, Martin Gorski, so watch for a full report on North 42 Degrees and all our winery stops coming up soon. We did enjoy a visit to their Serenity Lavender store, though, where we picked up a gorgeous bar of lavender soap.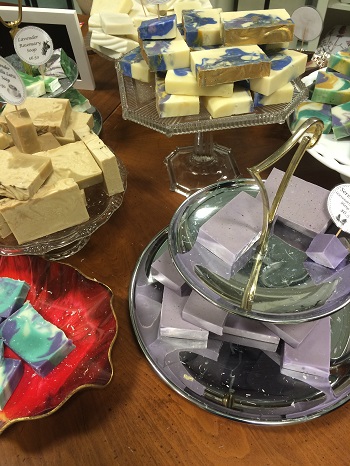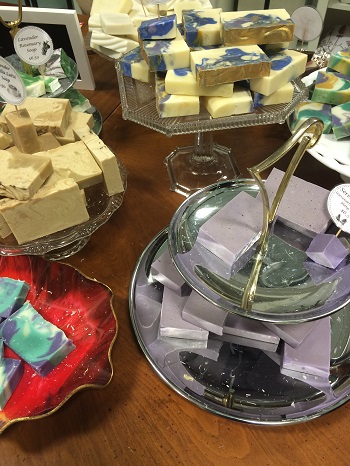 At the gorgeous Sprucewood Shores property, I toured and tasted with co-owner Steve Mitchell and learned much about their planned expansion and got to taste their new apple wine (a surprising winner in the fruit wine category for me).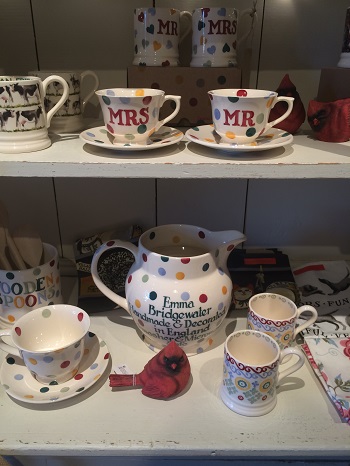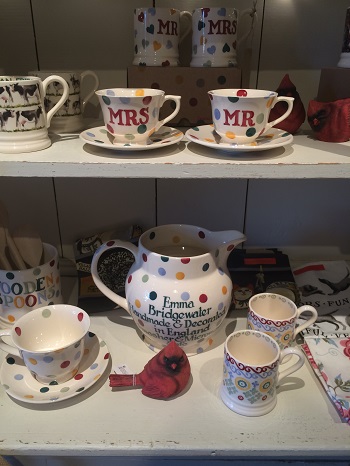 We ended an intensive day of exploration at the brand new Wolfhead Distillery, where the restaurant was absolutely slammed (pretty impressive for a 10-week old business on a Wednesday night), but they made room for us to enjoy a delicious dinner and tasting experience. We both very much enjoyed our entrees (I had the drunken shrimp and scallops and Shawn had the ahi tuna) and I loved the unique mojito they make with their grapefruit vodka. There's nothing minty about it, but it's a fun and refreshing cocktail for a hot night.
On day two, we headed out early to check out the shopping in Harrow, Ontario with a special stop at Blimey's British Store & Gift Shop. The couple who own Blimey's are just the loveliest people and they have created a space that embodies what they love about England and the surrounding areas. The shop features a wealth of British goods, as well as an extensive grocery section, but it also has French glassware, Scottish jewelry and lots of Irish touches too. Why? Because they liked the products. The shop is so genuine and full or truly lovely things, I couldn't resist picking up a wooden duck with rubber boots from England and a box of delicious Irish tea. Shawn had fun picking out some fun things from the grocery section too and there were dozens more things we wished we could bring back with us. We will definitely make a special stop at Blimey's when we're next in the area and I have no doubt there will be lots of British and European items to tempt us. This really is a must-stop shop.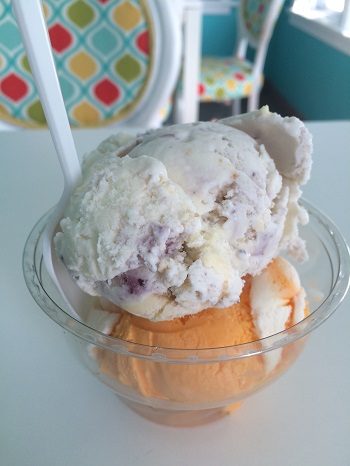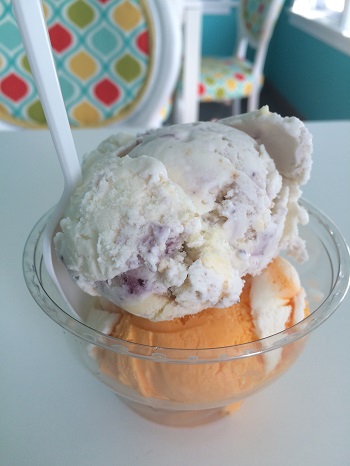 We headed to Viewpointe Estate Winery next and driving up to the winery I let out an audible gasp – it's stunning. Right on the shores of Lake Erie, the winery comes into view as you turn into the driveway and with the sun shining on the water it was just breathtaking. The tour and tasting were fantastic (more to come soon) and lunch on the patio was just delicious. We were treated to a special show direct from Mother Nature when a storm came in across the water while we were eating. We stayed dry under the canopy and were able to watch the storm drench the area and then disappear just as quickly as it rolled in. A wonderful treat during lunch on a crazy hot day.
From there, we visited Oxley Estate Winery – another beautiful property with a warm and inviting restaurant. We had a wonderful chat with owner Ann Neydon Wilson under the pretty yellow canopy, which I'll share in a future post.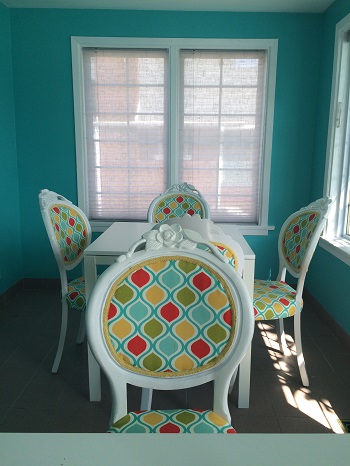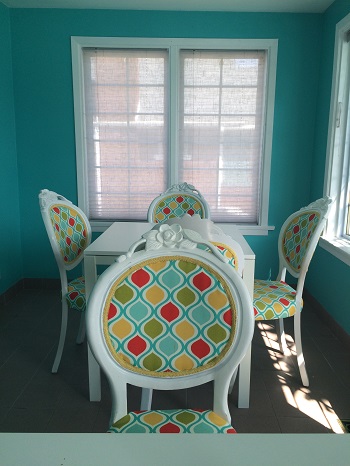 On a hot day, an ice cream break seemed in order, so we headed to Sweet Retreat in Leamington where I quickly fell in love with the gorgeous décor and Shawn was won over by the Kawartha Dairy ice cream they served (it really is the best). On top of the dollhouse-adorable indoor décor, Sweet Retreat has a fabulous backyard with a koi pond, Muskoka chairs and all sorts of nooks and crannies for little ones (or big kids to explore). A delicious and delightful stop.
We ended the day at our delightful bed and breakfast, The Iron Kettle (more on that soon too), and were thrilled with all that we were able to achieve in our two days of wine tourism in the Windsor/Essex area of Ontario's Southwest.
As always, Shawn played designated driver – a must if you're going to spend time tasting (and especially if you're not spitting). Be sure to stay safe and keep this in mind when planning your wine trail adventure!
Have you been to the LENS region? What were your favourite stops?
*While our trip was complimentary, our opinions are (as always) our own.