I was speaking with someone on our recent trip to Lake Erie North Shore (LENS) about how much I had enjoyed interviewing Oxley Estate Winery's owner Ann Neydon Wilson and they said, "Don't you just wish you were related to her?" And it was so true. From the moment she greeted us at the winery and ushered us out to the gorgeous patio at Oxley's restaurant, you felt like she would be the most fabulous aunt ever. She tried to coax Shawn into trying dessert more than once, told us all about their lovely neighbours, had us laughing about her experiences booking hip, young bands for their events and just made us feel like old friends and not tired bloggers from Toronto on an epic LENS adventure who she'd literally just met.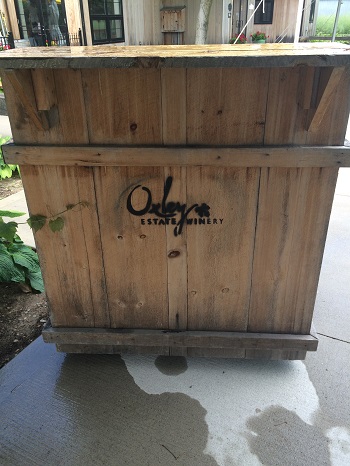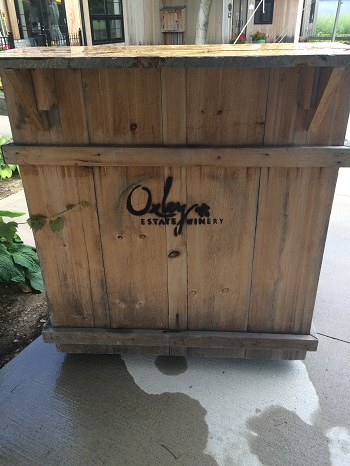 If you visit Oxley and meet Ann, you will probably want to hug her when you leave – even if you just met her – and that's sort of how I felt about Oxley overall. It just feels comfortable. The patio is so pretty and the tasting room is modern and fresh, but it's the kind of place where they sell $5 jars of relish and the staff seem genuinely happy you're there.
We didn't have a meal here, as we were completely booked for meals on our whirlwind tour and I'd just tasted through the Oxley portfolio with Ann's husband Murray at a recent Toronto event (you can read about that here), so this was really just a chance to see the space and have a fabulous chat with Ann. It was awesome.
Oxley is a labour of love for Murray and Ann – one that they gave up corporate careers to pursue, but things seem to be coming together nicely. While they've struggled a bit with their vines through some rough winters, they're starting to see the grapes develop and the wines are proving popular.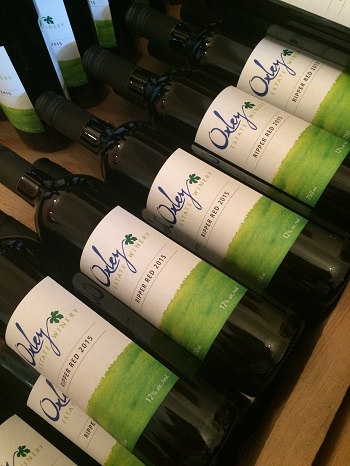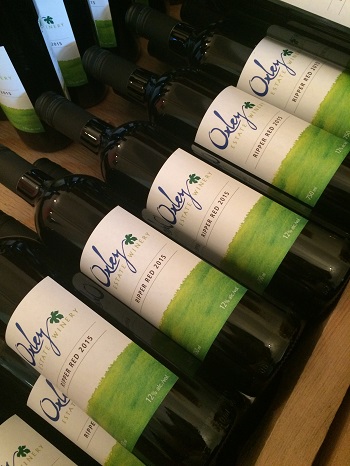 The restaurant, which wasn't even in the original plan, is a big success. They had planned to just be a country winery and Ann thought she'd add on a small kitchen so they could do some catering. In talking with others in the industry, though, she was persuaded to put in a larger kitchen – just in case. When they opened the winery, just in time for that year's "Explore the Shore" event, they weren't really ready, but they had hired a chef to make some food and the compliments on those offerings were so prolific that they decided to consider a restaurant. It was a good idea – even on the blisteringly hot Thursday afternoon when we visit, the patio and indoor seating are quite full, and if you'd like dinner it's best to book ahead.
It's been a few years since that frantic opening – when 3000 people stopped by on the first weekend, far more than the fledgling winery had expected – but enough time for them to realize they could have a successful business on their hands. That said, they're still not at a place where they're resting on their laurels. Wine is a tough business and while the restaurant helps, they are also growing root stock to sell to Niagara and for export as a secondary income stream. Like North 42 Degree's lavender farm, the root stock provides a back-up revenue stream that is a wise idea in the fickle business of wine.
And continued growth for Oxley is on the horizon. Since they bought the original property, they've gone on to buy the neighbouring farm and are hard at work creating a space that draws from their own wine tasting experience. They wanted to develop a fun community, with a great spirit and make Oxley the type of space they liked to visit when they were touring. On this warm summer day, under a bright yellow awning, chatting with a lovely woman who we kind of wish we were related to, it's hard not to think they've succeeded at that.