I've been meaning to write about WineWire for a while now. I met co-founder Adam Bekhor at an event a few months ago and have since watched several episodes of his always-informative WineWire TV show. His business premise, offering customers a convenient online ordering option to purchase cases of wines from independent wine agents, is also pretty great.
Adam, along with partner Nelson Abreu, is making wines that were previously difficult to get available in one place. Love a wine in a restaurant, but can't find it at the provincial liquor store? Check WineWire, where there are hundreds of wines available from around the world.
To kick off the new business, they held a successful pop-up wine shop in Toronto a few months ago. Prospective buyers could drop in, sample some of the wines available and place orders on the spot. The wine would then be delivered to their door. The event was such a popular one that they're now hosting a pop-up shop in Ottawa from Tuesday, June 17th to Friday, June 20th. The pop-up will be located at 107 Murray Street in the Byward Market and will be open from 12 p.m. to 8 p.m. daily. There's no cost to taste from the more than 100 restaurant-only wines they will be serving.
I asked Adam a few more questions about WineWire below: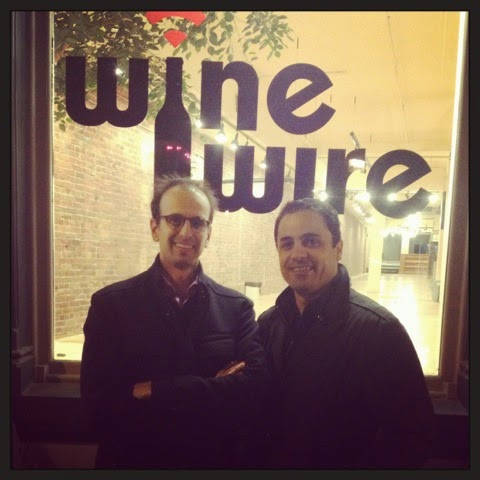 Adam and Nelson at the Toronto pop-up shop
WineWire is such a fantastic way for people to get access to wine – how have you found the response so far?
Since we went live with WineWire.ca in September 2012 the response has been extremely positive! Consumers love the fact that they can shop for 650+ wines they only find in restaurants and have them delivered to their door. Despite our successes, it's also been an incredible learning experience. No one has ever tried to sell wine the way we do at WineWire.ca. This has forced us to think outside the box and take measured risks in the way we market our wines and represent the brand. This has resulted in us coming up with innovative brand building concepts like our pop-up wine shops and the strategy we have used in developing our social media presence on Facebook (fb.com/winewire) and Twitter (@WineWireCA).
Do people have to purchase a full case through WineWire? Are there smaller purchase options or any mix and match possibilities?
Excellent question! In Ontario, the only entity that can sell a single bottle of wine for home consumption is the LCBO or at a winery. This means that all the wine found on WineWire.ca is sold by the case, generally 6 or 12 bottles depending on the wine. Unfortunately, we also cannot sell mixed cases. Not being able to sell mixed cases has been a real pain. All of our analytics and direct customer feedback indicate that that consumer are begging for this option.
I love WineWire TV – what made you decide to start a video program to go along with the site? We love WineWire TV too! Nelson and I started WineWire TV for a number of reasons, the most important of which was that it's a ton of fun! In what other job do you get to hang out with the who's who of the wine world and just talk? We have had a lot of fun pushing the definition of what passes for a wine video and our customers seem to love it. Case in point, one of most watched episodes was a show we did with a high-end dry cleaner all about getting red wine stains out of your clothes. Not your traditional wine video, but people loved it!
We also started WineWire TV as a way to share a podium with people who were passionate about wine. This had been huge in cementing WineWire as an online meeting place between the wine industry and consumers. We have been able to create an organic community by taking a more inclusive view of the world. Finally, WineWire TV has been central in establishing our brand online. As you can tell from our videos, neither Nelson nor I take ourselves too seriously. We don't dumb down the wine information and we don't make (in our opinion) the fatal mistake of talking down to our customers.  Despite our "Wayne's World" production values, we are very proud of what we have created. With 157 episode under our belt and counting we have no intentions of slowing down!
You have done pop up stores in Toronto and now Ottawa – are there plans to do more? What has the response been?
100%! We are planning on opening a WineWire pop-up wine shop in Muskoka in July and a second pop-up wine shop in Toronto this November.
The pop up shops are a great way for people to sample and then purchase wines – how important is that to the business model? The concept is very important to our business model. It allows us to take our online experience offline. I often quote one of our agents when it comes to selling wine, "You can't beat getting sips to lips". We are 100% on board with this, but wanted to approach the "selling" concept from a different angle. The concept of our WineWire pop-up shops is to provide our customers the feel of a "real" boutique NYC/San Fran wine shop by setting up in a traditional retail space. Customers would be able to come into our pop-up shop and taste for free from over 100 of the 650+ wines offered on WineWire.ca. Once tasted, the customer can order the wine using iPads set up around the shop. The wine would then be delivered to the customer's home/office a few days later.
If you're in the Ottawa area, be sure to stop by the pop-up shop in Byward Market from Tuesday, June 17th to Friday, June 20th. (107 Murray Street 12 p.m. to 8
p.m. daily).
Learn more about WineWire here: http://winewire.ca/
And here is one of my favourite episodes of WineWire TV featuring my good friend MJ from The Cellar Sisters talking about many of my favourite things – you can watch all the episodes at: http://winewire.ca/winewiretv