The second annual OSW in the City event was a great success this year. The iYellow Wine Club produced bash brings together the best of the wine, food and beer from Ontario's Southwest. Shawn and I very much enjoyed trying some fantastic food (the perch taco from The Combine restaurant in Norfolk is the best fish taco either of us has ever had) and tasting through some of the region's wineries. We chatted with three different wineries during the afternoon session and what we learned gave us three more reasons to visit the area again soon.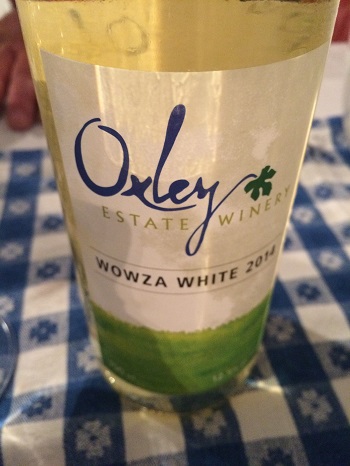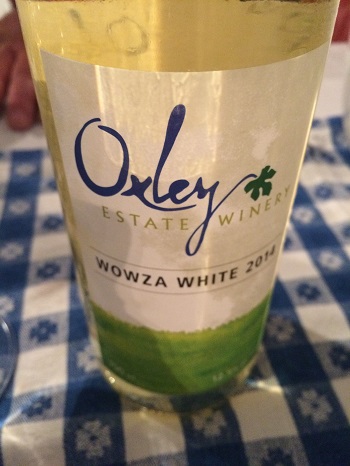 Oxley Estate Winery
Located in the Lake Erie North Shore (LENS) region, Oxley is a labour of love for Murray and Ann Wilson, who turned their farming backgrounds into wine success after transitioning from corporate careers. They did copious amounts of research before choosing LENS and have loved the process of turning their passion into a bustling business. While Murray still works part time in his hockey business, they have both dived into winery life, experimenting with different grapes and spending time chatting with customers in their tasting room. Ann runs the winery, while Murray handles the cellar and field, where he has grown to love the process. "You can manage the vision from conception to implementation," he says with a smile, noting that they have a hand in every aspect of the production from grape to consumer.
Both of the Wilsons' love interacting with people who are passionate about wine and who share their interest in viticulture, so Oxley is perfect for them. They have had their share of struggles with the weather, as have most winemakers in the region, and they have been experimenting with hearty hybrids and outside the box vinifera to grow alongside their more traditional grapes.
One such grape is Regent, which Murray explains is considered vitis vinifera and is more disease-resistant and more amenable to the weather there. Even after a recent polar vortex, their Regent survived. While he didn't have any for us to try, he says the unique flavour and texture isn't perfect for a single varietal wine, but they are having good results with blending it with Merlot. "It's a fun grape to work with," he says. "It has an inky, dark colour… it looks like Barolo and when you put it in your mouth it's a bit thinner."
Oxley did have four wines on hand to try, including their light and refreshing Wowza while blend, their rosé (lots of apple on the nose and palate), the earthy Cabernet Franc and the Cabernet Franc/Pinot Noir blend and the flavourful Cabernet Merlot blend. Visit Oxley Estate Winery at 533 County Road 50, Harrow, Ontario.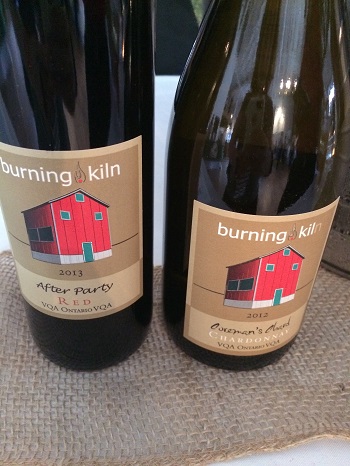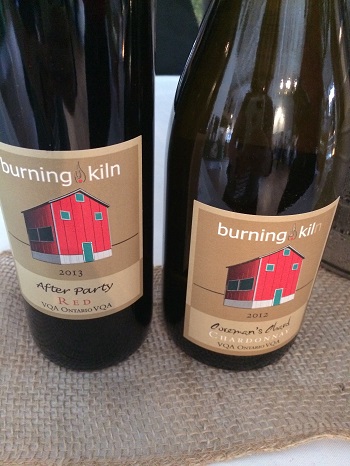 Burning Kiln Winery
Shawn and I have been looking forward to visiting Burning Kiln for a few years now and we enjoyed this opportunity to taste through a few of their wines and chat with representative Emily Shoff. The winery, which is housed in an old tobacco farm, is well-known for their popular and well-priced wines, as well as their unique and beautiful space. They have taken their tobacco heritage and infused that history into the name of the winery and the wines, while developing into a hot spot for tourists and locals alike. Their partnership with neighbouring Long Point Eco-Adventures has led to several unique wine touring options, like their "Zip and Sip" tours.
Emily explains that when the owners were transitioning away from tobacco, they went to Brock University to see if the land was viable for grape vines. They area is known as "Ontario's Garden," so they knew that there was lots of potential for agriculture, but weren't sure wine grapes would work in the region. After studying the land, Brock assured them that grapes were a viable option and the Burning Kiln team set about planting several acres of vines.
A boutique winery working in an artisan style, Emily explains that Burning Kiln is focused on reflecting the story and history of the land in the wines they make in order to honour the tobacco farmers that came before them. Visit Burning Kiln Winery at 1709 Front Rd, Saint Williams, Ontario.
Muscedere Vineyards
I fully admit to butchering Muscedere Vineyards name every time it slips off my tongue, but given how good their 2012 Cabernet Sauvignon is, I will have to practice pronouncing it. The family-run vineyard, located in Essex County, was planted in 2002 and opened in 2006. They have 12 acres planted and produce 2500 cases a year of primarily vinifera (they also make a Baco Noir). The wines are all hand-harvested and reflect the region's unique terroir.
Chatting with Melissa Muscedere, it's hard to believe she wasn't initially interested in working in the wine industry. The youngest child in the family, she was too young to really care much about wine when her brothers talked their father into opening a winery upon his retirement. Her dad works harder than ever now, she says with a chuckle, and after finishing her degree, she felt the pull to return to become a part of the family business. Chatting with her as we taste through the family's Riesling, Merlot and that delicious Cabernet Sauvignon, it's easy to see that she has become a passionate and dedicated spokesperson for the family business.
With a wood-fired pizza oven operating on their patio over the weekends, Shawn and I hope to have the opportunity to visit this summer and enjoy a glass of wine while overlooking their vines. Visit Muscedere Vineyards at 7457 County Rd 18, Harrow, Ontario.
Have you spent any time in Ontario's Southwest? What were your favourite wine and food adventures? Share them in the comments or on social.