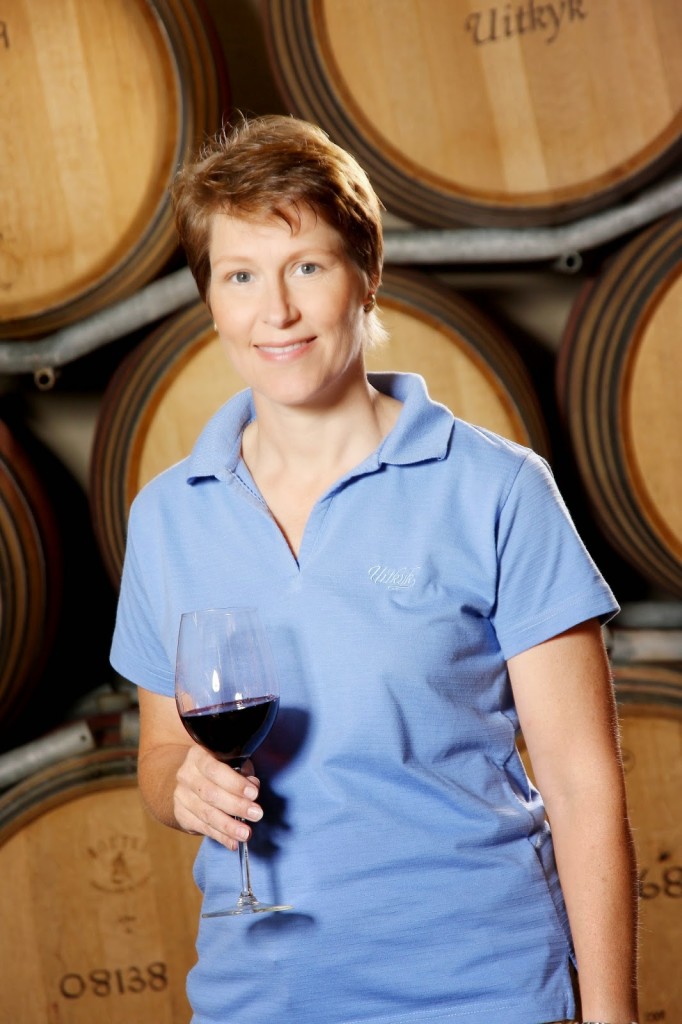 I'm a sucker for a wine label featuring a cat. I suspect wine marketers know there are more than a few of us out there, as there's never a shortage of feline images at the LCBO. And so when I saw that cats figure prominently on the labels of South Africa's Flat Roof Manor wines, my interest was piqued. The cat images in this case were inspired by a legend that came along with the 350-year-old estate the grapes are grown on.
At her recent appearance at the iYellow Wine Cave, winemaker Estelle Lourens didn't go into the details of the legend (though I wish she had), but she did tell an audience of wine lovers a whole lot about the Flat Roof wines we were tasting that evening.
Estelle, who was studying biophysics before winemaking became her passion, walked us through two very different wines from the Flat Roof Manor line – the Pinot Grigio and the Merlot. Flat Roof grapes are grown on the Uitkyk Wine Estate, a well-respected and long-established South African winemaking operation. But the team there wanted to try something new – including growing some grapes not well-known in South Africa.

They were also interested in moving into the international market – an endeavor which might not be as easy with wines under the Uitkyk name (I'll let you try and figure out how to pronounce that). So Flat Roof Manor was born and the cats began dancing across their wine labels.
Pinot Grigio is not a grape that's common in South Africa, and hearing Estelle talk about the challenges of cultivating the grape and turning it into an internationally-accepted wine is fascinating. While this wine is not typical of other Pinot Grigios I've had, I did enjoy it. It has a nice, fruit-forward nose and a good balance of citrus and acidity. It was interesting to learn about the use of carbon in this wine and the challenges of figuring out how to extract the colour from the red grapes, while not taking out the flavour.

The next wine we tried was the Merlot. There's no new wood used in this wine, which has helped Estelle create a version that's softer and easy-drinking. Merlot is admittedly not my favourite grape (please, no Sideways comments), but this one was well-made. I think it would be a good fit with a red meat pairing.
The team at Flat Roof has also been growing a Malbec that is available in B.C. and Alberta and a Shiraz that is currently South Africa only.
As always, I enjoyed the opportunity to hear from a winemaker about the decisions made when creating these wines. The process of making wine is one that I find completely fascinating and I always jump at these invitations to hear winemaker talks. I'm so glad I was invited to attend this event.
Have you ever tried a Pinot Grigio from South Africa? What did you think?