I have never been shy about my love of Lighthall Vineyards' Progression sparkling wine and, in general, I'm a pretty big fan of the wines Lighthall makes. Winemaker Glenn Symons has created something very special in his corner of Prince Edward County – even his own Lighthall brand cheese – and I am thrilled he agreed to be the next winemaker profiled in my ongoing interview series.
Why did you decide to become a winemaker? How did you study winemaking?
I've been passionate about wine since I was "legally" allowed to drink it, and have been a home winemaker for 25 years now.  I'd always wanted to get into winemaking on a larger scale, and when I divested from pharmacy operations, I finally had the opportunity to do so.
In terms of formal academic training, I didn't have any at the outset. However, when I purchased the vineyard from Alice and Peter Menacher early in the 2008 growing season, they agreed to stay the remainder of the season to allow me to learn how they had been looking after the vineyard.  In exchange, they kept the harvest from that year, which they sold to Huff Estates (as in previous years).  At harvest time, I went to Huff along with the fruit, and worked the entire harvest with Frédéric Picard, the winemaker at Huff, where I learned to adapt my knowledge from small-scale to more commercial-scale winemaking.  Since that time, I have been studying and working towards a winemaking certificate through distance education at UC Davis.
Was it hard to change careers and take on this new challenge?
It had always been my ultimate dream to end up at an estate winery, so I was quite motivated from the beginning with the career change.  It has been a tremendous challenge keeping up with a huge learning curve, as well as the variation in vintages and growing seasons.  From a lifestyle perspective, it's entailed many more hours than I expected as well.  Overall though, I have no regrets whatsoever!
What have been the biggest challenges of winemaking in PEC and what have been the biggest successes? 
The winters in PEC are most definitely the most difficult challenge.  The protection of the vines through burial was difficult to get a handle on, but after six winters I've learned a lot.  The cold in winter can be variable, and seems to have the single greatest impact on potential yields–if they are not ALL perfectly buried, the yields in the following vintage can be next to negligible.  Add to that the year-to-year variation in climate, rainfall, humidity, disease management, it's all a very delicate juggling act.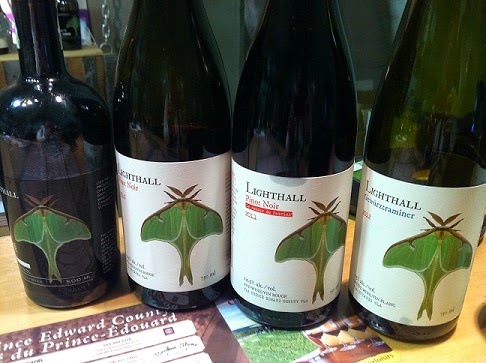 Personally, my biggest success is the 2014 vintage – after the coldest winter since I've been here, we had a very slow start to the season, but the stars aligned in the spring when we avoided the dreaded late frost as well as rain during flowering, and we had a record-breaking fruit set.  Although the summer itself was not quite warm enough, we had a perfect fall – hot and dry weather brought the Chardonnay and Pinot Noir through to the fullest ripeness I've experienced, with the best yields to date.  The final hurdle will be to bring the 2014 wines to bottling without messing them up – I think my seven years' experiences at Lighthall Vineyards (LHV) have taught me what works and what doesn't work in the winery, and I'm confident the 2014 wines will be my best since the beginning.
The Muté fortified dessert wine is so unique – how did that come about? 
The Muté arose from a bumper Vidal crop in 2011.  The yields were more than expected, and after regular harvest for the Progression that year, I still had 30% of the fruit left on the vines.  Unsure of what to do with it, it stayed on the vines through to the end of December.  Over the Christmas holidays, my kids were struggling with keeping busy, and I decided New Year's Eve to put them to work in the vineyard.  We harvested what was left, with a few friends, and the resulting juice I had destined for a late harvest product.
Once in tank, I felt the juice tasted very familiar, but I couldn't put my finger on what it reminded me of until I got home that night. I had some Pineau des Charentes as an apéritif before dinner, and it hit me – that's what the Vidal juice tasted like. So rather than fermenting the newly pressed juice, I had some old wine that I didn't want to market which I got distilled by my friends at Still Waters Distillery in Toronto. I used the distillate to fortify the Vidal juice, turning the juice into "Pineau du County" as it were, aged it in old Chardonnay barrels for a year, then released it.  Although it is significantly different from authentic Pineau des Charentes, there are striking similarities.  Every glass I have brings me back to that day!
What should people be most excited for in the coming vintage?
From LHV's perspective, although the 2014 vintage was slow to start, and almost stalled mid-to-late season due to lack of heat units, the fall caught us up, and led to what I would consider the ripest as well as most voluminous harvest to date.  The Chardonnay and Pinot Noir have developed never before seen depth and expression of varietal and terroir characteristics.  At harvest, the sugar and acidity levels were in perfect balance.  I think that after proper aging, the 2014 wines should be the most PEC-terroir-driven, classic examples of what Chardonnay and Pinot Noir can give us, with unequaled balance.  And the prices should not increase, as the yields were superior as well.  2014 should be the best value-for-money vintage on record.
Want to learn more about Lighthall Vineyards wine? Stay tuned for an upcoming post on how Glenn's Progression sparkling wine came to be.