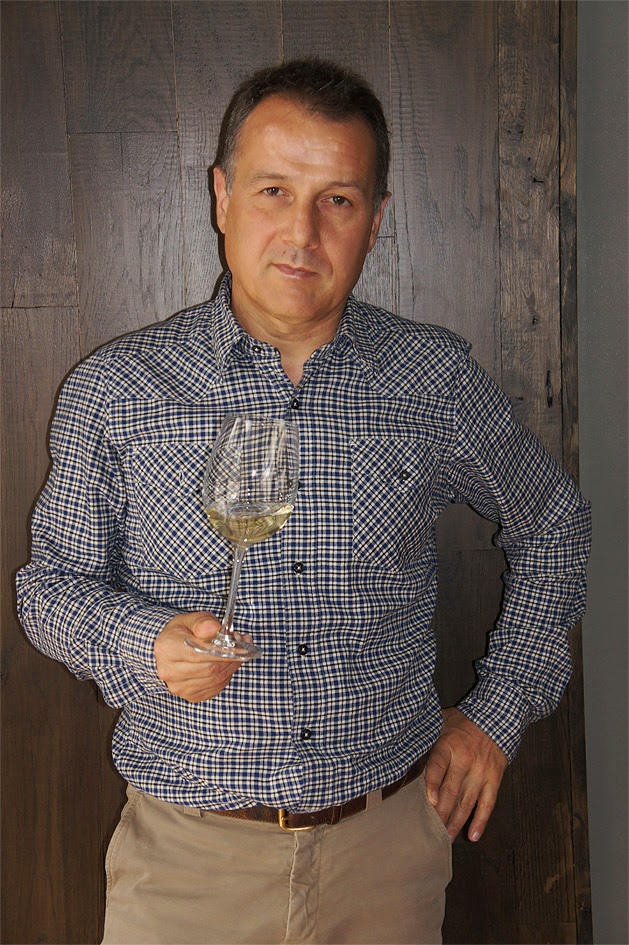 The night before harvest, winemaker Antonio Fattori confesses, he's always a little bit nervous. Even though his family has been making wine for generations and he knows that all the pieces are in place, every year he has the same feeling. "The night before, I feel like a beginner. I feel my stomach is strange, I can't sleep. Then when you start, everything goes well and you know what to do, but the night before is always like the night before your exams in university."
That Fattori, a seasoned winemaker, still feels this way even just one day of the year is comforting for this wine student. Having the chance to interview him and taste through his wines together during a recent visit to the iYellow Wine Cave is an extraordinary opportunity, though I feel a bit out of place. I am learning about wine as fast as I can, but there are very few instances when I truly feel confident in my knowledge or sure in what I'm saying. I still feel most at home talking about Ontario wine, so to have the chance to interview this wonderful Italian winemaker is a challenge for me. Hearing him tell this story of his harvest nerves is a comfort and, I think, a good analogy for wine – no matter how well you know it, you're never completely sure of what you'll get.
Fattori wines are well worth seeking out.
The Runcaris 2012 Soave has peach and lemon notes on the nose and is a crisp and refreshing white with good minerality. It would make a nice aperitif for the summer.
The white blend, Roncha, a blend of 50% Garganega, 20% Pinot Grigio and 20% Trebbiano of Soave is a nice blend of sweet with a little spicy. Fattori wanted to create a wine with its own characteristics, which he has, and the label, which features a 15th century map of the area where the grapes were grown, speaks to that. There is a connection between the history of the land and the wine.
Fatorri explains that the location of the vineyards is perfect for the white grapes he grows. They are at the foot of the Alps, with a fresh stream nearby. There is a very low temperature in the morning, even in the summer, and then the heat increases quickly before dropping again at night.  The volcanic soil is essential to the minerality, freshness and aroma of the wines.
The red grapes are also well-placed for the qualities Fatorri hopes for in his wines. The Col de la Bastia 2011 Valpolicella, which is rich and very drinkable at this age, has sweet and delicate tannin and a nice mouthfeel. This is one that I would pick up to enjoy with dinner right now – it could age a bit longer, but it's drinking just fine today.
The Amarone, a 2009, should age well, it's a bit young right now, but the potential is clear.
Fattori and I chat about aging wine, and I learn quite a bit from him. He explains the difficulty in predicting if a wine will age well. There are characteristics that can help you understand that a wine is one to be cellared, but you can't know for certain how long. He explains that he recently had an Amarone from 1964 that tasted very nice and an 85 or 86 that did not. You can age a wine for 40 years, he explains, but sometimes it's gone. "Sometimes wine is suffering in the bottle," he says. "A wine that we think won't be might be beautiful, but another we think will be and it isn't.  You can be really surprised."
As a wine student, these conversations are fascinating. I think it's a great lesson, though, as we all learn the elements that make for good aging in wine – acidity, fruit, tannin – but the magic of wine is that unknowable quality. It's that maddening mystery that sucks us down the wine rabbit hole.
My favourite wine of the tasting? I fell in love with the Col de la Bastia Valpolicella Ripasso with its rich, layered flavours. I look forward to having the chance to drink it again soon.
Fattori also has a new sparkling available in Ontario – Ca D'or – I haven't had a chance to sample it, but after discussing it with Antonio, I'm intrigued. I'll be looking for it at the LCBO soon.
For more information on Fattori wines: http://www.fattoriwines.com/en/company/