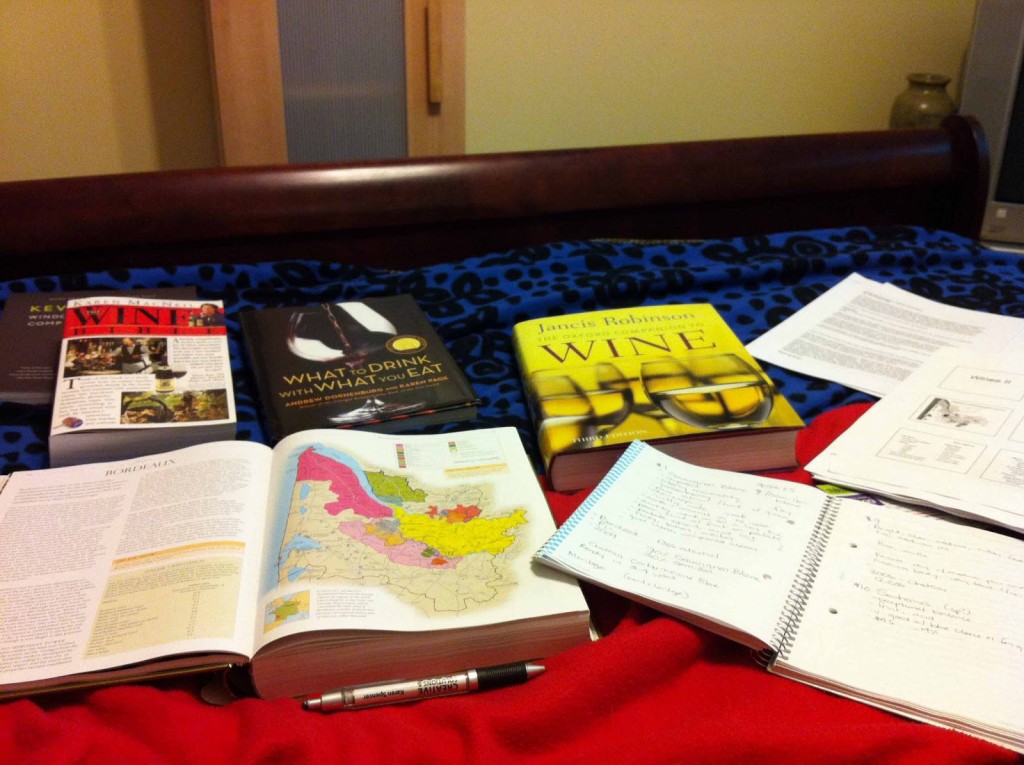 So, I spent my weekend doing a little light reading…
Apologies for the lack of updates recently – it seems that while wine is my major writing inspiration, it's also the cause of my lack of time to blog! It turns out that Wines II is about ten times harder then Wines I, so I've been spending my evenings and weekends with my nose buried in wine books. Not the worst fate in the world, but I'm starting to miss my life just a little.
I'm not sure why I struggle so much with wine classes. I mean, I covered some of the reasons in my
Wine Overwhelm
post, but I definitely spend more time than most of my classmates studying, yet they seem to be 'getting' it a lot quicker. How do they remember all the wine communes in the Medoc so easily when I spent a week cramming just to get those down? And some of them can remember the Chateau too!! I really should have paid more attention in French class. Not to mention that I'm still figuring out the whole tasting part. I mean, lanolin is a hard concept in wine! Not to mention all those other things…
We're moving on to Italy now, which I suspect will be even harder, so we'll see how that goes. I may get a lot of flack for saying this, but I'm not a huge fan of Italian wines (at least the ones I've tried so far). There were no wines in our Southern Italy class that made me go 'wow' and other than a very good Valpolicella I had at
Sugo
recently and an amazing Amarone I got to try at a #TOWineDinner, I haven't been blown away. I'm told that once I try some especially good 'big Bs' I'll change my mind, so I'm open to the fact that I may come around. Please feel free to leave your suggestions in the comments section because I'd really like to know what I'm missing.
While I'm very much enjoying my current course and have been lucky enough to get a really good instructor, I still wish there was a great Ontario or Canadian wine program available. We don't really cover Canada in my current course and, realistically, if I ever end up working in wine it will be in Canada. I've certainly done my fair share of tasting and learning here, but it would be nice to have a class I could take that focused on Canadian viticulture. Anyone have tips on that? In the meantime, I guess I'll just have to keep pestering the winemakers with questions (and luckily they're a friendly and informative bunch).
Regularly scheduled posts should be back this week – I've got lots to cover, including my first international wine trade show and our upcoming trip to Ottawa, where I'm treating Shawn to a few days of beer tourism in return for all the time he's spent driving me around wine country. Thanks again for reading and keep those wine suggestions coming.