There is only one item more plentiful in our house than wine—tea. My cupboards truly runneth over with little bags and jars of loose leaf tea. I think tea, like wine, appeals to the part of my brain that likes to combine flavours and textures to create a unique drinking experience. As with wine, loose leaf tea has the potential to be truly magical.
That's why I was so excited to learn about Pluck Tea, a Canadian company creating blends that take tea to the next level. There's nothing worse than enjoying a lovely meal at a restaurant and having a wine list full of inexpensive plonk, or a tea list that consists of cheap bags of orange pekoe. A brilliant glass of wine can bring a meal to life, and a splendid cup of tea just makes everything better.
Pluck Teas' founder, Jennifer Commins, gets that. A tea sommelier, her company is founded on the idea that tea should be special. She uses the best quality teas from around the world, combined with local ingredients to create what she describes as, "one-of-a-kind tea blends as distinct and unique as a well-aged wine."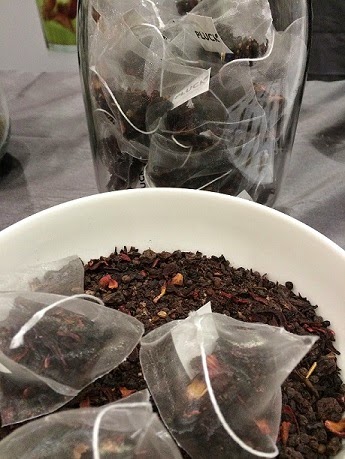 The Southbrook blend
And to make the wine connection even stronger, Jennifer has partnered with wine companies on at least two of her blends: Niagara Icewine, which combines Ontario Icewine with a peachy base of white tea, and Southbrook Berry Blend, which is made using grape skins from Southbrook Vineyards in Niagara.
Pluck's decision to partner with Southbook was what first caught my eye – the delicious burst of fruit flavour this tea brings to my mug sold me completely. I loved how Pluck captured some of the unique qualities of a fruity red wine in a fantastic cup of tea. I was equally impressed with the Spirit Tree Crab Apple blend, which combines green tea and cinnamon spice with fire-roasted apple pressings from the Caledon-area apple cidery.
"Pluck is always on the lookout for local growers to supply delicious products that can be integrated into our teas," says Jennifer. "In the case of Southbook and Spirit Tree, not only are these products delicious, but in both cases Pluck is able to rescue a by-product of their core (pardon the pun) business: grape skins from Southbook and apple pressings from Spirit Tree.
"I approached Bill at Southbrook in the early days after steeping up some of their BioFlavia product (finely ground grape skins) and he was able to divert whole dried skins to Pluck for our production. In the case of Spirit Tree, they reached out to me directly with some samples of apple pressings in hand and we created a Spirit Tree holiday blend. Beyond the ingredients themselves, both of these companies are run by fantastic people who truly 'get it' when it comes to sustainability. I feel very fortunate to work with them."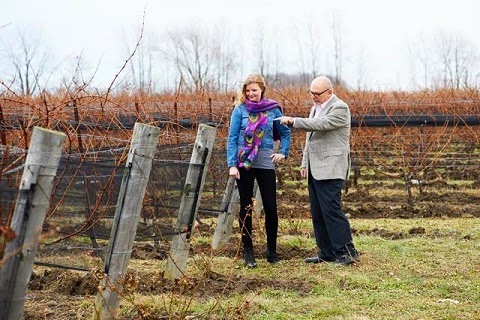 Jennifer and Bill at Southbrook
The feeling is mutual for Southbook's owner, Bill Redelmeier. "We at Southbook really appreciate the opportunity to collaborate with Jennifer at Pluck Tea. Her total devotion to maintaining high quality standards, and creating compellingly delicious beverages, aligns perfectly with my own goals," he says. "We also identify with her spirit of independence, and pluck, in competing in a market dominated by multi-national brands, by focusing on building relationships with our local community."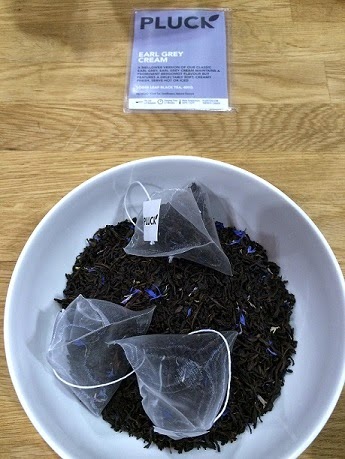 I'm a sucker for a great Earl Gray
The fact that Pluck takes advantage of ingredients that might otherwise be wasted makes them even dearer to my heart. The company is built on an ethos of sustainability. "At Pluck, everything we do is guided by "Tea for Good." Supporting Ethical Tea Partnership members, sourcing locally, and upcycling by-products of the local food industry all support this mission," says Jennifer. "As we grow, I will be seeking out more and more Canadian grown ingredients to integrate into our line. We also offer a buy-back program for restaurants, where we purchase sealed teas left over from their previous supplier and donate them to The Stop—a local community centre and food bank."
I know many of my fellow wine-lovers are also mad about tea, so I encourage you to check out these wonderful wine-inspired blends (even the ones with no connection to wine are quite fabulous). They are bursting with delicious flavours and you can feel good about supporting a company that is helping the local economy and the world around us. Pluck Tea is available via their website (the best selection), at Chapters/Indigo stores and in other select stores and restaurants across Canada.
Have you tried Pluck Tea? What was your favourite?
* Photos featuring Jennifer provided by Pluck.