In July, I attended my first Wine Bloggers Conference (WBC). Those of you who follow me on Twitter no doubt saw many updates over the three days I was there, as I tried to capture as much about the event as possible.
Every year, WBC is held in a different wine region. This year, it was Buellton in Santa Barbara County. I'd never been to California before, so when I signed up I was excited to learn more about California wines. Shawn wasn't so keen on attending a three-day wine conference, so he agreed to join me afterwards and extend our trip to cover even more of California wine country (from Buellton to Paso Robles, to Monterey to Napa).
I was nervous as I prepared to leave – there were no other bloggers from Ontario going and I had never met anyone else who was attending in person. Nothing intimidating about that! But what I've learned so far on my vinous adventures is that the wine community is an amazingly welcoming one, so I took a leap of faith and hoped for the best. My faith was well-rewarded.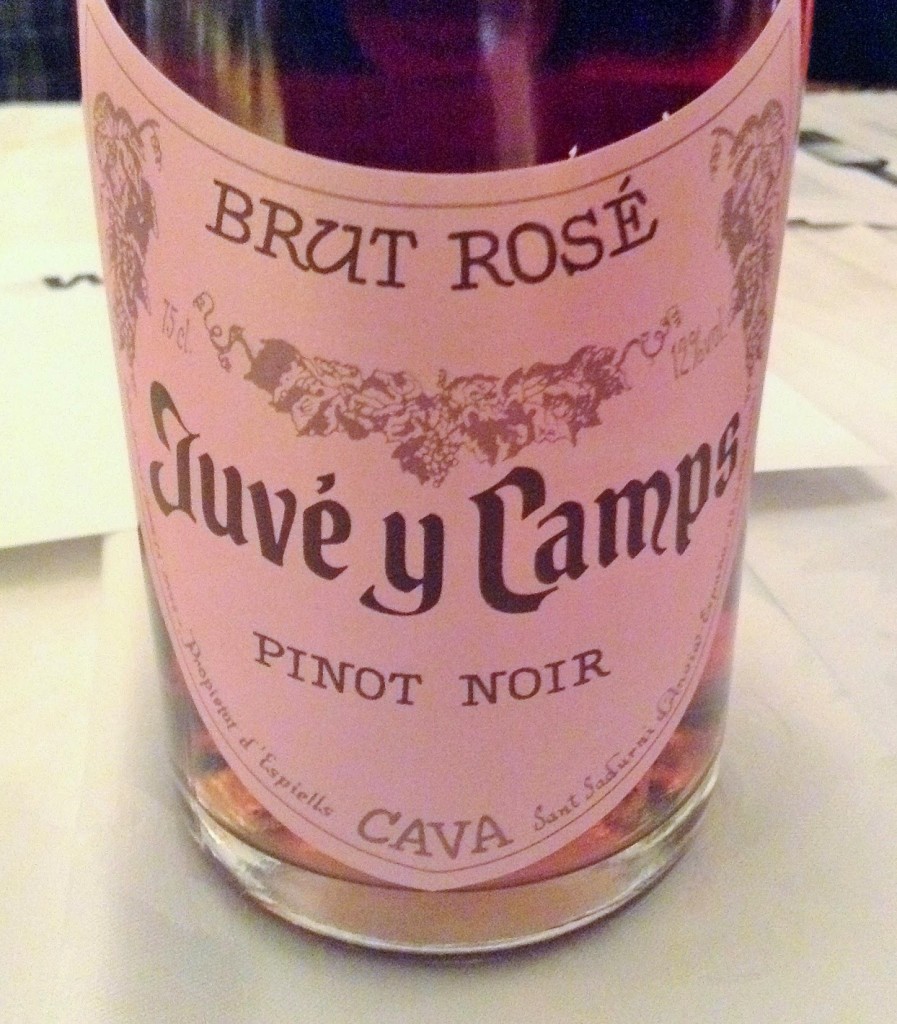 A personal favourite from one of the tastings.
The amazing Bill Eyer from Cuvée Corner helped me plan my trip, as did Holly Evans-White – two lovely Twitter friends who were so kind to share their time and thoughts. And when I arrived I met other bloggers on the three-hour shuttle from LAX. Having been a fan of The Academic Wino blog for many years, I was thrilled that Becca is as nice in person as I'd hoped. And Elizabeth from The Vineyard Trail took me under her wing (and that of her fellow winers – Miki and Tom Joe).
While it's a bit long, here are some of the highlights from the conference, along with a few of my favourite photos. If you're wondering, I've already registered for next year's WBC in the Finger Lakes, so the highs well outweighed any lows!
Highs: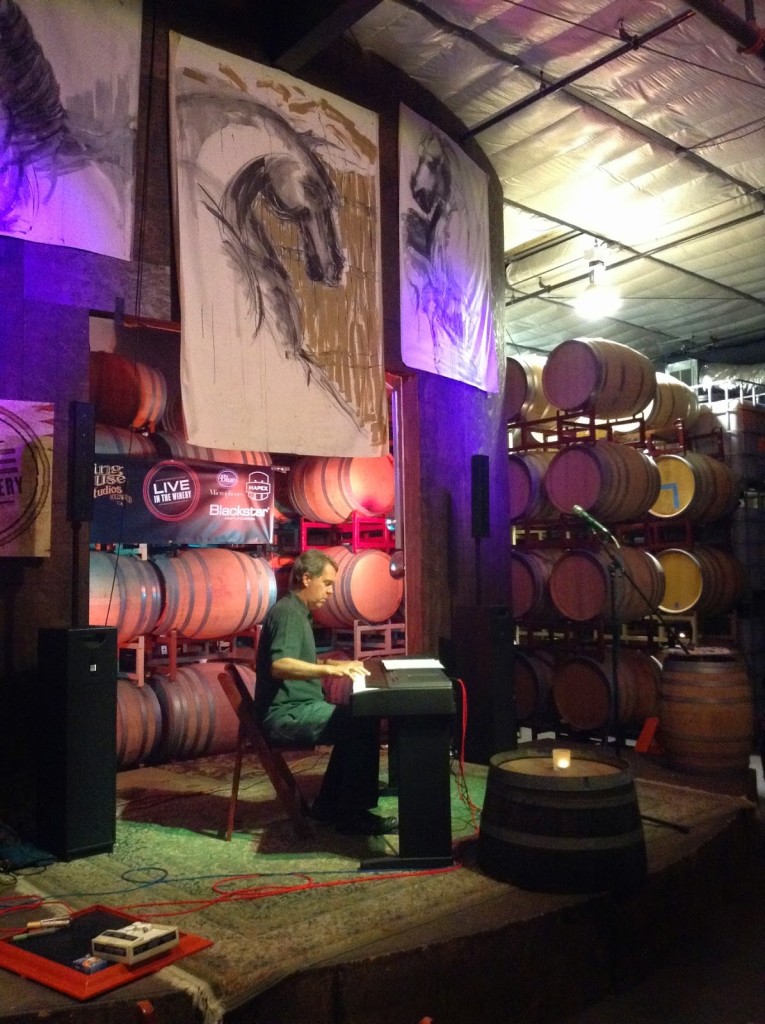 At Standing Sun Wines
The Thursday night party at Standing Sun Wines, where we were treated to a late-night reception with local wines and a host of delicious desserts, was fantastic. I got to tour the winery's art gallery courtesy of Christine from Standing Sun (who had also very kindly helped me plan my trip to the area) and tried a few of their excellent wines. I admit that I was so exhausted from a travel day starting at 4 a.m. Toronto-time that I wasn't as present at this tasting as I hoped to be, but it was still a wonderful experience.
Friday morning's Wines of Portugal brunch was a delicious opportunity to taste Portuguese wines paired with brunch items from Brazil, Japan, Portugal and India. It was a lovely spread and I was thrilled that there were so many options without red meat, so I had lots to try. I didn't drink much wine at this event (and spitting was the norm at all events), but what I did try was delicious and a good reminder of how versatile Portuguese wine is. I'm glad to have had so many opportunities of late to enjoy wines from the region,
The official opening and the keynote from Corbett Barr was a major highlight. I admit I had never heard of him before the event, but I was blown away by how inspiring his message was. As someone who is struggling with what to do in terms of continuing my wine education and with how best to incorporate the blog in my life, he offered much wisdom. I understand this was the first year they had a non-wine related keynote and I have to say I was very pleased with this portion. I took away much I can use moving forward.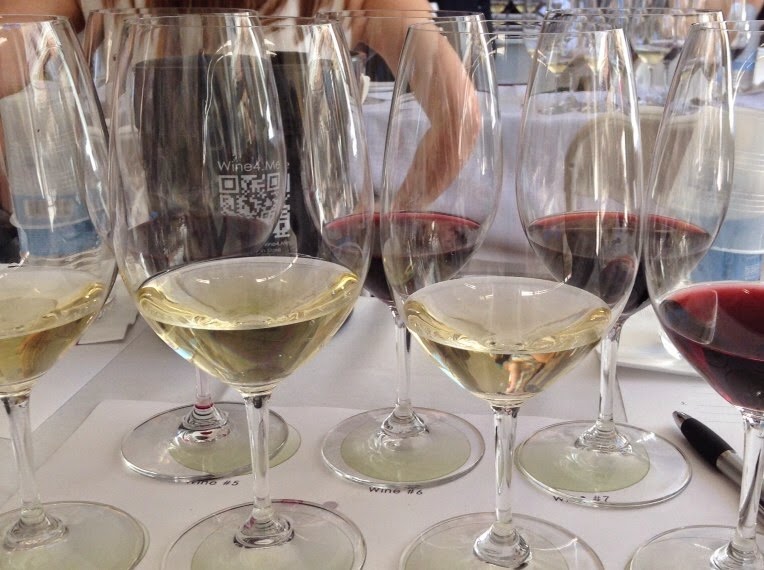 Learning all about wine blends.
The Wine Discovery breakout session – When the Sum is Greater than its Parts: Wine Blends from Around the World was fascinating. I learned so much in this session and it truly felt like a master class on international wine blends.
Friday night we were whisked away for dinner and tasting at one of the local wineries. Each of ten buses went to a different location and I was thrilled to visit and have an incredible meal at Buttonwood Winery. I'll have a full post on that experience later.
Friday night there was a reception for Wine Tourism in North America and I did my best to try a few more wines (please note that I was spitting at every event except dinner, so the amount of wine consumed was minimal). I was so tired – jetlag is an evil thing – that I didn't stick this one out very long, but I understand that many fellow bloggers did and then partook in some great after parties. I envy them their stamina!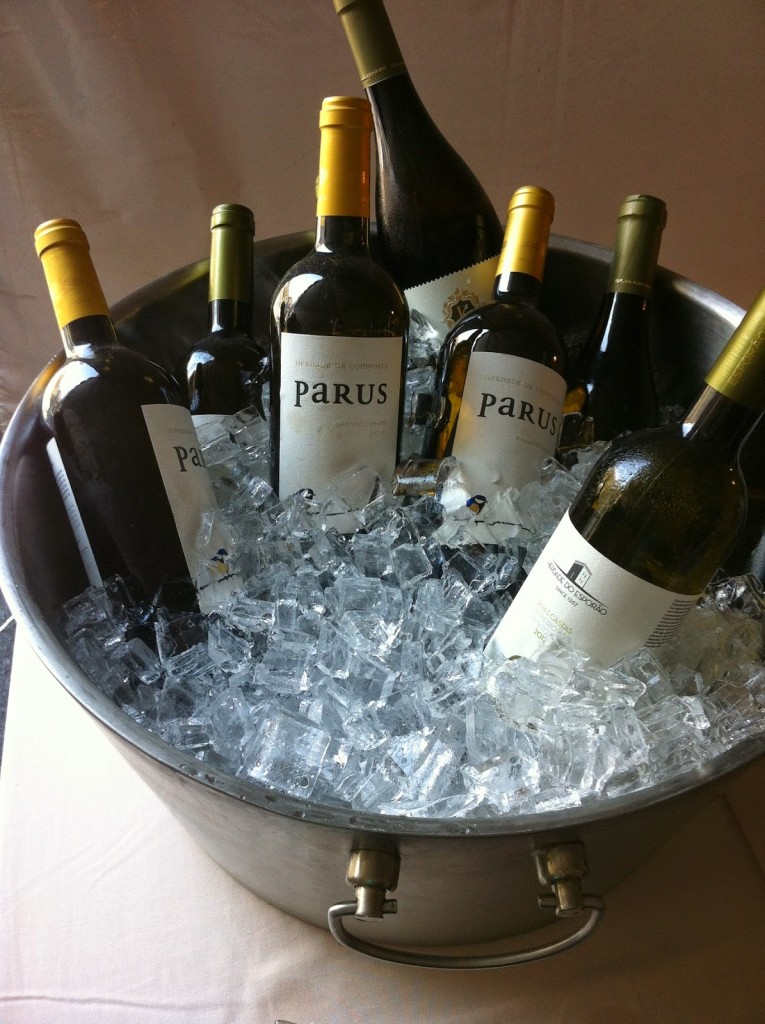 Saturday's breakout session on Search Engine Optimization was excellent. This was one of the many where I could barely take notes fast enough. I loved this session and the host Timothy Resnik was personable and spoke at a level that didn't make me feel like the technology-challenged idiot I sort of am. There was lots to learn here and I walked away feeling inspired and excited about realistic things I could do to increase my blog's chances for being found.
Saturday's lunch was a delicious spread of various salads with wine pairings from our hosts – The Santa Barbara County Vintners Association. I got to try even more local wines and the food was very good. I don't know who did all the catering for the hotel events, but the food was always top notch and the service from the Marriott in Buellton was really incredible.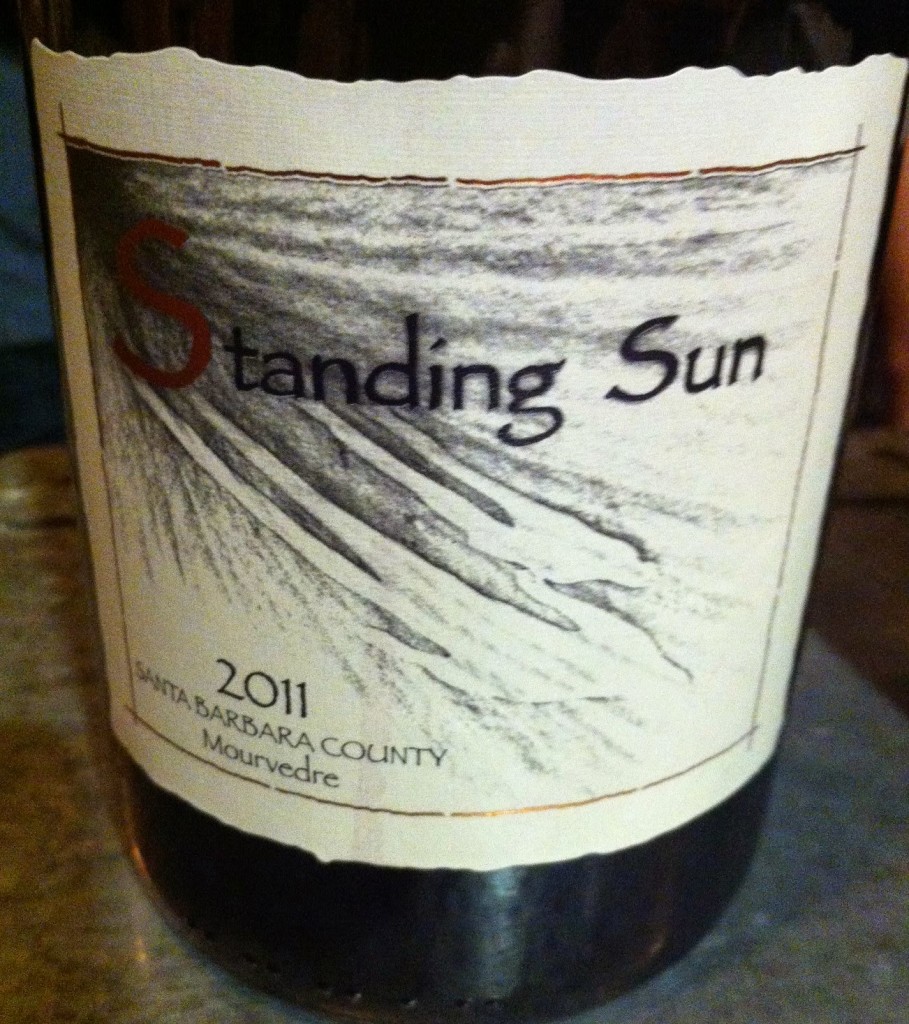 After lunch I attended a breakout session on the New Wines of Greece: Ancient Wines… Modern Vines hosted by the very funny and refreshing Levi Dalton. Shawn and I are planning a trip to Greece next year, so this was one of particular interest to me. Levi was fabulous and made me even more excited to visit and try more wines.
There were many other WBC events I enjoyed – the panel of Santa Barbara winemakers was informative and gave a good foundation on how winemaking in the area had evolved. And I did a breakout session on The Business of Wine Blogging that was hosted by two fitness bloggers, where I picked up some interesting tips. The Photography and Video session was very well done. The panel was more high-level than I anticipated – having a professional commercial director or the ability to hire a film crew is out of the realm of possibility for many bloggers, but it was still an interesting and informative session.  I think that if I was doing marketing for a winery and not a small, personal blog this would have been a much more effective session for me.
I had mixed feeling about the live wine blogging, which I'd heard much about in advance. It's basically speed dating with wineries. Each winery has five minutes to visit the table, pour a taste and then explain the wine – all while we try to blog or tweet about the wine. It went well for the first few wineries, but I quickly got lost trying to keep up (I'm notoriously slow at tasting notes, so this was a real challenge). While I loved being able to try so many wines and meet the winery reps, I felt I was trying so hard to get my notes done and my Tweet posted that I wasn't even really listening to them. I worried that I seemed rude and that I was missing key information on the wine. I liked the take-away info each winery provided, but it came well after my Tweet was posted. I'm still not 100% sure I'd want to do this one again, though, I really liked trying the wines. I skipped the red session the next day – though I hear I missed out on some awesome wines.
The Panel of Professional Print Writers was another mixed one for me. A lot of bloggers have written extensively about this panel and I'm not sure how much my thoughts add, but here goes. As someone who trained and worked as a professional journalist, I was interested in what the panelists had to say, but I think on some level there was a lack of understanding about the audience. There seemed to be a sense that everyone attending strived to be a professional writer and be published in magazines – certainly not the goal of many bloggers. And it felt as though there was some disdain for blogging in general. I have huge respect for all three writers on the panel and am a fan of their work, but I felt that perhaps a more diverse selection of writers (was there not one female wine writer available?) and a better understanding of who they were talking to would have helped. Still, there was enough genuinely good advice given about the art of storytelling, the importance of editing, and managing the fine line between editorial and advertorial to make this a positive experience for me.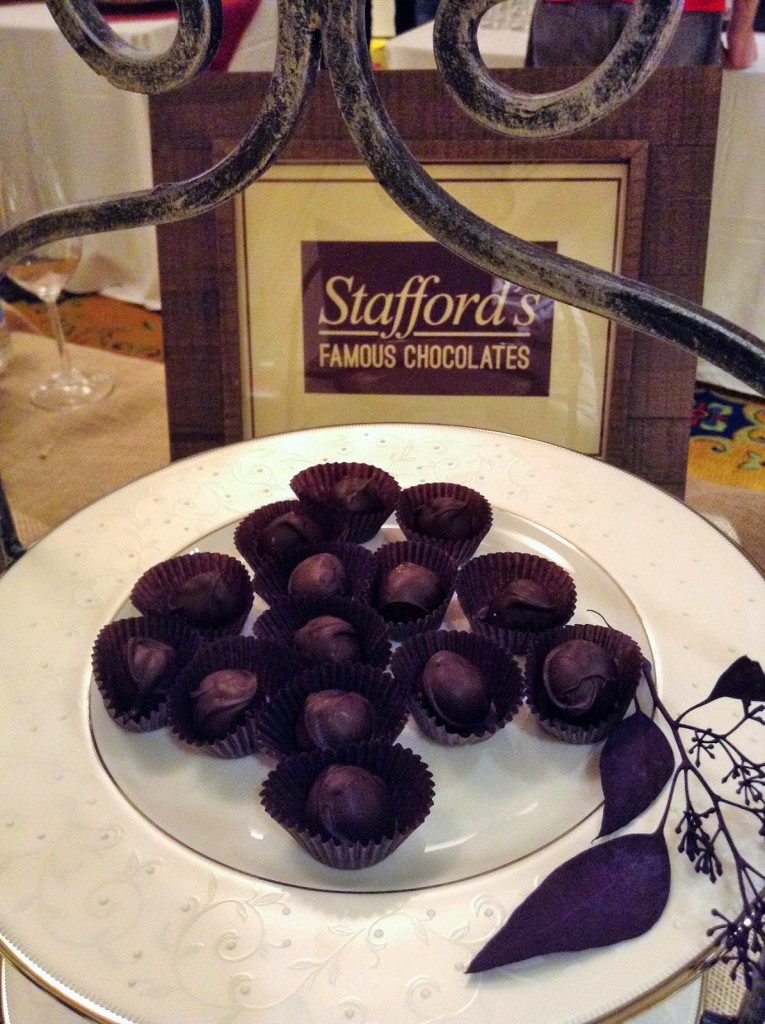 Delicious Zin-infused chocolates
One big conference take away for me was that when I signed up and made my travel arrangements in January, I didn't realize there were so many pre and post events. I missed out on some great winery visits because I didn't get there until too late Thursday and we left for Paso too early Sunday. Next year, I'll know better.
Overall, WBC was incredible. I made many new friends and contacts, I gained a much broader understanding of a wine region that was new to me and I took away so much about wine and blogging from the sessions. I can't wait to do it all again next year.
For more information on The Wine Bloggers Conference: http://winebloggersconference.org/
For more information on Santa Barbara Wine Tourism: http://www.sbcountywines.com/