Sitting in Riverfront Centennial park, in the Gaffer District of Corning, NY, dipping my spoon into a second helping of an incredible sorbet made from Glenora Estates rosé, I was definitely in my happy place. Is there anything better than a cool treat on a hot summer night? I'd argue that making that treat with rosé was the cherry on the sundae. The sorbet was from Dippity Do Dahs, a popular local ice cream store, and Shawn and I were attending an event in the park to welcome the Wine Bloggers Conference attendees.
Corning, NY was the location of this year's conference. It's about a 30 minute drive from the bottom of Seneca Lake (where the wineries are situated), so it's not the closest city to wine country, but it's near enough to make wine touring very easy. It's also a really lovely place to visit. We stayed at the Radisson Corning in the Gaffer District, which is a hub of local shops and beautiful parkland.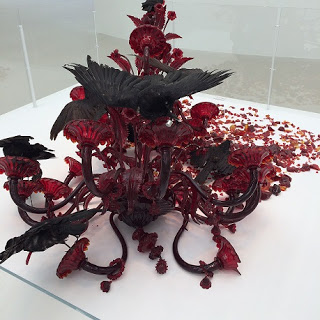 Sculpture at The Corning Museum of Glass
While the Conference keeps attendees very busy, Shawn and I made a point of exploring this area and spending some time in what might have been the most welcoming city I've ever stayed in. Thanks to all the local businesses for making us wine bloggers feel so very welcome.
Hand + Foot – A quick scan of the restaurant options in Corning can be overwhelming – there are a lot of places to eat! Hand + Foot impressed us with their eclectic menu, so we decided to give them a try. The food was fun, filling and jam-packed with flavour; the wine, beer and spirits menu was extensive and well-curated and the staff were just lovely. Owner Dan Morton has made a point of putting together a beverage list that works perfectly with his menu and we were thrilled that he took the time to help us pick the right beverages for our meal and fill us in on the best local and international options available. I think we recommended this place to everyone we met over the weekend and Shawn and I are both looking forward to eating here again in the future.
Dippity Do Dahs – As mentioned above, this place stole my heart with its rosé sorbet – and I may have gone back to sample another flavour or two. A family-run business with some of the best ice cream I've tasted, this is a must-do on Market Street and the perfect end to a busy day of wine tasting.
Volo Bar – There was plenty of wine on hand at the conference, but at a certain point both Shawn and I were ready for a break. Volo was just steps from our hotel and had the nicest group of people behind the bar. They drew us in on Thursday night by offering free tastings of local wines (which I enjoyed while Shawn opted for a local beer) and we had to come back to try their excellent cocktails on Saturday. While I was spitting most of my wine, I will confess to drinking every drop of their excellent Moscow Mule.
The Corning Museum of Glass – When we were offered a tour of The Corning Museum of Glass, I was happy to agree (glass is beautiful), but I was thinking it would be a small museum and a quick walk-through. I was completely wrong. This museum is enormous – and stunning. Their new contemporary art wing is a dazzling display of elaborate glass sculpture against sweeping white walls, and the sheer size of the entire museum is staggering. Our host, Kimberly A. Thompson, the museum's Public Relations Specialist, said the average visit is four- five hours and I can completely understand why. This is a must-see that will impress even the most museum-jaded in your group. And, if like many people I've met, you toured it twenty years ago – go back. You will be pleasantly surprised to see just how much this museum has grown.
I suggest leaving an entire day in Corning to fully experience the museum (including the edge-of-your-seat drama of the glass blowing demonstrations), have a meal at a local restaurant and spend some time walking through the Gaffer District. It makes a great hub for your wine touring and is a short drive from several National Parks and NASCAR locations.
Have you been to Corning? What were your favourite things to do? Share your thoughts in the comments or on social.