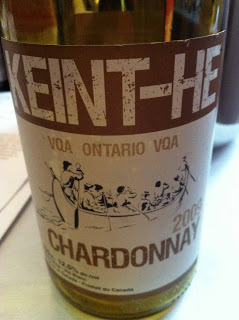 Prince Edward County is one of my favourite places – not only is it beautiful, full of incredible artists and brimming with amazing food, there are almost 40 wineries. It's pretty perfect.
In March, I participated in the #IndulgePEC blogger meet-up and got to experience some of the County's best wines and then just last week I attended County in the City where I had the chance to sample even more – as always, the winemakers of Prince Edward County did not disappoint.
A few of my top picks from my recent tastings are below. Forgive the newbie tasting notes (I know they're far from perfect at this point), it's safe to say that the ones that made my list were the ones I liked and that I think you might just enjoy too.
From #IndulgePEC
Keint-He 2009 Chardonnay
– With vanilla, white peach, honey, green and yellow apple and citrus on the nose, this is a medium-bodied sipper that paired perfectly with my gourmet grilled cheese featuring chevre, Maple walnut praline and sliced green apples from The Agrarian.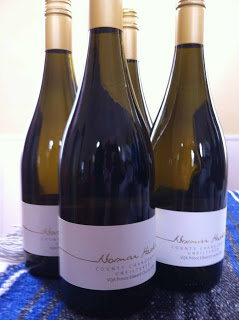 Norman Hardie County Chardonnay Unfiltered– A nice oaked Chardonnay, this had great buttery, toasty notes on the nose. Good acid, a lingering finish and a great hit of fresh citrus on the palate.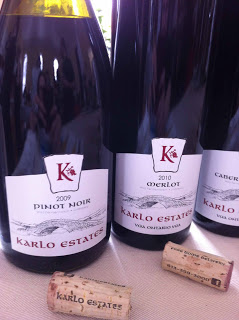 Karlo Estates 2009 Pinot Noir – I love chatting with Richard Karlo and his partner Sherry Martin, especially since Sherry always has the best wine descriptors. She calls their Pinot, "a cowboy in a glass," which seemed perfectly appropriate. This has great notes of tar, leather and tomato vines along with lovely spices like cassis. The tannins are soft and the wine is fruit forward with a great mouth-feel. Delicious.
Rosehall Run 2010 Cuvee County Pinot Noir
– Stewed fruit, cherry, violets and spice all come alive on the nose of this great barrel-aged Pinot. Nice, chewy tannins, great dark fruit flavours and wonderful heat on the palate make for a fantastic wine.
From County in the City:
Lighthall Vineyards 2012 Progression Sparkling
– My pick for white wine of the night (though the competition was steep), this is one of my favourite wines. It's a great, light sparkler with green apple and a hint of peach and pear on the nose. This is a dry wine that's perfect for brunch or to kickstart your palate before a meal.
Sandbanks 2012 Rosé
– I'm a fan of many of Sandbanks' wines, but I especially enjoy their rosé and this vintage didn't disappoint. Sandbanks makes great, crowd-pleasing wines that are perfect for entertaining or relaxing on the patio – I look forward to enjoying more of this one, with it's hint of ripe strawberry on the palate, over the summer months.
Casa Dea 2010 Cabernet Franc
– This wine hadn't been released when I did the tasting and it was only available in a very limited way (thanks to @whitbywine for the hook-up), but it was hands-down the best wine I tasted all night. While I could wax on about this one for pages, all it really comes down to is one word – yummy. This wine was like an explosion of amazing flavours on my palate and I can't wait to try it again after its Mother's Day weekend release. This is made in the apassimento style and then barrel aged for two years – it's very fruit-forward and vibrant, but I expect that with a few more years aging this will open up and be a totally different, equally delightful experience.
For more about my adventures in PEC, be sure to check out my review of the area at Winerist.
Winerist
is a UK-based website that makes wine travel simple – well worth checking out!