I can hardly believe how fast this summer flew by, but given the humidity and the oppressive heat in Toronto this year, I'm kind of OK with that. Shawn and I did have some pretty fabulous adventures this summer and I'll continue to share posts from our trips to Germany and Lake Erie North Shore, but I wanted to mention a few others too.
There were way too many things happening this summer to do individual posts, but I didn't want to miss mentioning these great events that Shawn and I were lucky enough to be invited to attend. As always, you can follow along with our adventures in real time on Instagram and Twitter. Each feed features different content, so I encourage you to check out both!

Toronto Wine and Spirit Festival – Sugar Beach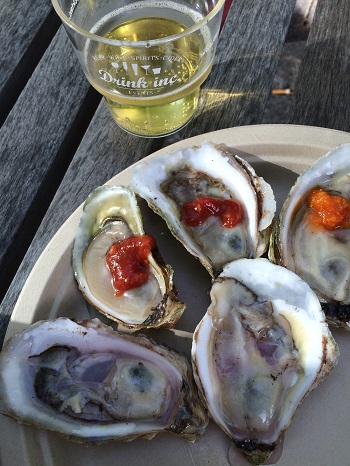 Shawn and I declared the Toronto Wine and Spirit Festival the perfect date night a few years ago and this year's event lived up to that billing. This June festival is always one of our favourites, we love the laidback vibe, the Sugar Beach location and the opportunity to try a wealth of different types of food and drink. The attendees at this event always seem more relaxed than at other drinks-based festivals. Maybe the beach just puts people in a really chill mood or it's just super well-run (I think it's a combo), but this is one where you can sip a cocktail while watching a band, eat oysters while enjoying a beautiful view of Lake Ontario or just wander from booth to booth deciding what to try next. Highlights for us this year? Mama Ratty's meat donuts, Oyster Boy oysters, Berentzen apple liquor and Flora de Cana rum cocktails.
iYellow Summer Wine Jam
It may have been the night before our big trip to Germany, but Shawn and I couldn't miss iYellow's Summer Wine Jam this year, especially since it marked the tenth anniversary of this fabulous and fun wine club! Angela Aiello, founder of iYellow Wine Club, has always been a big supporter local bloggers (myself included) and a cheerleader for so many Ontario wineries – her positive attitude is really inspiring. Along with her amazing team of iYellow 'wine angels', she has helped make wine accessible to a whole new group of wine lovers and encouraged them to discover local wines and explore Ontario wine country.  It was so much fun to celebrate with this team and I can't wait for the party to mark twenty years!
Fresh Wines Launch
Travel kept us away from many of the summer wine events in the city, so Shawn and I were happy to pop by the Fresh wines media event at the iYellow Wine Cave in late August. Fresh wines are made by Niagara's Diamond Estates and they're very much easy-drinking, patio or party wines. The packaging is pretty and colourful, featuring artistic renderings of modern women – the type of ladies this wine is clearly being marketed towards. Full disclosure, most of the wines in this line are on the sweet side and that's not really my thing, but I'm trying super hard not to get all wine snobby about these patio wines because, hey, I drank Arbour Mist back in the day, and if sweet wines are your thing, you'll really like these. The sparkling Riesling had my favourite label and it would be a good choice ice cold on a patio, as would the Moscato. I also enjoyed the Satin Red, which is a very drinkable, fruit-forward red wine blend.
Did you have any summer wine adventures? What were your favourites? Share them in the comments below or on social.
*We were guests at each of the events, but our opinions are our own. Especially my somewhat judgey ones about sweet wines. I said I was trying not be a wine snob, I didn't say I was succeeding.