Missing the annual Icewine Festival in Niagara is simply not done in our household. Even with my current life unsweetened (I've pretty much given up candy and desserts in favour of wine as my indulgence of choice), I wasn't willing to miss this year's fest. And I'm so glad we made the trip. Every year the festival seems to get better with the wineries developing more innovative (and delicious) pairings to go with some of the world's best Icewines.
For those who haven't made it out yet, you still have one more weekend (January 29/30/31) to explore all that the area has to offer. And, believe us, it's impossible to see it all in just one day. Shawn once again played DD so I could sip and savour at eight different wineries. I'll have a full review of my experience at Pillitteri Estate Winery in an upcoming post, but below you can find out more about the pairings we enjoyed on this year's trip.
Pillitteri Estate Winery – Kerner Icewine paired with a homegrown Niagara Apple Fritter drizzled in a cinnamon Icewine caramel sauce—I was a little hesitant about this pairing because I sometimes find sweet on sweet a bit too much, but this was a delight. The fritters were very light in flavour, so they made a great pairing with the sweeter 2012 Kerner. Pillitteri is one of, if not the first, winery to make a Kerner Icewine and it is indeed a treat – there were caramel, pear and vanilla notes and a lovely acidity that cut through the sweetness. This was perhaps my favourite festival-featured Icewine and is a must-try for wine-lovers looking for a unique varietal.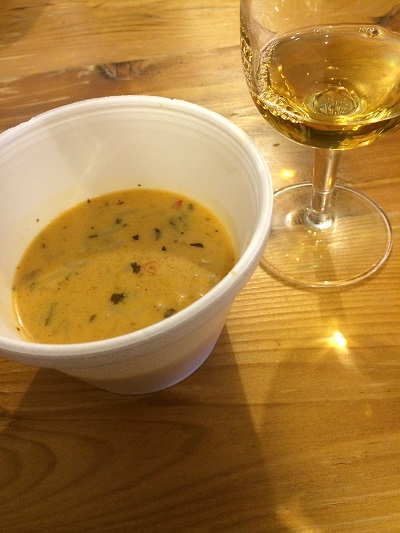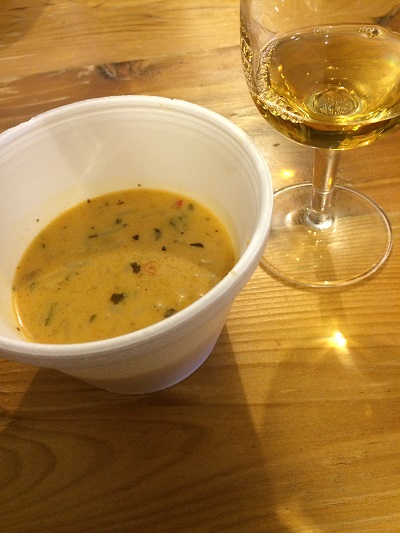 Rancourt Winery—Harvest Barn Wicked Thai Chicken Soup with Gewurztraminer Icewine—On its own, I found this 2013 Gewurztraminer just a touch too sweet at first sip – the candied fruit notes were definitely pleasant and the wine was well-balanced, but not quite to my tastes. Paired with this absolutely brilliant soup, though, it was pretty perfect. Shawn and I both agreed that this soup was just fabulous—lots of heat and Thai flavours and plenty of chicken and rice to fill your belly. And the contrasting flavours between the soup and the Icewine just worked so well. A reminder of how much an Icewine can be elevated by a great pairing.We were very glad we made this stop.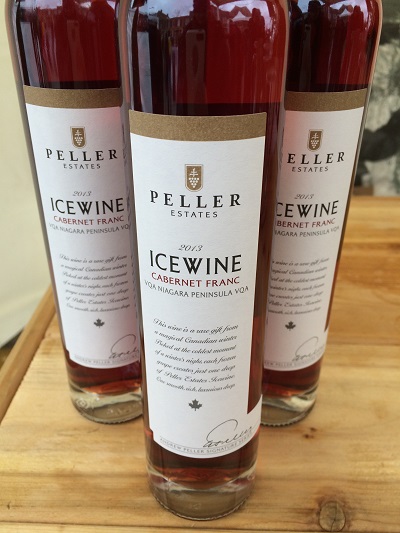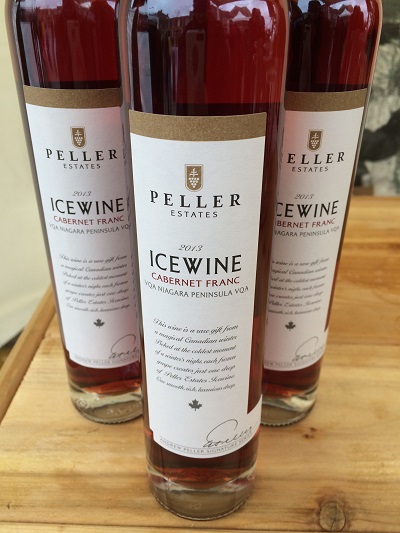 Peller Estates Winery—Cabernet Franc Icewine with a roasted Icewine marshmallow—I admit that I gravitated towards more savoury pairings this year, but the Icewine Festival feels incomplete without one of Chef Jason Parsons' Icewine marshmallows. These sweet treats are perfection roasted over one of the fires in Peller's outdoor area (although both Shawn and I smelled like campfire for the rest of the day). The pairing here is almost secondary to the experience, though. The 2013 Cabernet Franc Icewine is good quality, very approachable and well-made, but the pairing is too sweet-on-sweet for me.
But Peller is a can't miss for this Festival, they go all out and it's such a fun experience—I highly recommend taking the time to visit their 10 Below ice bar. It costs a bit more, but standing in this incredible room made completely of ice is a one-of-a-kind way to experience Icewine (it's open year-round currently, so this weekend isn't your last chance).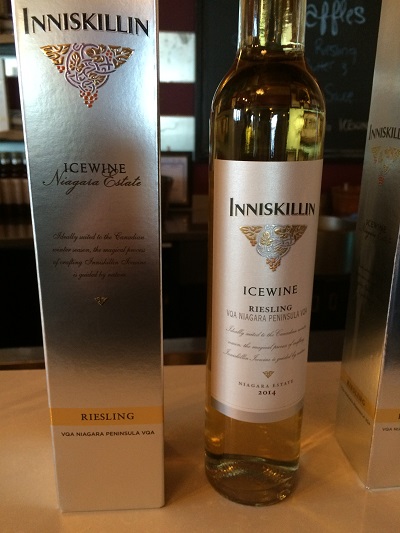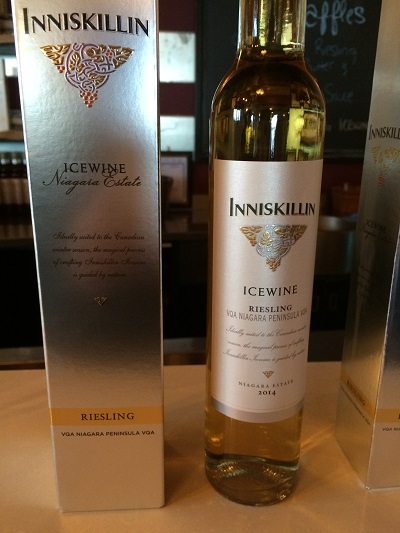 Inniskillin Wines—Chicken and waffles, spread with Icewine butter with a Riesling Icewine—The chicken and waffles called my name and it's hard to resist visiting one of the best-known Icewine producers in the world. At Inniskillin you can see the Icewine vineyards right outside the winery, which is a nice touch, and you will taste your Icewine in one of their exclusive Icewine glasses. And, yes, in my opinion the glasses do elevate the tasting experience. The 2014 Riesling was well-structured with lots of honeyed pear and apple notes. The chicken and waffles were quite tasty, although I would have liked some more heat to cut through the sweetness and play with the great acidity on the wine.
Konzelmann Estate Winery—Atlantic seafood chowder with Vidal Icewine—Vidal is a classic Niagara Icewine grape, so I was happy to get to taste this 2011. It was a delicate and pretty Icewine with lots of peach, pear and mango notes—a very classic style. The chowder portion was small, but very flavourful with lots of seafood pieces and good spice. My only quibble was the fishy taste when I got a bit of Icewine just after a piece of  seafood. But overall, great. And the Observation Deck at Konzelmann is a must-do—a stunning view of the vines in winter that will leave you breathless.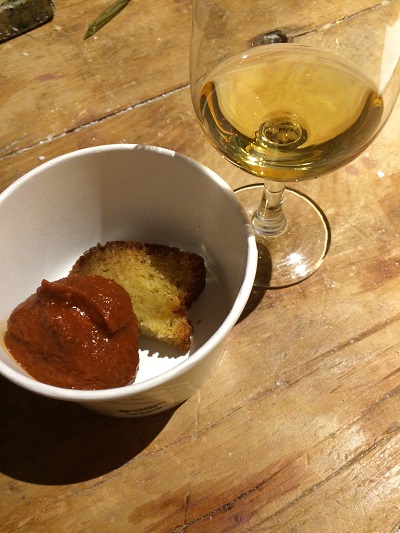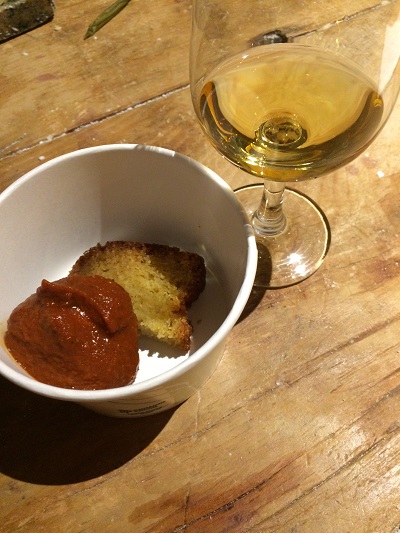 Ravine Vineyard—Homemade spicy chicken meatball in a molé sauce with Rossco's cornbread and a Vidal Icewine—We had never been to Ravine before, but this won't be our last visit. It's such a fun and friendly property and this pairing was delicious. The meatball was juicy and well-cooked and the cornbread had a nice sweetness that off-set the spicy/sweet molé sauce. With their nuanced 2013 Vidal Icewine, this combo brought layers of flavour that came together nicely. Yummy.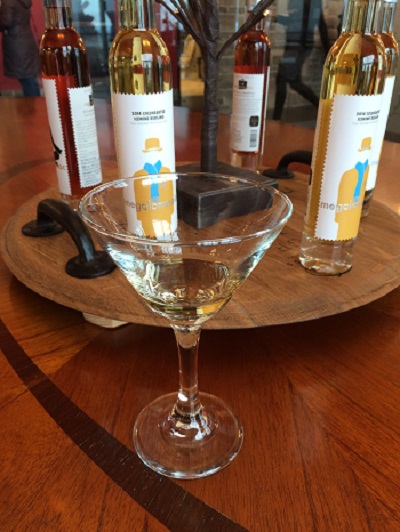 Megalomanic—Three Icewine based martinis—This was a must-do stop on our list when I heard about the martinis. What a brilliant idea. Shawn and I rarely buy a bottle of Icewine because we just can't get through the whole thing before it goes off. Megalomaniac solved that problem by showing us four different ways to serve Icewine with a twist. The visit started off with their new sparkling Riesling mixed with their 2014 Coldhearted Riesling Icewine, then I sipped through three more small samples of martinis mixed with their Icewines. From citrus, cherry to chocolate, the drinks ran the gamut and each showed creativity in layering flavours. I will definitely be making one or more of these again soon.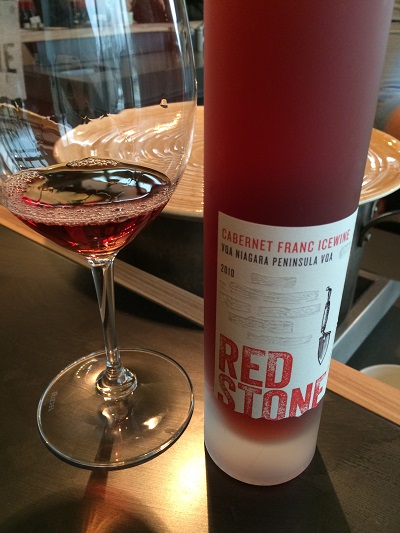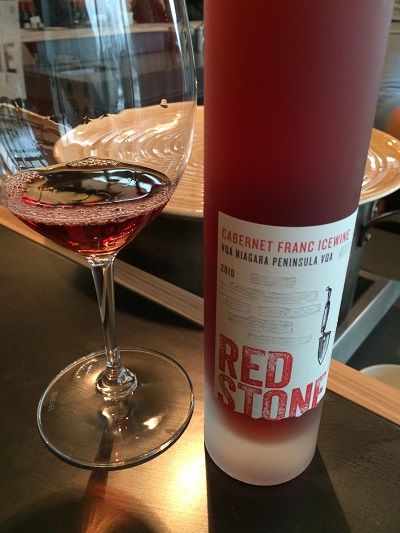 Redstone Winery—Braised venison and dark chocolate chili with 2010 Cabernet Franc Icewine—We had hoped to make it to Mike Weir Winery, but just ran out of time. Stopping at Redstone to check out this beautiful new winery instead was certainly not a hardship, though. The 2010 Cabernet Franc Icewine is delicious and well-made, with a mix of strawberries and spice on the palate. Since I don't eat venison, Shawn was more than happy to enjoy my portion too and steal a sip of Icewine to let me know that the spice on the chili was perfect with the wine . He didn't find that the chocolate came through strongly, so couldn't compare those notes, but overall he thought it went very well together. This well-cooked chili was his favourite food of the day and I was a little jealous that he got to enjoy two whole bowls.
After our epic winery-hopping, I was ready to get back on the road towards home, but we're already looking forward to next year.
Did you visit the Icewine Festival this year? What were your favourite pairings? Share them in the comments or on social!
Interested in our past Icewine Festival experiences? Read about my visits to the 2015, 2014 and 2013 festivals!
While we received complimentary passes to attend the festival, all opinions are our own.