Set in a beautiful swath of the Niagara region on the boarder between St. Catharines and Jordan, 13th Street Winery is a lovely space to visit. Shawn and I have long enjoyed stopping in to pick up little pizzas or other treats at the on-site bakery and check out the stunning sculptures and beautiful art on the walls. The wines have become favourites too, especially their always pleasing sparkling rosé.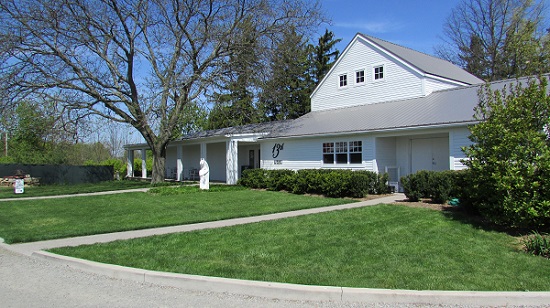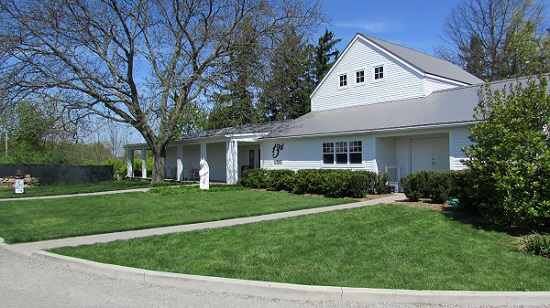 On a recent visit, we were invited to check out their new tasting menu – a delicious way to enjoy food and wine together without having to book a full meal. Seated in the lovely new section of their tasting room, with a view of the trees around the property, Shawn and I tried several wines paired with offerings from the 13th Street kitchen.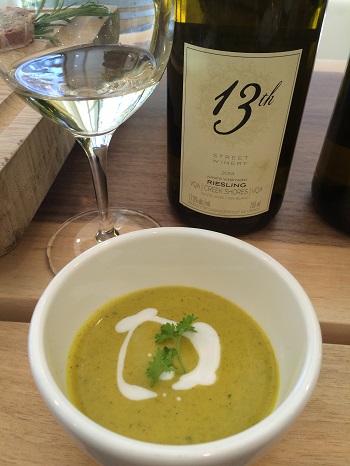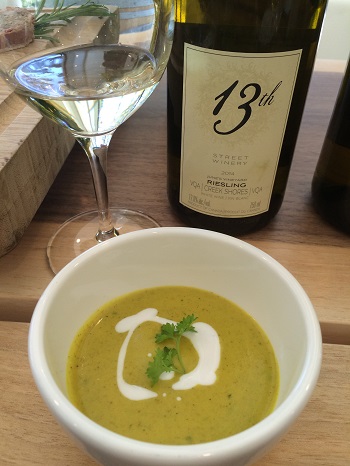 The June's Vineyard Riesling, with light floral notes and a hint of limestone and petrol on the nose was very dry, but with a hint of sweetness that helped it pair nicely with the warm and spicy soup we enjoyed alongside it. We also tried the soup with the 13 Below Riesling, which is a blend of Riesling Icewine and off-dry Riesling. I love sweet wines with spicy food, so this was a great option for me. The wine had a very expressive nose full of candied pears and other orchard fruit and it was sweet, but not at all cloying.  The sweetness cut through the heat so perfectly and created a really balanced tasting experience.
The 2014 Gamay Noir, with its earthy nose and dark cherry and black pepper notes was a perfect accompaniment to the pork turrine and chicken liver. Shawn described them as rich, well-balanced meats and felt that the nuts were a great addition that brought out the pork. I was a little jealous not to eat red meat as I watched him devour this, but the wine on its own was pretty great too.
My favourite dish of the day was the apricot tart with blue cheese, walnuts, carmelized onions and (on Shawn's) bacon. The tart was bursting with fresh flavours and I enjoyed trying it with both the Gamay (very good) and the 2011 Sandstone Reserve Chardonnay (also quite nice).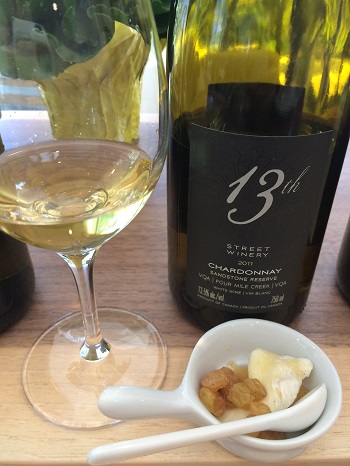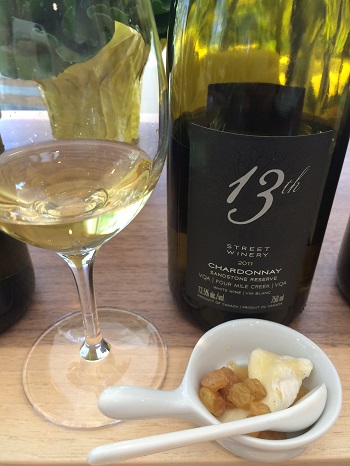 The Chardonnay, which is fully oaked and has notes of butter, vanilla and Meyer lemon, worked even better with the brie with Chardonnay-stewed raisins. The richness of the wine paired perfectly with the richness of the cheese and the raisins added a nice note of sweetness.
With such delicious and well-thought-out offerings, this tasting menu makes great sense. Wine is best when experienced with food and 13th Street's smaller portions mean you can try one or two things to experiment with the wine pairings and not have to commit to a full meal – add in such a beautiful space to taste in and you can't go wrong.
While we were there, we also had the chance to taste the new Burger Blend wines. These are an affordable and fun option for summer barbecues as, you guessed it, they go really well with burgers!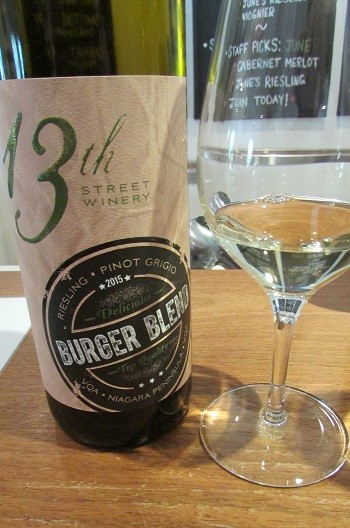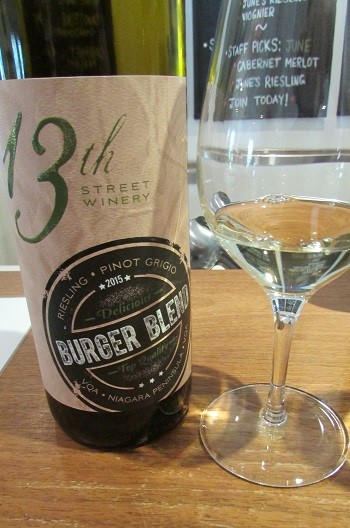 The white Burger Blend had lots of apple and pear on the nose and the pear shows through quite prominently on the palate. I really enjoyed this one and would like to try it with grilled chicken (my go-to for barbecue).
The red Burger Blend is a mix of Gamay Noir and Pinot Noir and has strawberry and spice on the nose. The Gamay comes through on the palate, but is nicely muted by the Pinot Noir. Another summer-ready easy-drinking wine.
During our visit, there was lots going on at the winery. On top of launching their new food pairings, they have moved the farmer's market on-site (a great addition alongside the bakery) and there was construction on some new production buildings taking place off in the distance. These changes didn't seem to affect the tranquil nature of the tasting rooms, which showcases incredible bursts of colourful artwork on stark white walls and is modern, yet approachable.
Whatever brings you to 13th Street, there is sure to be more than you expected to find. We are already looking forward to our next visit (which we hope will involve another to-die-for apricot and blue cheese tart).
Thank you to 13th Street Winery for hosting us. While our tasting and food pairings were complimentary, our opinions (especially about the tart) are definitely our own.