Shawn and I recently visited Niagara to do some early Christmas shopping – I wanted to make sure I got to Vineland Estates and several of my other favourite wineries to pick up gifts for everyone who's getting wine from us this year.
Not everyone can make it to wine country before the holidays, though, which is one of the reasons I'm excited to tell you about Sideroad Twenty Cellars – a wine agency from Ontario that's offering some fun and unique elements to set their agency apart.
I became interested in Sideroad Twenty Cellars after sitting down with Managing Director Patrick Storr. We had a great chat about wine and I had the opportunity to try some of the agency's Red Tractor wines. Wait, a wine agency that makes their own wine? That's pretty special in and of itself – and when I found out that Creekside Estate Winery's Assistant Winemaker Yvonne Irvine is the winemaker behind Red Tractor, I was even more excited to try these wines.
They didn't disappoint. These are high-quality Ontario wine offerings that reflect the region's unique terroir and stand up against some of the area's best bottles. I was especially impressed by the Riesling and I can't wait to try the Cabernet Franc, which I'll be reviewing on Twitter soon. These wines are small-lot and available at a reasonable cost via the sr20 website – perfect for holiday gifting or enjoying over dinner any night. And they can be purchased alongside other great Ontario wine selections in a mixed case – one of my personal favourite features.
The Sideroad Twenty team were kind enough to answer some of my questions below so I could share even more information with you.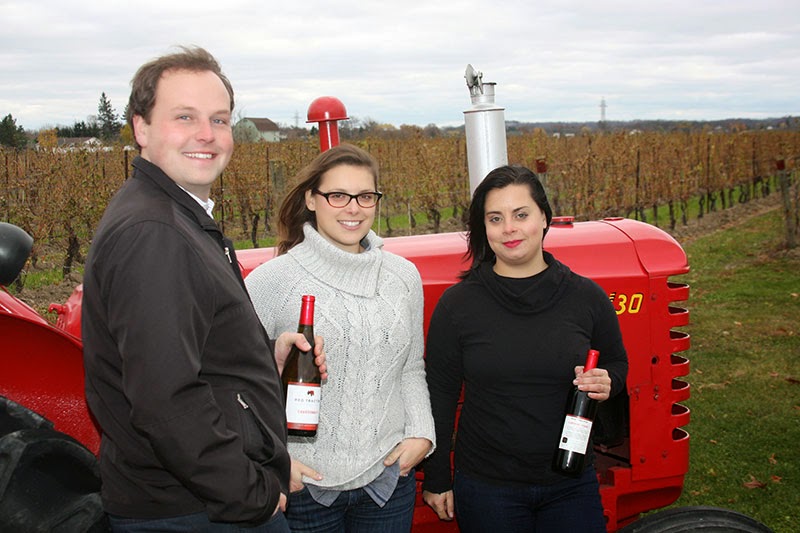 Patrick, Jessica and Yvonne
How did Sideroad Twenty Cellars get started?  
Andrew Howard – President: Sideroad Twenty Cellars started the way so many wine companies start—with a passion for the wine industry and a realization that there is a different way to buy great wine. So many of the boutique and interesting wines never see a retail store because the Liquor Boards can only take so many wines and the smaller lot wines only get "loved" by the people who visit the winery. SR20 was based on the fact that the best way to buy wine is from people and by getting the right advice. We have people who help us sell wine to the people they know and we have a website that looks to bring to life more information about the wines so that more people get a wine they're going to love more often!
The name was inspired driving the back roads of Ontario and we came across Sideroad Twenty…for some reason we spontaneously turned down the road and it just had a great feel to it. The name rolled off our tongue, it wasn't already a winery's name and the rest was history. As an aside – come up with any name that you think would make a good winery name…put it into a google search….and you'll find a winery by that name somewhere in the world!
What sets you apart from other wine agents?
Jessica Nagy – Marketing & Logistics Manager: The two biggest factors that set us apart from other online agents are 1) we offer the customer the ability to mix cases from various Ontario wineries; and 2) the customer pays a flat shipping rate to anywhere in the Province. Additionally, we focus on providing access to a limited number of high quality wines that are not always available on LCBO and Vintages shelves in addition to some that are more easily found in store. So when you shop at sr20.ca, you know you are selecting from carefully curated wines that are some of the best quality in the province, and that you can't just go down the street to pick up one of these bottles at any given time.
I love that you offer mixed cases of Ontario wine – what wineries do you work with and are there any restrictions?
Jessica: Our list of partner wineries is at 11 right now and always growing. Most are concentrated within the Niagara region, with a couple in Prince Edward County and Lake Erie North Shore. We don't have restrictions to which wineries we will work with, but we do focus on those that are making high-quality wines that showcase the unique terroir of Ontario's growing regions. Logistically, it's easier for us to work with wineries that are close geographically as well, but we are always looking to expand our partnerships and for ways to bring even more Ontario wine to Ontario residents. We also like to focus on developing strong relationships with the wineries we represent—which is why we call them our partners. We're all entering this intriguing new world of online wine sales in Canada together.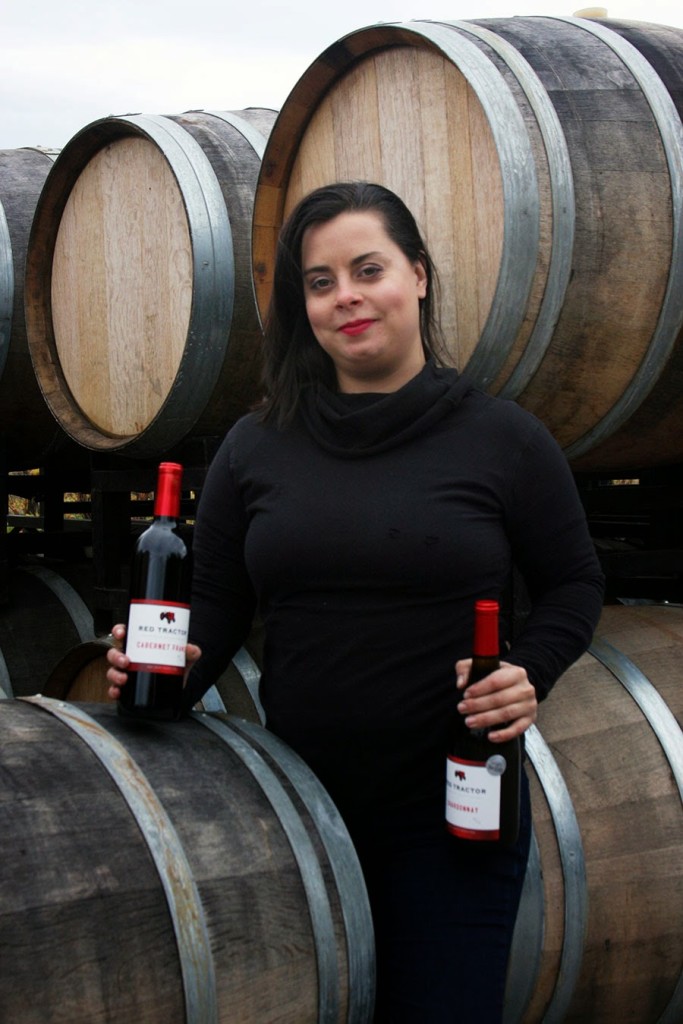 Winemaker Yvonne Irvine
You are one of the only agencies I've ever heard of with your own wine – how did Red Tractor come about?
Andrew: Red Tractor helps us to be better connected to the process of making wine and keeps us empathetic to the joys and challenges that our partner wineries go through to make great wine. As passionate wine lovers with brand-building backgrounds, we couldn't resist complementing the offerings from our partner wineries by creating our own small lot high quality wines.
We're really proud of Red Tractor wines and the recent awards they've won – the wines are definitely getting noticed. We make a point of talking a lot about the vineyard sourcing for the wines because one of the primary drivers for Red Tractor is selecting small lots of premium quality fruit from great local farmers. That is why most of the Red Tractor wines are produced from single vineyards and in small batches. It also feels right to be talking about "where the tractor is working" when we promote the wines.
Why the name?  I love tractors and particularly like the vintage ones. We own a gorgeous re-worked 1950 Massey Harris. It's fun to drive and they seem to perfectly represent the hard work mentality that goes into growing premium grapes and making great wine – there really are no short cuts!  It's also a bit like the Smartie jingle – we like the red ones best.
Your winemaker, Yvonne Irvine, is well-loved in the Ontario wine community. What has working with her meant for Red Tractor?
Patrick Storr – Managing Director: Working with Yvonne has been great. She's energetic, creative, opinionated, and brings a wealth of experience from her years as a member of the Creekside winemaking team. She wasn't always the lead winemaker for Red Tractor and actually earned the position through her precociousness. During a 2012 trip to the Okanogan Valley, Andrew fell in love with a BC Chardonnay. Knowing that Yvonne was a huge fan of Chardonnay he brought her back a bottle. After tasting it together she agreed that it was a beautiful style, but thought with a few small adjustments she could do better. After a few more glasses it was decided that she would take the lead producing that year's Red Tractor Chardonnay. Since then, the 2012 Red Tractor Chardonnay has gone on to win awards at some of Canada's top wine competitions and consistently receives top accolades from critics. We've never looked back and Yvonne has been our lead winemaker ever since.
I think this is a great option for those hoping to give VQA for the holidays, but who may be unable to make it out to Niagara to pick up some of the winery-only bottles. Are you still taking orders for the holiday season?
Jessica: Yes! We are still taking orders and even have some exciting pre-Holiday deals coming up for Black Friday and Cyber Monday. We can guarantee December 24 delivery in the GTHA for all local wine orders placed by December 18. Our Wine Clubs are a great gift idea that keeps on giving all year long.
For more information on Sideroad Twenty Cellars: http://sr20.ca/
*I received samples of the Red Tractor wines to try – opinions are my own