I often tell people that Evan Dawson's Summer in a Glass is the only wine book that ever made me almost miss my subway stop. It's an engrossing read about the mavericks and originals who are taking on one of the most complicated regions in North America and making wine along New York's Finger Lakes.
As Shawn and I drove down Hwy 14 and Seneca Lake came into view on our left, I had finally arrived in the place that had so enchanted me as I tore through the pages of that book. I had vowed to visit just one chapter in, but it was the 2015 Wine Bloggers Conference that had finally made that promise a reality. Looking out over the lake and its extraordinary beauty, I couldn't believe it had taken this long.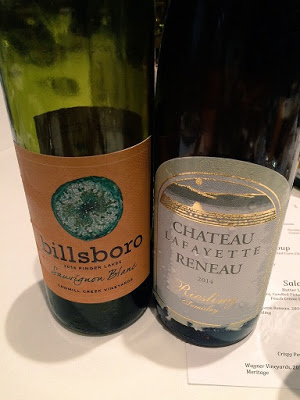 Two local favourites
In August, more than 200 wine bloggers from around the world descended on the Finger Lakes, ready to sniff, swirl and spit (and maybe even sip) some of the best wines the region has to offer. For many of us, it was our first time trying wines from the area, which sells the majority of its product within New York State. Inviting us to visit and experience the region seems to be part of a larger plan to finally put the Finger Lakes on the world stage. Based on some of the wines I tasted, there are winemakers in the area who are more than ready to take that step.
Shawn and I spent five days there, heading in a bit early so we had time to explore on our own before the official start of the conference. Only a four hour drive from Toronto (give or take given the unpredictability of wait times at the border), the Finger Lakes is easy to get to for Ontario residents and well-worth a stop for wine and food aficionados.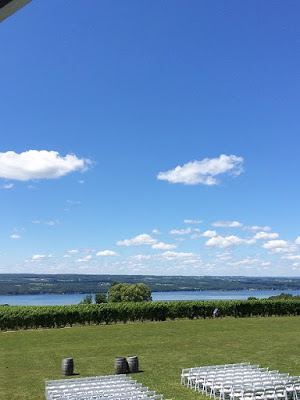 The view from Ginny Lee Café
Sitting on the patio overlooking Seneca Lake while having lunch at the Ginny Lee Café, which shares a property with Wagner Vineyards on the lake's east side, I couldn't stop staring at the oasis of vineyard and blue water in front of us. We had gotten lost looking for Forge Vineyards, a winery Evan Dawson had recommended and which we later learned is housed in Hector Wine Company's Building, but that's another story. Shawn was hungry and frustrated, I was overwhelmed with options. Wagner came into view offering wine, a brewery and a restaurant – we were sold.
Now, with a glass of their dry Riesling in my hand (a very good representation of how well that grape grows in the region), a delicious turkey sandwich in front of me and that view spreading out as far as I could see, it was hard to comprehend how anyone ever leaves.
The locals will tell you that, as with Ontario wine country, the winters make it easier to understand. Those winters have broken more than a few winemakers' hearts as vine loss is a fact of life in this cool (should read cold) climate region. At Fox Run Vineyards, where we'd stopped the day before, marketing and events manager Marisa Indelicato, had explained that they anticipate a certain percentage of loss each year and work from that. Sometimes it's more than expected and, thankfully, sometimes it's less.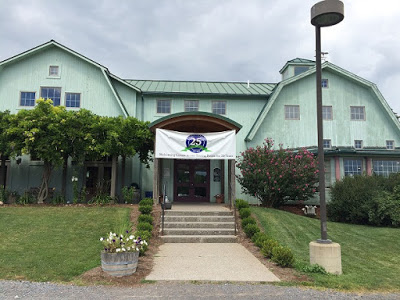 Fox Run Vineyards
As with Ontario, there have been some cold years of late. Those have been tough, but they have often come with good growing seasons. Making wine in this region is not always easy, there are a seemingly endless list of complications – many of which were explained to us at a conference session where professor Alan Lasko from Cornell University presented on the region's soil, climate and weather patterns. I was struck by how similar the terroir is to Prince Edward County and was not surprised to learn that 'hilling and de-hilling', the burying of vines for winter, is also common in the Finger Lakes.
But sitting on that patio at the Ginny Lee, sipping that dry, delicious Riesling on a hot, sticky August day, I can see why winemakers persevere here. Why they make it work. Shawn and I will be sharing even more of our Wine Bloggers Conference experiences with you over the next few weeks and I hope you too will see why this wine region is worth exploring.