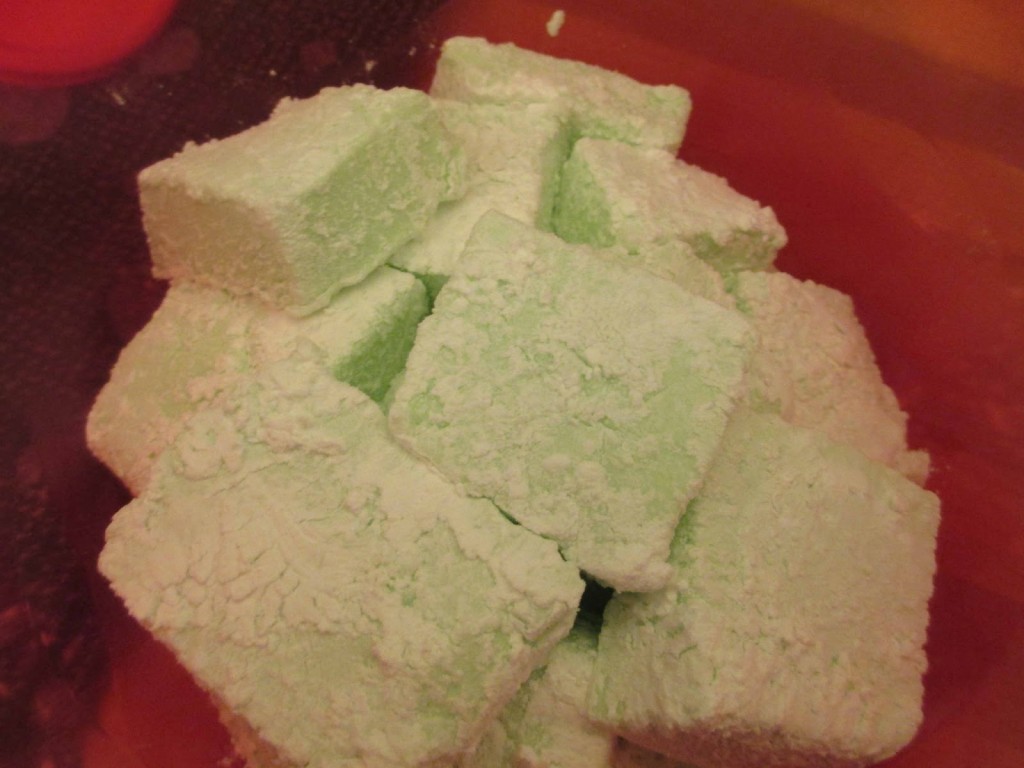 I often joke with friends that without Twitter I'd never do
anything fun. This is of course an exaggeration, but I can honestly say that
since I started actively Tweeting life has gotten a whole lot more interesting.
Case in point, Joel Solish (
foodie411
on Twitter)
recently Tweeted a pic of
Margarita Marshmallows
he'd found on Pinterest –
they were absolutely drool-worthy and I responded as such. Thus began a Twitter
chat about how much better homemade marshmallows were than store bought.
I could attest to this because I'd picked up some amazing ones at
The Good Earth
during our Twenty
Valley visit. They were
to die for and I highly recommend you pick some up if you're in the area – the cherry
raspberry jam is equally fantastic and you should get some of that too, but I
digress.
So Joel suggested I try making my own marshmallows and I
demurred since, as those that know and love me can attest, I'm not a great
cook. But he said it was easy and well worth the effort and then Tanya Kelly
(
theparchment_p
on on Twitter) slipped into the conversation mentioning that
she'd just whipped up some of her own and agreeing that it was easy and worth
trying. She also, very kindly, offered to post her recipe on her blog so I
could try making them.
I highly recommend you check out her blog if you're a foodie
– it's brilliant.
So with that kind of encouragement, and the added bonus of
both recipes involving some form of alcoholic beverage, I decided to give it a
go.
Let me just say that marshmallows seem far more daunting to
make than they actually are, but they are not – especially for a novice baker –
easy. And if you don't have a stand mixer, as is the case in our tiny kitchen,
they present an even greater challenge. Luckily for me, I married a personal
trainer and he had the stamina to hold the hand mixer for ten or more minutes
at a time, otherwise this would have been an epic fail.
I started out with the Margarita Marshmallows, since I
thought they looked easier. Ha!
They're from a book called
Marshmallow
Madness
, by
Shauna Sever
and they
look pretty awesome. The first challenge was finding some of the ingredients – note
that mine did not include Swedish Pearl Sugar in the end. Also, I'm sure it does in the
book, but the recipe posted online did not include instructions on how to line
the pan – kind of a critical step. Thank goodness for Tanya and
The Parchment Playlist,
because I was able to use the suggestions from her recipe with good
results.
The marshmallows were actually pretty fun to make. I think
it would have been impossible without Shawn helping with the mixing, just
because you need to be doing some of the steps while things are mixing,
but other than that it was all totally doable.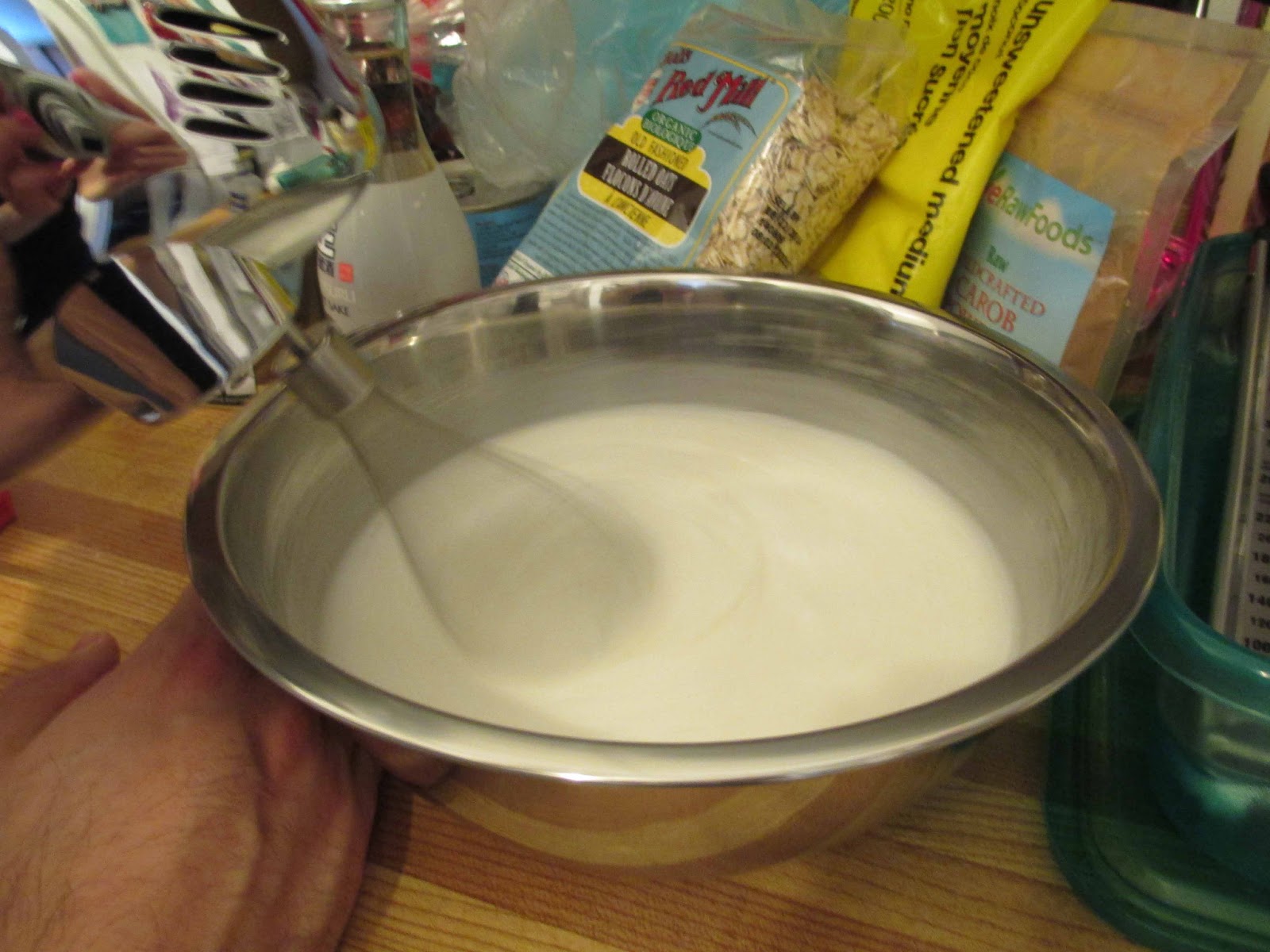 Husband as stand mixer
The Margarita Marshmallows needed eight hours to set, so I
started in on the
Sake and Pequin Pepper
marshmallows right afterwards. These ones
seemed to go a little better, although they became sake and Grand Marnier
marshmallows when I realized too late that I was supposed to get
dried
pequin
peppers. Definitely a d'oh moment in the kitchen, but they tasted really good regardless.
The second batch seemed to go much more smoothly despite a few
hiccups – I had to use pure vanilla extract because I couldn't find vanilla beans at
the store, the aforementioned pepper fiasco and the realization that I didn't
have enough white sugar for both recipes and had to use cane sugar for half of
these. They turned out a slightly beige colour, but
they were still more than edible, which is the important thing, right?
Awkward shadow and colour aside, they looked pretty good.
So what was the final verdict? Homemade marshmallows are
pretty great. Neither batch was perfect – more so because I'm still learning
than because of any flaw in the recipes – and it was definitely a challenge to
cut them out (marshmallows are super sticky before they're powdered), but I'd
give these a try again. And the guests at our New Year's Eve party all agreed
that they were pretty great. Thanks again to everyone who came out for agreeing to try them (and taking home some of the extras).
Not pretty, but darn tasty
I'm not sure I'll make marshmallows again any time soon – Shawn
pointed out that they have a ton of sugar and things like corn syrup that we
wouldn't normally eat – but I'm glad I tried it out. Big thanks to Joel and
Tanya for their help and encouragement. It was great to test my limits and try
something fun and different. Can't wait to see where Twitter takes me next.