I did fine in my first wine class. After all the exam stress, it turns out that some of what I thought I didn't know, I did, and I came out with a good mark and a renewed excitement about starting my next course. Not that I still don't feel overwhelmed – I think the whole exam experience gave me a lot to think about in terms of keeping my expectations in perspective. Wine is definitely interesting, but it's not easy to learn about. I just have to remember that I can't do it all in a year (or ten) and that sometimes things aren't going to come as easily as others.
A huge thank-you to all those who left me comments on the blog, Facebook and Twitter – I needed that boost and the reminder that I'm not alone. The wine community is an amazing, supportive one and I feel so lucky to be a part of it.
 So, with wine education on the brain I thought I'd look at some of the options available for those who aren't able to take a college course or who'd just like to learn for the love or fun of it. I've recently encountered a few great books and new ideas that I thought it might be worthwhile to share.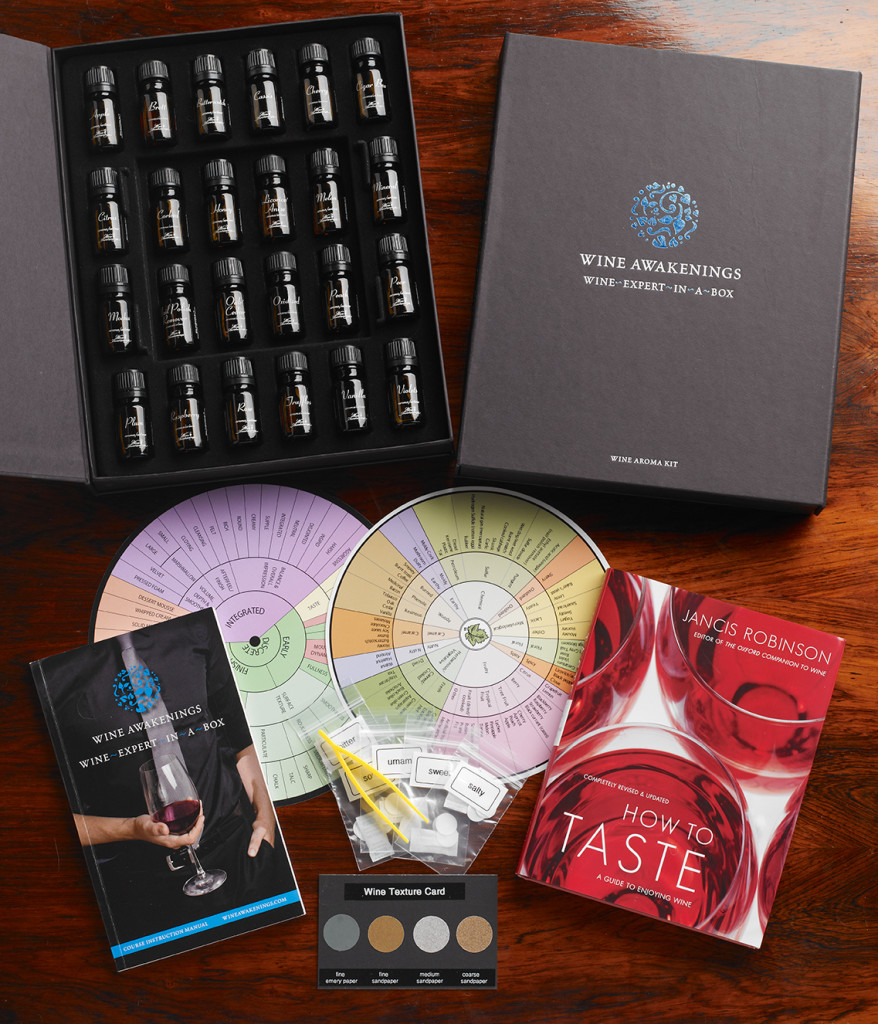 Wine Awakenings – Wine-Expert-in-a-Box
I had the opportunity to meet the president of Wine Awakenings, Amato De Civita, at the recent
Good Food and Drink Festival
and I really enjoyed learning about their line of products. Their Wine-Expert-in-a-Box course was designed by wine expert Gary Pickering (a professor of Wine Science at Brock University) and includes an aroma kit to help learn the various scents associated with wine (these are available to purchase separately too and seem like a cool idea to this newbie who still struggles with identifying wine aromas). It also comes with
Jancis Robinson's How to Taste
book and learning tools like aroma wheels, a texture card and taste discs. There is also a study guide and an online course that can be taken at your own
pace. Is it going to be the same as taking a WSET or college course? No, but it seems like a really great option for those who are looking for a more affordable or less intense way to learn about wine or who don't have access to a wine school in their area. You can tell that they put a lot of time, thought and energy into creating a very interactive learning experience that you can take advantage of without ever leaving your home.
Looking for some even more affordable resources? The books below are ones that I think will give any true wine newbie a good place to start –  and they won't break the bank.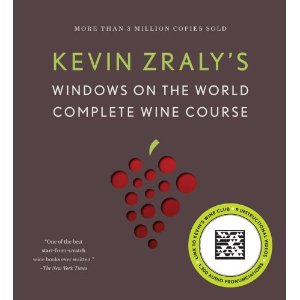 I came across this book at Costco and tossed it into the cart because it looked interesting. It ended up being a great study aide during my class. The book is set up like a wine course – each chapter covers one class and then has a quiz and ideas for tastings at the end. It also includes short videos that you can access via links or QR codes. I didn't watch many of the videos, but I wasn't super impressed by the ones I did – they're really short and more like intros to the topics. The book, however, is very good. It's a great, easy-to-understand resource for anyone with an interest in learning about the basics of wine regions and wine in general. I'm sure I'll be picking this one up frequently.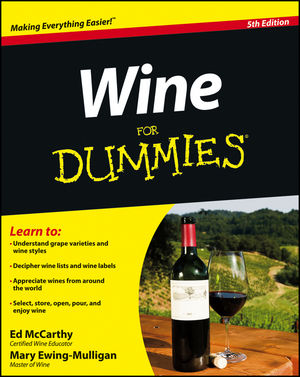 This was a book I never would have picked up, but I
read a great review on the Food Gypsy blog
and sent in a comment, not even realizing that it entered me in a draw to win the book. And I won! Despite the name, this is a pretty fabulous resource for the wine novice. It was the first book about wine I picked up and I found it easy-to-read and informative. While it's certainly not an exhaustive study of any one wine region, it's a good start and it does offer great suggestions of books to read if you're interested in learning more. A great newbie resource, if you can get past the bright yellow cover and the whole 'for Dummies' thing.
What's your favourite wine education resource? I'd love to add it to my list!