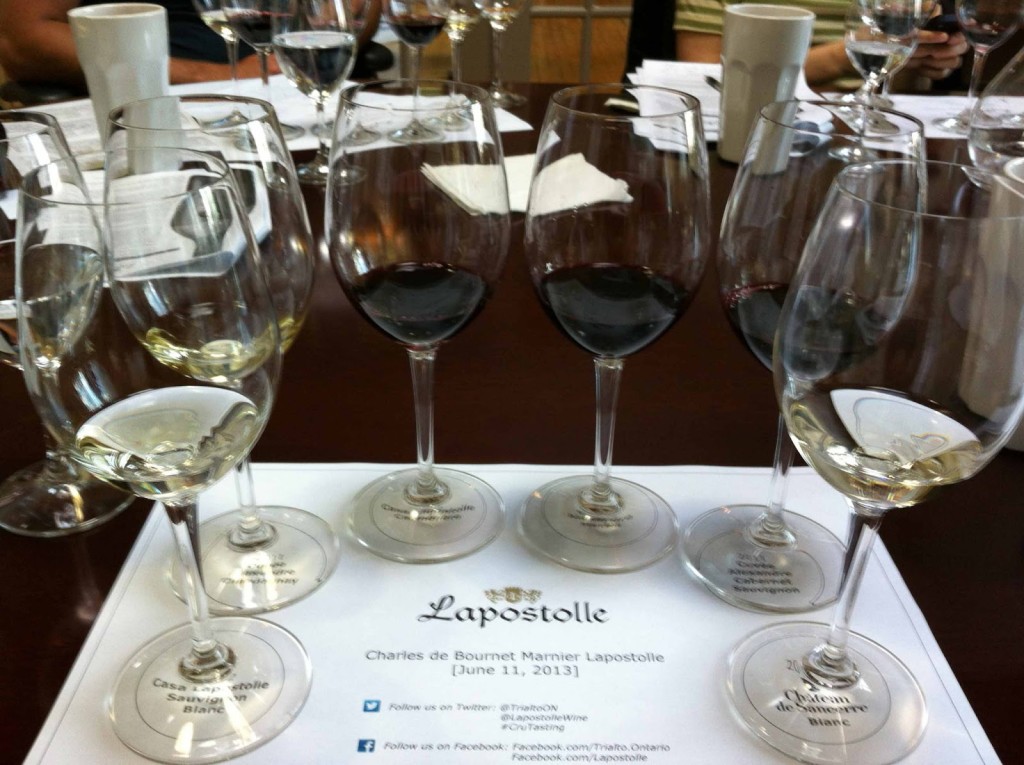 Recently, I was lucky enough to attend a
Lapostolle
tasting with my fellow
WineAlign Cru
members. What a wonderful way to spend an
evening, especially since Charles de Bournet Marnier Lapostolle, son of
Lapostolle owner Alexandra Lapostolle, was our host. This was my first
experience with Lapostolle (my newbie-ness was definitely showing) and I was
very excited to sample these unique Chilean wines.
I know a little about biodynamic winemaking because of the
number of Ontario
wineries that have incorporated the practice and I was pleased to hear that
Lapostolle
is also looking at the importance of ecologically safe practices in
their winemaking. Charles spoke passionately about why this was important – not
simply to create sustainable wine regions, but because of the impact that
chemicals can have on the people working in the vineyards. I was very impressed
by how genuine his interest in sustainable winemaking and biodiversity was.
2012 Casa Lapostolle Sauvignon Blanc
With green apple, citrus, peach and flint on the nose, good
acid, a bit of bite and less fruit on the palate than on the nose, this was
definitely different than a New Zealand Sauv Blanc. I liked the minerality and found this one to
be a refreshing, subtle sipper.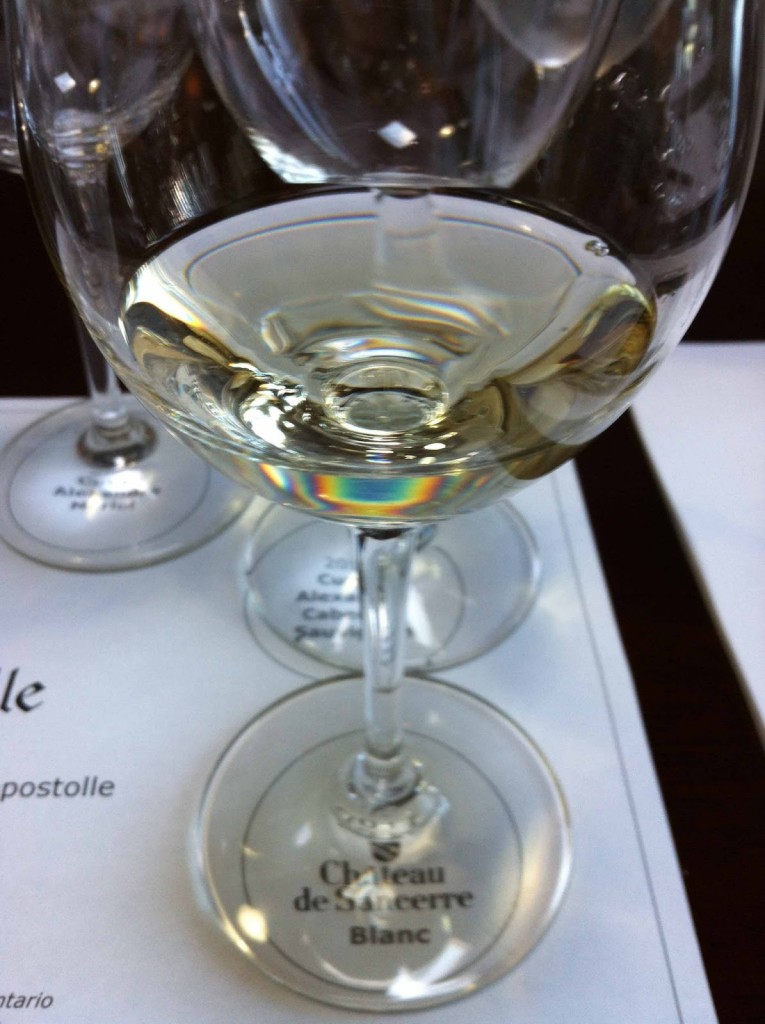 2011 Chateau de Sancerre Blanc
Pale straw in colour with tropical fruit, peach and lychee
on the nose, this had high acidity and tropical fruit on the palate. It was
smoother than the Sauv Blanc with a very nice finish.
2011 Cuvee Alexandre Chardonnay
Named after the creator of Grand Marnier, Cuvee Alexander is
a lovely gold colour and has lots of oak, with buttered popcorn, honey and
creamed corn on the nose, as well as tropical fruit and pear. I'm not a huge
fan of oaky Chardonnay, but I liked this. There was tropical fruit on the
palate and a good, round mouth feel.
2011 Casa Grand Selection Carmenere
I know a few people who are pretty down on Carmenere, so I
was surprised that this was my overall favourite wine of the tasting. I haven't
had a lot of experience with the grape, but this was pretty good in my opinion.
I liked the cherry vanilla, chocolate and coffee on the nose and the more
savoury notes of white pepper as this opened up. The tannins are light and it's
got a nice warmth on the palate. Tasty!
2011 Cuvee Alexander Merlot
Cherry, plum, stewed fruit and spicy strawberry on the nose,
this had more tannin and a sweet and spicy finish. An interesting wine that
might be even better with age.
2011 Cuvee Alexandre Cabernet Sauvignon
Spice, menthol, chocolate, coffee and red fruits on the
nose, very fine tannins and fruit forward this one could easily age for quite a
while and be just as drinkable. I'd love to taste it again in a few years and
see how it has evolved.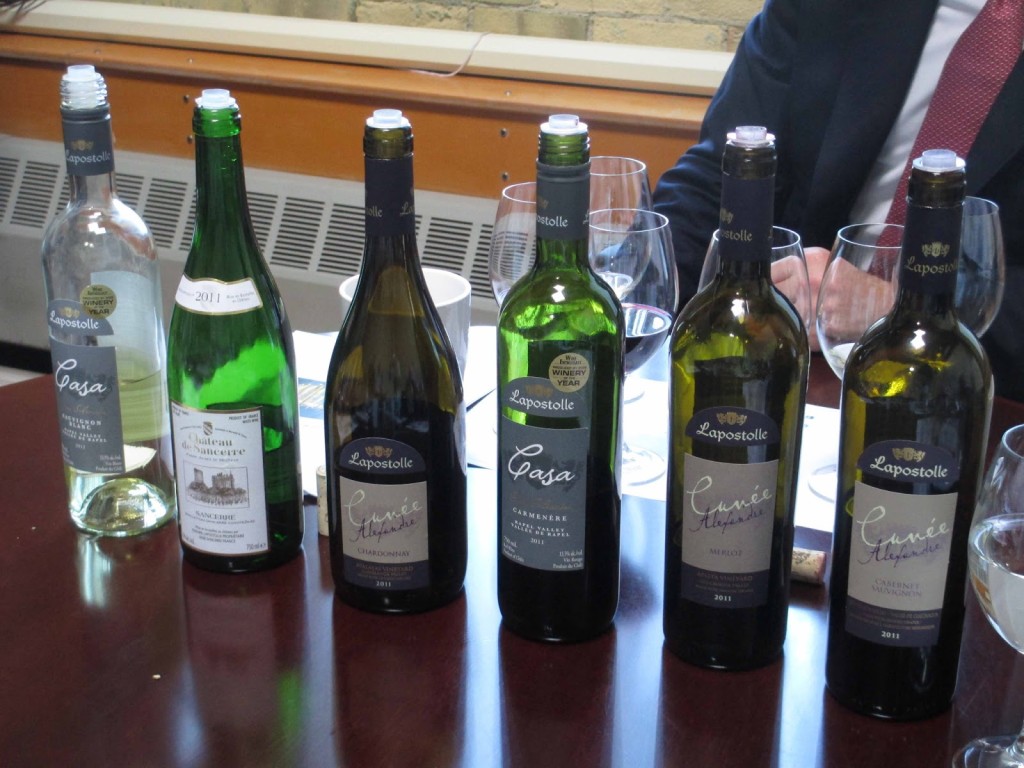 Many thanks to Trialto Wine Group, Lapostolle and WineAlign
for the invitation to this event.