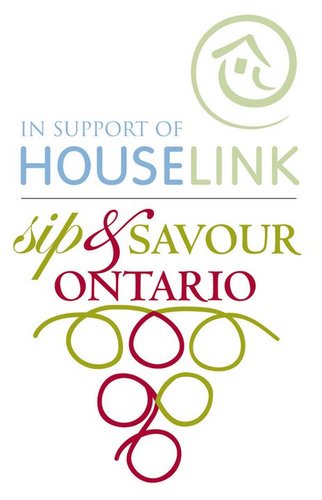 I'm super excited to be attending the 9th annual
Sip and Savour Ontario
event on Wednesday! This fabulous and fun evening raises money for
Houselink
– an important charity that provides homes and local opportunities to people recovering from mental illness.
Sip and Savour Ontario brings together chefs cooking locally grown gourmet cuisine with Ontario VQA wines – so it's right up my alley! It's associated with Tony Aspler's Ontario Wine Awards, so you know the best of Ontario will be showcased. Plus, it gives me an excuse to spend more time in the Distillery District, which I always love. I live so close and yet we hardly ever get there – it's a shame because I always have a great time when we do.
After last week's #ONWineChat about what Ontario wine we'd like to see on restaurant wine lists, I'm looking forward to another example of how well local wine and food go together. Shawn is super jealous that I'm going without him because chef Tony Starratt from Barque Smokehouse will be there and we just watched their episode of You've Got to Eat Here. Chef Tony is just one of many great local chefs participating – you can find out all about the others at the Sip and Savour website.
Interested in attending? Tickets are $85 and there are still some available. You can purchase them here: http://sipandsavourontario.ca
Wednesday, June 19, 2013
7:30 pm to 10:00 pm
The Distillery Historic District
Fermenting Cellar

28 Distillery Lane, Toronto
www.fermentingcellar.ca
https://www.facebook.com/pages/sip-Savour-Ontario/231808340190807