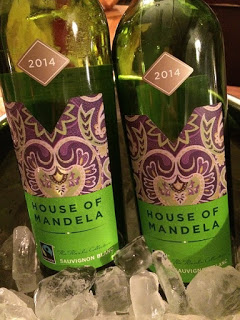 I started writing about wine because it is my passion. Since then, this blog has also afforded me many opportunities I would never have had as just a wine student. I was reminded of how incredibly lucky I am to have these experiences recently, while attending an intimate lunch in the iYellow Wine Cave with Dr. Makaziwe and Tukwini Mandela from House of Mandela Wines. Yes, that Mandela.
Why was it so inspiring? I think because it reminded me that wine can (and should) be used towards the greater good. Nelson Mandela's family is continuing his legacy of creating positive change in the world and using wine as a vehicle to tell their story and help their country. Those are big ideas to take away from a tasting and I left the event wondering what more I could be doing to make a difference.
In town to talk about the release of a selection of their wines at the LCBO and across Canada, it was truly an honour to spend a few hours talking to these incredible women about how they are using their wine business to help South Africa.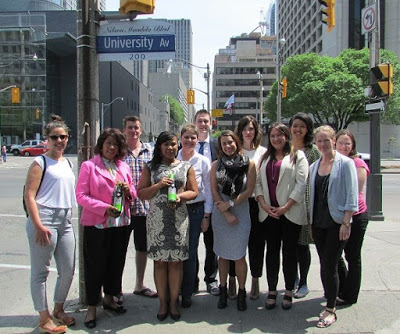 Our group assembled at Nelson Mandela Blvd. in Toronto
House of Mandela Wines, which is primarily fair trade, started in June 2010 with a desire to celebrate South Africa and make a change in the industry. Currently, while a large percentage of those working in the wine industry there are black, few of them have an ownership role. House of Mandela wanted to see more diversity and empowerment. They don't own a vineyard or even a winery, but source the grapes from local farmers and use them to make high-quality wines with a mission to make a difference.  While the wines create work and bring economic change in the country, they also go towards the greater good – a portion of the proceeds go to three different charities.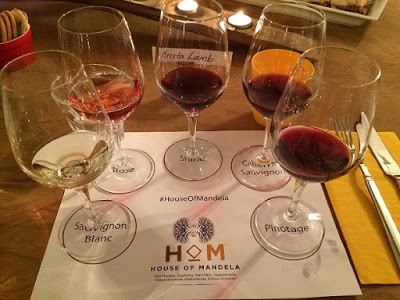 And the wines serve as a continuation of their family's powerful story. All of the imagery on the bottles represent the story of the House of Mandela and their tribe – from the labels inspired by Nelson Mandela's shirts to the bee image on the bottle top, a family totem. The wines also tell the story of South Africa, which is infused in all they do. They hope that when people drink the wines they will think about their own family legacies and how they can positively contribute to the world. I know they certainly got the wheels turning in my mind.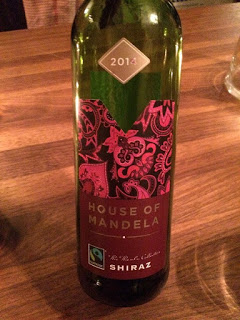 And how were the wines? They were quite good:
While not all the wines are currently available at retail in Ontario, House of Mandela has a large and diverse portfolio and I hope to see more of their wines at the LCBO soon.
The Sauvignon Blanc, which is available via the LCBO, is lovely and easy-drinking (not to mention well-priced at $12.85). The tropical notes make it a nice pairing with seafood.
The rosé has strawberry, melon and grapefruit on the nose. It's Merlot-based, quite dry and has good fruit on the finish.
The Shiraz has plum, smoke and pepper on the nose, white pepper on the palate and a touch of oak from its six months in barrel.
The Cabernet Sauvignon has cherry, tar, smoke and raspberry on the nose, a good length on the finish and cherry and raspberry on the palate.
I'm not usually a fan of Pinotage, but the coffee was subtle on this one, with more cherry and earth on the nose. I picked up a lot of red fruit on the palate and a bit of smoke.
Do you have an inspiring story of wine being used for the greater good? Share it in the comments below or on social.
A huge thank you to the iYellow team for including me in this tasting.