Having spent a week exploring the Mosel Valley in 2013, Shawn and I expected it would be easy to find good German wine during our recent visit to Hamburg. We were surprisingly off point on that one. Not that there isn't good German wine to be had in the city, which we are both quite smitten with, it just wasn't quite as easy to come across as we hoped.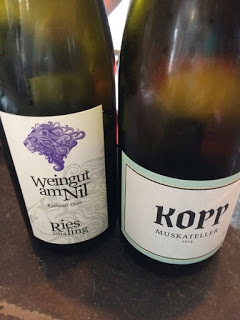 Almost all of the restaurants we visited during our three nights in the city had no wine list  at all and a house wine that was both cheap and Italian. Shawn had no issue with this, since he was happily choosing between dozens of ales and lagers on the ten-page beer lists many offered instead. I had researched potential wine-based restaurants and did enjoy the wine at one, but Shawn said it felt like he was at an awkward business dinner with exceptionally slow service. He had a point.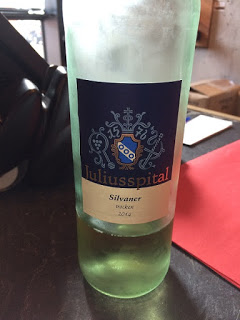 So when I saw the sign for Heart Attack and Wine during a walk along the Hamburg waterfront, I was primed for disappointment. Instead, I found a perfect German wine oasis. Part wine shop and part wine bar, Heart Attack and Wine is the type of place where you can buy a glass of wine and sit outside enjoying the sunshine or pop in to grab a reasonably-priced bottle to go.
With a name taken from the Tom Waits song "Heart Attack and Vine," this place has a hip, urban quality, but also comes across as friendly and relaxed. I happily quizzed the proprietor about the German wines he suggested. We tried four wines altogether (two half glasses each) and the selections were a good fit for wine geek vacation patio sipping.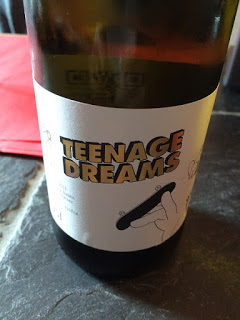 Shawn and I are both fans of German Riesling, but we are also excited by the many other grape varieties growing in the region. In this case, the Riesling was a favourite for both of us, but we also really enjoyed the Muskateller. I liked the 2014 Juliusspital Silvaner so much, I bought a bottle to bring home.
For wine fans planning a visit to Hamburg, I highly recommend stopping in. It's a great addition to a trip to the waterfront and is just a few blocks away from Hamburg's famous fish market.
Do you have any favourite wine bars in Germany? Share them in the comments or on social.