Halloween is one of our favourite holidays and Shawn and I are always up for some spooky fun. This year, we've already participated as 'running bandits' at the Monster Dash 5K and we're planning to spend October 31st with the lights out watching horror movies.
So what wine pairs best with horror movies? Sparkling, of course! Nothing goes better with salty popcorn than a crisp, dry sparkling wine. But Halloween offers lots of great wine options – you can add some real flair to your vampire costume by pairing it with a blood red wine in a suitably spooky goblet.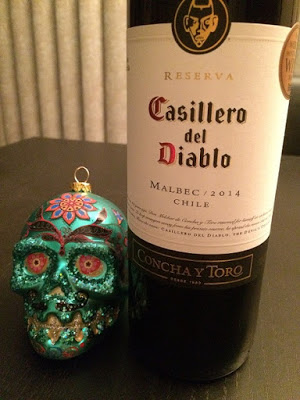 We may just crack open the Casillero Del Diablo 2014 Malbec I recently received as a gift as our Halloween wine this year. The devilish logo has Halloween night sipping written all over it. Have you tried it? Share your thoughts in the comments or on social.
Want something a little sweeter for your Halloween treat? Consider this delicious Scotch-based cocktail Shawn and I recently tested. Wait, did I just suggest Scotch in a sweet cocktail? You bet I did – and your party guests will definitely be impressed by this pumpkin-pie-in-a-glass goodness.
Since I'm still off sugar, I had to skip this one, but I did have fun watching Shawn shake it up and I confess to stealing a sip for taste-testing purposes. What a surprise – this is not-too-sweet and perfect for fall sipping.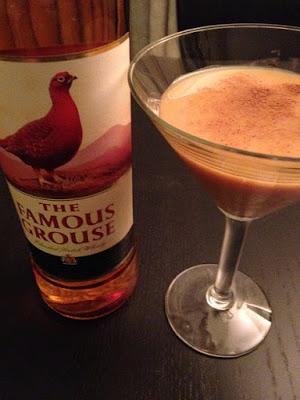 Made with Famous Grouse Blended Scotch Whisky, we subbed the pumpkin pie filling (not something we keep on hand) for pure pumpkin and half tsp of organic brown sugar. We also used 2% organic milk instead of half & half to make a slightly healthier version. Either way, it was well-worth the effort.
Famous Pumpkin Pie Martini
1oz Famous Grouse Blended Scotch Whisky
4 tsp pumpkin pie filling
1oz apple juice
0.5oz half & half cream
0.25oz maple syrup
2 dashes cinnamon
Combine
ingredients in a shaker tin with ice, shake vigorously and strain into a
chilled Martini glass. Garnish with fresh grated nutmeg.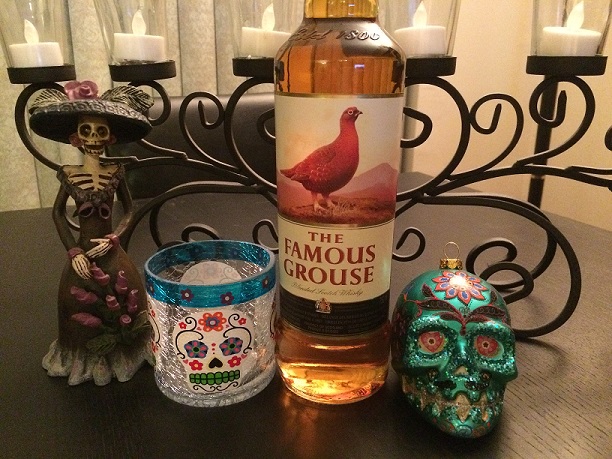 Looking for other options? Canadian Club and Jim Beam sent me some spooky cocktail recipes you can shake up to impress your guests.
Ogre's Brew
1oz Canadian Club 100% Rye
0.5oz Bols Blue Curacao
4oz orange juice
Shake with ice (turns bright green!)
Strain into a tall glass filled with fresh ice
Garnish with gummy worms
Dancing with the Devil
60 mL Jim Beam® Devil's Cut® Bourbon
30 mL Triple Sec Liqueur
30 mL fresh lemon sour
30 mL passion fruit juice
2 dashes Tabasco® Sauce
Cherry
Shake with ice. Strain into a chilled cocktail glass. Garnish with a cherry
What will you be serving this Halloween? Do you plan to go with wine or cocktails? And have you ever had a Scotch cocktail? What did you think? Share your thoughts in the comments and on social.
While I received a sample of Famous Grouse Blended Scotch Whisky to try in this cocktail, all opinions are my own.