Recently, I've been lucky enough to have the opportunity to do vertical tastings (a chronological tasting of back vintages through to current vintages) of several Creekside Estate Winery wines. The first opportunity was one I really just stumbled upon – I was in the area for the Niagara Icewine Festival and popped into the winery – where they happened to have just opened back vintages for a restaurant buyer. The second opportunity was definitely planned – Creekside sold several bottles of their incredible Lost Barrel back vintages and our friend in wine Gary Killops purchased a case of four. We decided to split the cost and have a tasting with a group of dedicated Ontario wine lovers. There is so much to say about these two tastings, that I've decided to break this into two posts.
Doing a vertical tasting is such an important part of learning about wine. It's fascinating how the same grapes, grown in the same location by the same people can taste so different from one vintage to the next. Weather plays a huge part and it's so interesting to see how a cold winter or a hot summer can change the colour, taste and structure of a wine.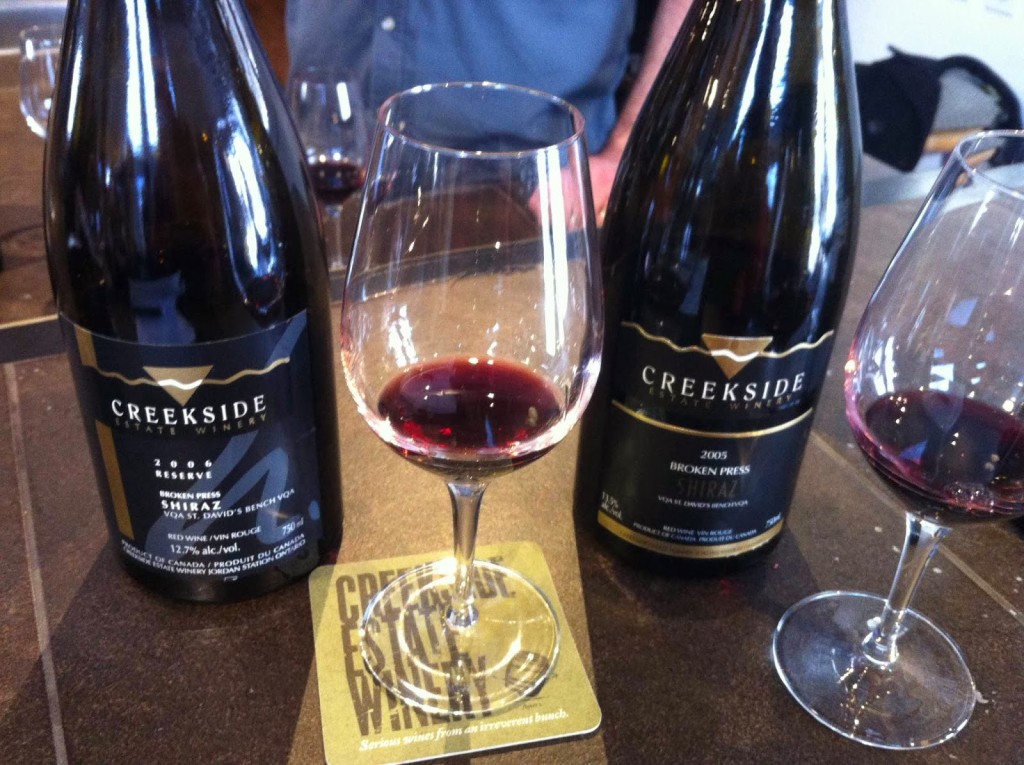 Creekside's Matt Loney walked me through the first tasting of 2005 Broken Press Syrah, which was from a year where a lot of crops were lost because of the harsh winter (a worry winemakers across Ontario are currently grappling with). The summer of 2005 was also very dry, so many of the grapes were overripe and there were issues with tannin. Matt told us this was a year when there wasn't much wine produced because of the weather. The 2005 Broken Press Syrah was aging well despite these obstacles, with a very fruit forward nose, nice acidity and tannin and a beautiful deep purple colour. It was, as I noted, also absolutely delicious.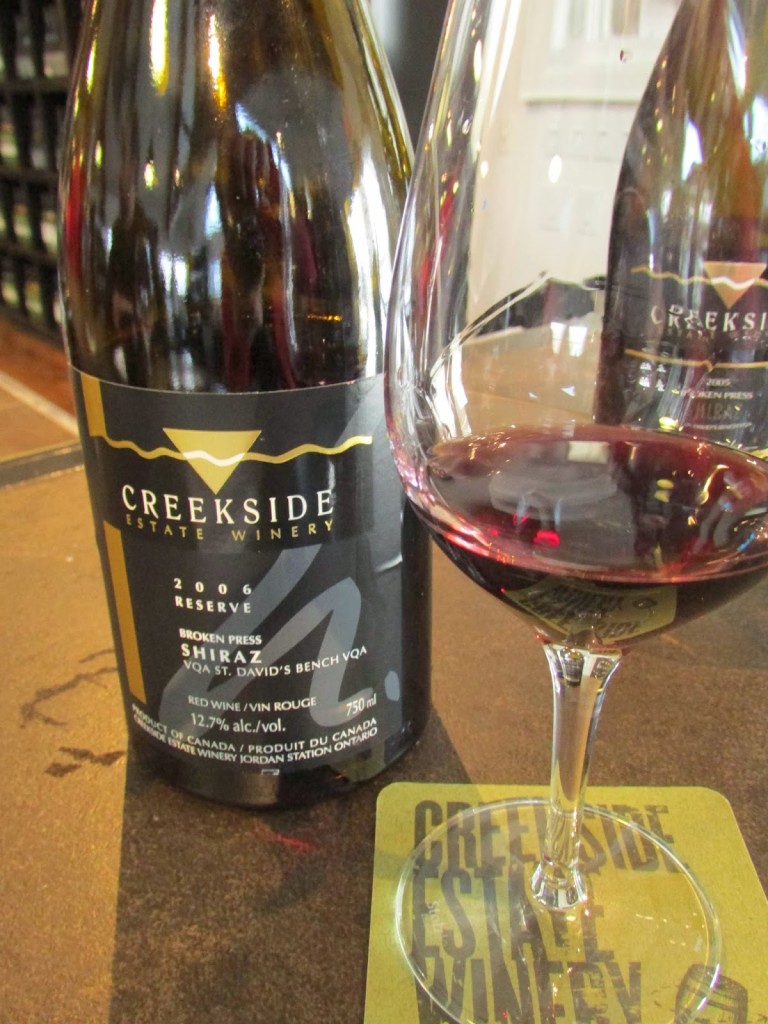 In comparison, the 2006 Broken Press Shiraz, which was from a cold, wet year, was very different. It was also holding up well, but with much less fruit on the nose – I got baked plum, currant and smoky meat. There was still good structure and nice mouth feel, but in a blind tasting I would have guessed it was the older of the two wines. For me, it was helpful to see just how different the two wines turned out, mainly based on the affect of weather.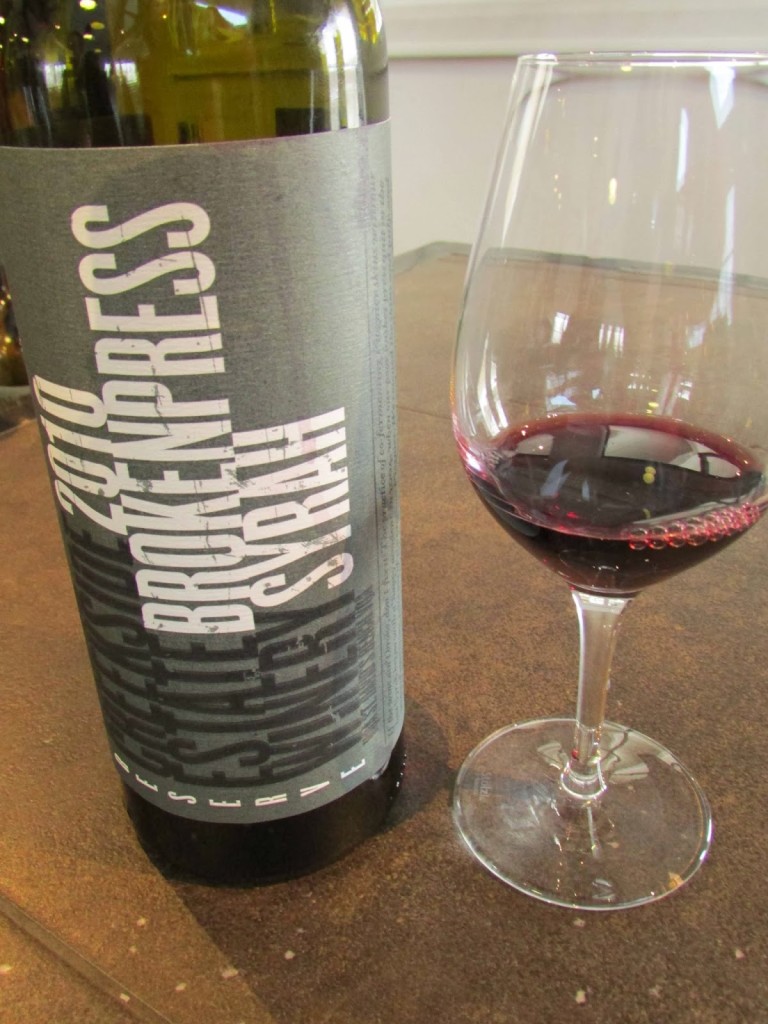 The 2010 Broken Press Syrah was a very young wine in comparison. It had huge notes of pepper on the nose and all the hallmarks of a classic Syrah. It was fresh, vibrant and tannic – a perfect companion for red meat. It still needs some age on it, but it was quite drinkable even in its youth. I'm looking forward to tasting this one again in a few years to see how it compares to the previous vintages.
Next up, we tasted the 2004, 2005 and 2010 Cabernet Sauvignons.  The 2004 was holding up very well with beautiful fruit on the nose, nice acid and full body. This had won the Best Cabernet Sauvignon at the Canadian Wine Awards when it was released and it was good to see how well it had aged. The 2005, which was from the drought year, was still very tannic and hot on the nose. It had pepper notes on the finish and is another wine that would have been good with a steak dinner. Tasting it side by side with the 2004 was intriguing, as they were just so different. In contrast, the 2010 was still very young and vibrant with mouth-coating tannin, big flavours and floral notes on the nose. I liked it now, but think I will love it in a few years.
I feel so lucky to have had the opportunity to try these wines. A huge thanks to Matt at Creekside for this opportunity. Next week, I'll write about our amazing Lost Barrel vertical tasting, so stay tuned.
For more information on Creekside Estate Winery: http://www.creeksidewine.com/