When I started taking wine classes, I was instantly enchanted with Champagne. The unique terroir, the traditions of the region, the exacting process of making the bubbles so perfectly, it all drew me in. Since then, I've had the pleasure of trying several Champagnes, but never Krug, the subject of this book by wine and food writer Alan Tardi. After reading Champagne, Uncorked: The House of Krug and the Timeless Allure of the World's Most Celebrated Drink, I feel like I need to rectify this very soon.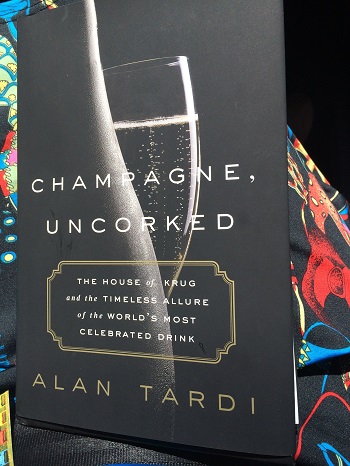 Tardi immersed himself in the world of Krug over the course of a year – an entire vintage production cycle. Along with this hands-on experience of every aspect of producing Krug Champagne, he interspersed the history of this famous Champagne house. It's a little like the recent documentary, A Year in Champagne, with a lot more history and a stronger sense of the personality of the author.
I felt throughout the book as though I'd like to have a glass of Champagne with Tardi one day. He doesn't come off as stuffy and affected, but as genuinely passionate about his subject and not afraid to admit that, even after years of wine writing, he's still a little unsure in some wine-related situations – like when he was suddenly asked to add his opinion during a rapid-fire tasting to help choose the blend. I'm sure I would have been immobilized in that moment (especially given my pokey nature as a taster) and it was comforting to know that Tardi was a bit thrown, though he recovers quickly.
I quite enjoyed this book, taking away a wealth of new knowledge about Champagne, the House of Krug and the changing world of Champagne production (in particular as ownership of many big houses shifts away from families to large corporations). I would highly recommended this one for wine-lovers and bubble obsessives alike. I liked it so much that I've already added Tardi's other book, Romancing the Vine: Life, Love, and Transformation in the Vineyards of Barolo, to my reading list.
Like wine books? Check out all my recent book reviews!
Have you read Champagne Uncorked? Do you plan to? Share your thoughts below or on social
*While I received a review copy of this book, all opinions are my own.