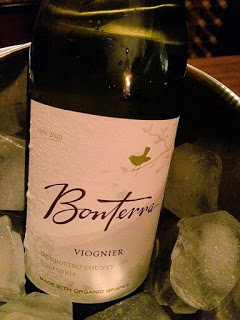 One of the questions I get asked frequently is 'Should I be drinking organic wine?' I also get a lot of requests to suggest good organic wines. I always say that I'm not sure whether organic wine is going to make a huge difference to your health and that many wines are farmed without pesticides, but are not certified organic. Still, it's worth consideration. I'm super conscious about what I eat – and a huge amount of the produce we buy is organic – so shouldn't I drink organic wine too?
These are all reasons I was eager to take iYellow Wine Club up on the invitation to attend a blogger dinner with Bonterra Organic Vineyards from California. I've had Bonterra wines before and was interested to learn more about their wines and their growing practices. A Mendocino County, California winery, Bonterra is a mainstay at the LCBO and one of the few certified organic wines that are easy to get in Ontario (Niagara's Southbrook Winery is another).
At the tasting, we tried four Bonterra wines alongside a meal made by Foodies on Foot's Chef Damian Harrington. We also heard from Bonterra's John Kinney, who talked about the history of the winery and all they do to be certified organic in California – even their neighbours have to be organic in order to avoid contamination from surrounding soil. Through their practices, which include using sheep to mow between the vines and bicycles to get around the vineyards, they have gone from producing 1700 tonnes of waste to being 98% waste free today – and they not only create their own solar energy, they sell energy back to California! It was an interesting chat, including some time spent on biodynamic wines, which Bonterra also produces. Those wines, however, are made on a much smaller scale and are not yet available in Canada.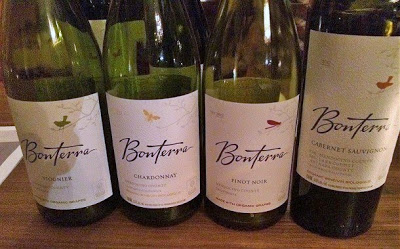 So what did I think of the wines? Overall, I enjoyed them. Could I taste the difference organic grapes make? No. But the Viognier was full of peaches and melon and had just a touch of oak to give it some body. I liked it with my dinner salad and would likely pick up a bottle the next time it's available in a Vintages release at the LCBO (usually once a year or so).
The Chardonnay was oaked and had a buttered popcorn nose and was a nice, creamy option. This is a definite California Chardonnay, with 70% aged in French and American oak and the remaining 30% in stainless steel. It would be nice with a creamy dish, as the acidity should be high enough to cut through the cream just a little.
The Pinot Noir is a powerful wine at 14.2% with a cherry cola nose and a soft tannins on the palate. This was my least favourite wine of the night, despite my unabashed love of Pinot Noir. I think, for my money, Ontaro Pinot Noir is a better bet, but I know some people who swear by California. I think it's a matter of personal taste. That said, this wine did pair nicely with the main course – pork chops, polenta and blue cheese (I skipped the pork chops, but it still worked well).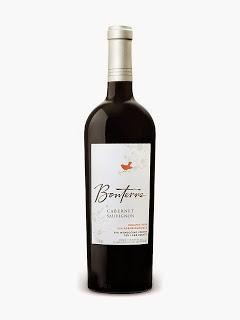 While I really enjoyed the Viognier (and that would be my pick for a lighter appetizer course), the 2012 Cabernet Sauvignon was my favourite wine of the evening. This was a well-structured wine that held up well with the earthy flavours in the main course and had lots cherry and stone fruit on both the nose and palate. I would pick this up for an earthy, mushroom-based dish or just to enjoy when I'm in the mood for a nice, heavy red. At $19.95 it's a good value option for a big, bold red wine.
In the end, I have to say I like when wineries use sustainable practices and eschew pesticides and chemicals. But I also know that it's a complicated topic and many wineries that might practice sustainable, pesticide-free farming cannot be certified due to costs or other complications. It's a subject I look forward to studying more deeply. Feel free to suggest good resources in the comments or on social.
And if you're looking for more information on organic and biodynamic winemaking from a writer who really understands the science, I recommend checking out The Academic Wino's writings on this topic. Becca looks at wine-related subjects from a scientific perspective and has written extensively about this subject.
Many thanks to iYellow Wine Club and Bonterra Organic Vineyards for the invitation to try these wines and learn more about organic winemaking.