It's officially autumn! I love this time of year so much and I've been signing up for races and yoga classes to celebrate the start of a new season. Even though I'm well past school age, September always seems like a great time for fresh starts and heathy changes.
And I've had lots of great wine in my glass this month to share with you! Shawn and I have been traveling and tasting and having so much fun on our wine-infused adventures. I'm looking forward to sharing them with you in the weeks and months to come. But up first, a few of my favourite sips from the past few weeks.
Southbrook Vineyards 2013 Triomphe Cabernet Franc – I am a big fan of Southbrook wines and of Ontario Cabernet Franc in general, so I was pleased when this sample arrived.  And as I inhaled the aroma of this Ontario red, it felt like fall in a glass – black and roasted pepper, blackberry and wet earth on the nose and lots of earthy, spicy goodness on the palate (blackberry, strawberry, a bit of chili pepper). Even better, it's organic, which is something Southbrook takes very seriously. I had this with a dish of wild rice and beans that Shawn made for me and it was a perfect mix of earthy flavours on a cold, rainy evening.  I had spent my day taking an html and CSS course at Camp Tech (which I highly recommend) and let me tell you, a glass of this wine with a big bowl of rice and beans and getting sucked into part four of the excellent ESPN documentary on O.J. Simpson made for a pretty perfect way to end the day.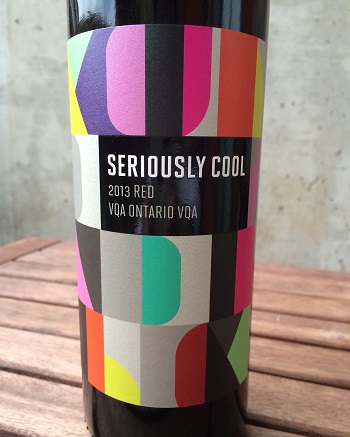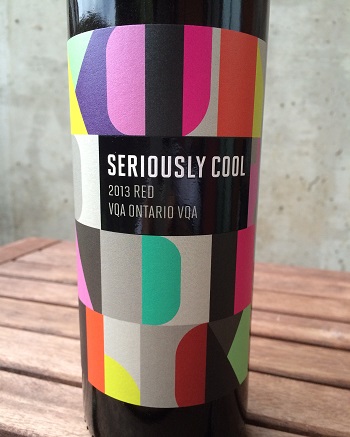 Southbrook Vineyards Seriously Cool Red Blend – The Seriously Cool series is more of an entry-level wine for Southbrook, but that doesn't make it any less enjoyable. With its colourful and memorable label, it's hard not to want to pick up a bottle. With dark chocolate, smoked meat and plum on the nose and black cherry and roasted plums on the palate, this is a really good food wine. Shawn and I cracked this bottle on a Monday evening, after we returned home from an adventure in Norfolk County (we'll talk more about that another time). To celebrate the last day of our longer weekend, he made grilled cheese sandwiches with turkey bacon and we enjoyed an evening of comfort food and a marathon session of The Walking Dead (we're trying to get caught up before the new season starts). This wine paired quite nicely with vacation day binge watching.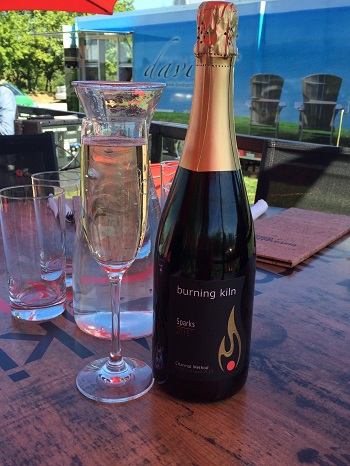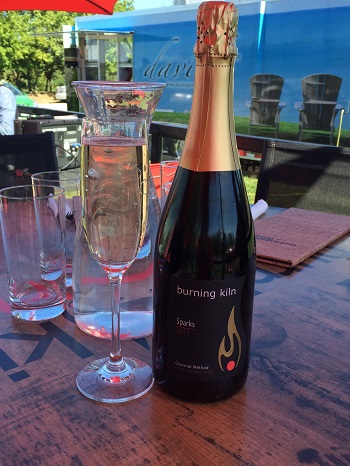 Burning Kiln Vineyards – Sparks – There's very little in life that I like more than a good sparkling wine. It doesn't have to be French Champagne (not that I'll ever turn that down), but a well-made sparkling will always steal my heart. Such is the case with Burning Kiln's Sparks, which is made with seven different grape varietals and has a little bit of biscuit on the nose, along with nice notes of lemon that follows through on the very crisp palate. It's a pleasant, refreshing sparkler and it paired quite nicely with the perch tacos I enjoyed on the winery's patio last weekend. Burning Kiln is on a beautiful piece of property in Norfolk County, a place that has seriously captured our hearts. We can't wait to go back, and when we do I know that more of this sparkling will be enjoyed.
Levendi Winery 2015 Reserve Chardonnay – I was lucky to recently attend the Napa Valley tasting event in Toronto (more on that in another post soon) and there I discovered Levendi wines. Their lively and fresh Chardonnay was a stand-out for me with balanced acidity and pineapple, pear and apple notes. This is a very good example of a California Chardonnay that could work both with food or on its own. A nice sipper that I hope to have again soon. This one is available via agent in Ontario, but you can grab their Cabernet Sauvignon (also very good) at the LCBO for a limited time.
So what did you drink in September? Share what you tried and loved in the comments below or on social.
Coming up in October on the blog, we'll continue to look at the wineries of Lake Erie North Shore and our German wine adventures and I'll give you a deeper dive into two recent tastings I did this past month, which I wanted to dive into with more detail. And I may even share a few more personal posts about my recent wine foibles – I'm told they're pretty funny!
*All wines tasted this month were either samples or tasted at events where Shawn and I were guests. And thank goodness for that because my wine budget is already completely out of control and running this blog is a very expensive hobby! Opinions remain, as always, our own.