Nestled on Market Street in Toronto, Barsa Taberna is a little taste of Spain near the St. Lawrence Market and it's one of my favourite places in the city to eat. Barsa specializes in tapas, little bites of Spanish cuisine that are as fun to pair as they are delicious.
While Barsa is well known for its sangria, which is authentic and lovely on a summer's day (no soda or other fillers in their version), it also has an interesting wine program. I recently sat down with owner Aras Azadian to try some of their pairings and talk about what makes Barsa Taberna a great option for someone who wants to learn about Spanish wine and food.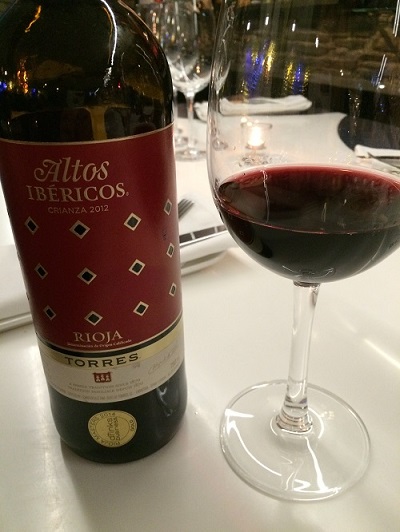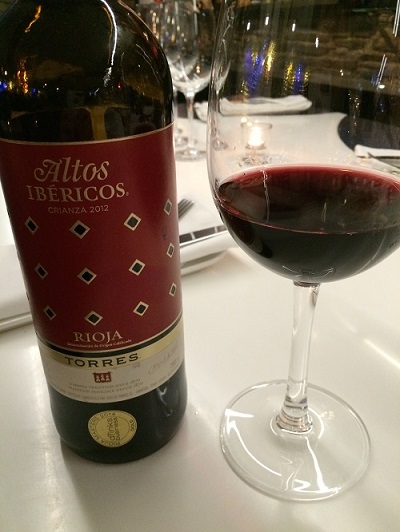 I first discovered the restaurant when I interviewed the winemaker for Radio Boka, a Spanish wine from Valencia. I remember walking down the steps into a stunning room that seemed to resonate a love for Spain and for wine. There is an entire wall made out of the bottom of wine bottles and the walls behind the bar are lined with wines from their list. The space is beautiful and it perfectly compliments the dining experience.
Aras didn't grow up in Spain, but he did go to business school in Barcelona. And while he was focused on his studies then, he fell in love with the food and the culture. With an MBA in hand, he has gone on to become a vice president at a bio-chemical company working on cancer research, but he also owns and runs Barsa – the reason he always wears a suit and never sleeps, he says with a laugh. One of his goals with Barsa is to bring a Spanish experience to Toronto. At first, he tried more of a Spanish fusion with flavours from around the world, but he has realized that Toronto diners want a more authentic Spanish experience and that's something he can deliver on.
That he's able to merge both his careers so successfully speaks to a passion that comes from youth. Aras, and most of the staff at Barsa are under 30. It's all a part of the unique experience that comes with dining here. And with that youth comes a vibrant and playful style that infuses everything about the experience.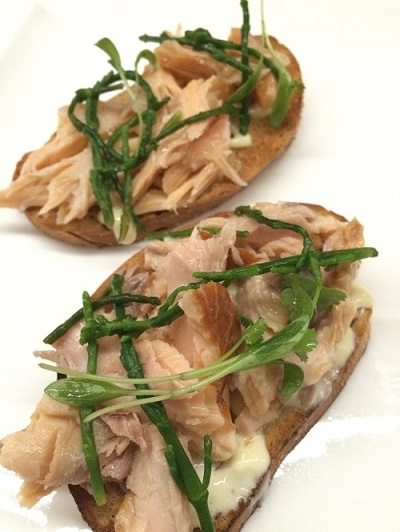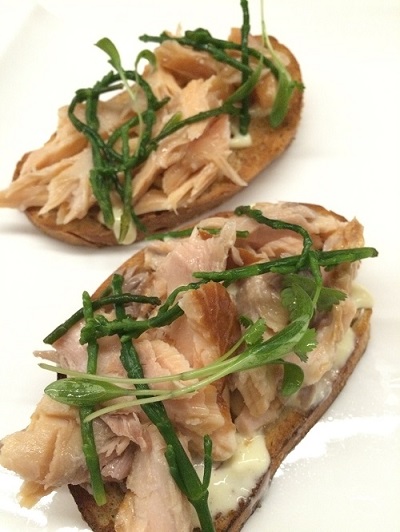 I start my pairing with a refreshing Cava.  The Juve y Camps Reserva de la Familia from Penedes, has biscotti and vanilla on the nose and the bubbles hold together nicely. It's a complex Cava and works very well with many of the seafood dishes on Barsa's menu. Aras pairs it with a salmon escabeche done as pinchos (a small bite on toast). The salmon has been cured and is bursting with flavour, which works well – the Cava's acidity cuts nicely through the salmon's oiliness and highlights the lovely texture and flavour.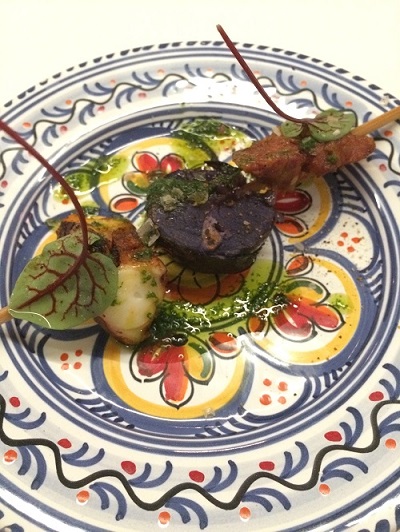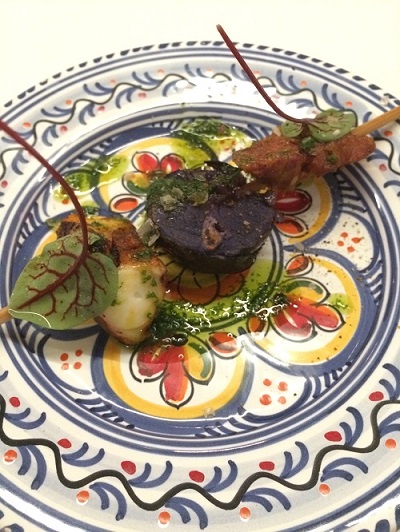 Next up is grilled octopus with charred potato – a skewer that's full of complex Spanish flavours. Paired with a Telmo Rodriguez Basa, this works quite well. This is a versatile wine option with peach and grapefruit notes on the nose and a rich, full mouthfeel. The wine compliments the richness of the octopus and the salty notes on the purple potato. The wine, which drinks very nicely on its own, is a good option for the many seafood dishes on the menu.
Because I don't eat red meat, it was harder for the Barsa staff to find a good pairing for a traditional Spanish red – Tempranillo. But this team knows their wine and food pairings and chose a lighter style from Rioja, the 2012 Torres Altos Ibéricos Crianza. While this was a little heavier than some of the more Pinot Noir-esque Spanish wines, it worked well with the seared albacore tuna dish. Served with warm couscous, the tuna was seared perfectly and the Tempranillo was a pleasant surprise. Red wine and seafood doesn't always work well together, but in this case it was quite good.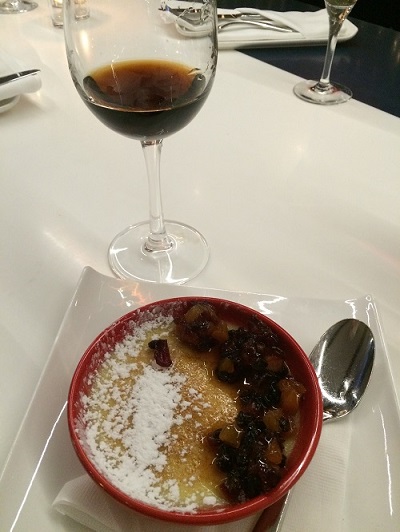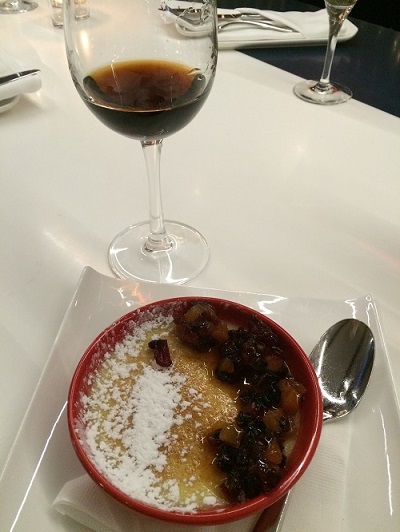 For dessert, Aras suggested Casa Mariol Vermut Negra, a Spanish vermouth that tasted more like Sherry. It paired well with the cinnamon and orange in the crème brule dessert. While the fruit compote topping was just a little too sweet for the vermouth, the crème brule itself was a good match – just the right level of sweetness to hit all the best notes in the vermouth.
With an evolving wine list (expect a Chardonnay from Northern Spain to appear on the wine list soon, as well as a Spanish Cabernet Sauvignon), Barsa is a great option for wine lovers looking for a Spanish-style night out. While Aras can't bring in all his favourites from Spain, he is putting as many as possible on his wine list. They're also hosting a number of fun evenings out, like Flamenco Thursdays and Pass the Table's unique Spain Via Sommelier events. Pass the Table provides exclusive experiences that allow anyone to have an 'insider' experience at a restaurant and are a great option for wine lovers wanting to really experience the restaurant. Aras is hoping to create a few other wine-inspired events in 2016 so that more people can come out and experience Spanish wine alongside food from the country.
You can learn more about Barsa Taberna's menu and events on their site and check out Pass the Table's list of fun foodie events at passthetable.com