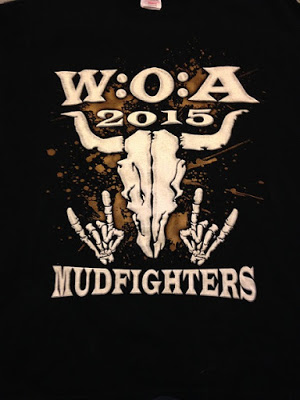 Shawn and I earned our shirts at WOA.
Being married to a heavy metal musician makes for an interesting conversation starter, but it also means that once a year I become a heavy metal widow when Shawn flies to Germany to spend a week at the world's biggest heavy metal festival: Wacken Open Air (WOA). Spending several days camping with more than 80,000 metal fans is not my idea of a good time, but for my husband it's the pinnacle of his year. When, in 2014, he wrote the 25th anniversary theme song for the festival (listen to it here) and got to perform on the main stage, I'm pretty sure it was the highlight of his life (wedding be damned).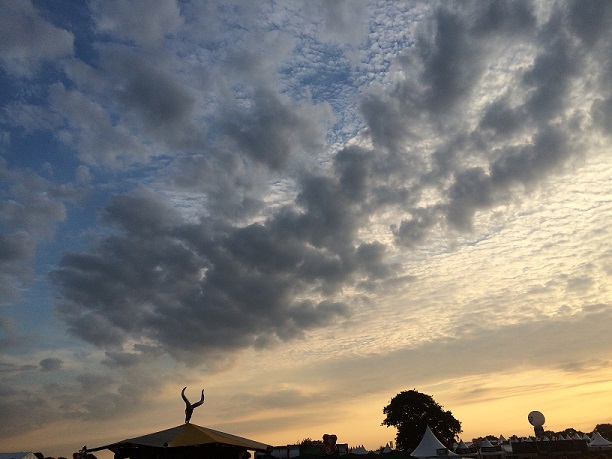 Enjoying the sunset over Wacken.
So when Shawn scored a room for two on the MS Wacken Boat Hotel, a floating hotel moored just a few minutes from the festival grounds, I decided to take the plunge and find out why my husband loves this festival so very much. First, some background, while I like some of the more melodic metal bands, I'm not a huge metalhead. And camping is pretty much the thing I like least in the world. So WOA and I were not made for each other.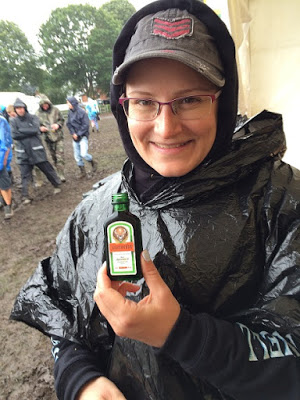 Warming up with tiny Jäger on a cold and rainy day
Oh, and then there's the whole lack of wine. We had spent a week in Europe ahead of Wacken and I was primed to enjoy even more of Germany's finest, except there wasn't much of that to choose from. In fact, the only wine on offer seemed to be mead (I still haven't acquired a taste for that) or fruit wine (maybe in small doses).  This didn't seem to bother most of the attendees, as one thing heavy metal fans (in particular those in Europe) are known for, is their love of beer. And it certainly flows at WOA. But I'm not a big beer fan, so I went with the only other option easily available to me – Jägermeister.
You remember Jäger, right? It's the black licorice flavoured liquor you may have done shots of in your university days, but you probably haven't thought much about since. Well, in Germany Jägermeister is extremely popular. It was one of the festival sponsors and readily available in the camping area, the town of Wacken and on the festival grounds. Now, don't get me wrong, I wasn't walking around downing Jäger shots all day, but it turned out to be a really nice option throughout five days of mud, cold, rain and metal.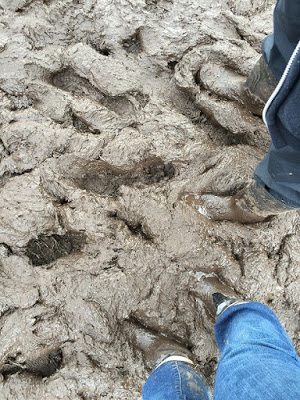 Where did our feet go?
And, here's the thing, despite being the muddiest WOA in recent memory (seriously, ankle deep at all times, calf deep in places), I had a blast with my husband.  I've never been so happy to have a pair of Walmart rubber boots, but the overall vibe at WOA is just so positive and engaging that I couldn't help but enjoy myself. The shows were spectacular, even the bands I wasn't especially interested in put on impressive performances, and the festival is full of things to see and do even if you don't want to spend all your time watching the multiple shows happening throughout the day.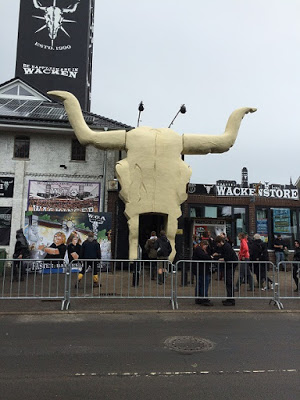 One of the many Wacken Stores in town.
There's a Viking village, a Mad Max style village and the entire town of Wacken shuts down to create a WOA party in the streets with bars and shops set up on just about every front lawn. The 80,000 people who descend on the town are pleasantly toasted most of the time, but so very positive and polite. I saw no fights, no aggression and I didn't even have people knocking into me all the time like at shows in Toronto. Sports fans could learn much from these lovely, muddy people.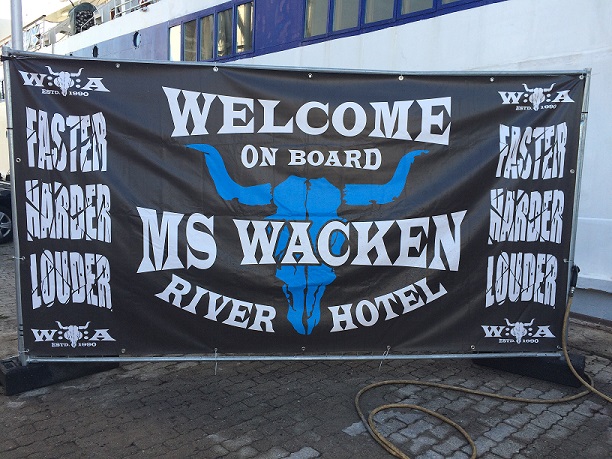 The welcome sign at the boat hotel.
Having a room on the boat is what made this really work for me. Camping in the mud and rain would likely have put me in a miserable mood, but the M.S. Wacken was a warm, dry space to come back to each night. Our room was tiny (we had bunk beds!), but it was clean, dry and cozy. There was a bar on the ship where we could hang out when we weren't heavy metaling and the staff was absolutely fabulous. If we could afford it, I'd happily go back to Wacken again if staying on the boat was an option. Really, even though I cannot stress enough how much mud I dealt with over the course of five days, I would still go back. Because WOA is such an incredible experience and I had a fabulous time doing something completely outside my comfort zone.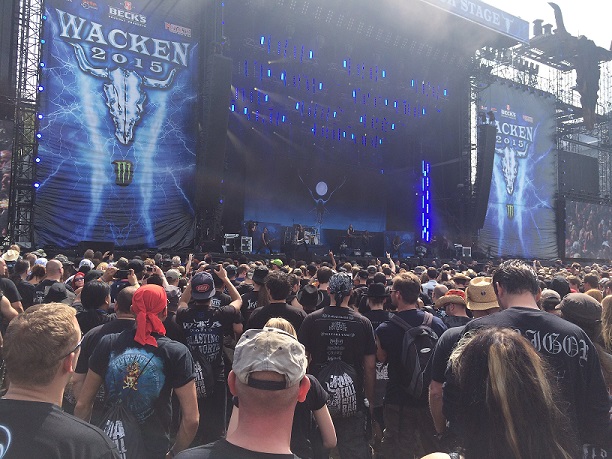 Watching Amorphis with so many people was a lot of fun!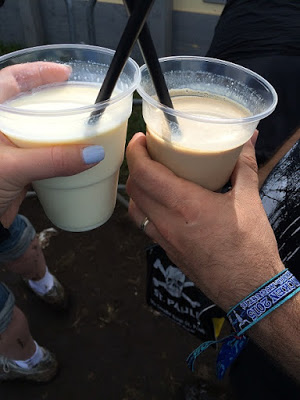 Spiked milkshakes – these were beyond delicious.
And Jägermeister was part of that. It's not something I would have chosen before this trip, but I ended up really enjoying the flavour, and it came in handy as a tipple on the colder days. When you're completely freezing (I had on jeans,
double socks, a tank top, a t-shirt, a light hoodie and a heavier hoodie at some points, and I was still cold), a shot of Jäger is actually pretty warming. I also credit it for keeping me from getting sick in all that wet, cold weather. I stand by the theory that alcohol in moderation can stave off a cold. It certainly seemed to in this case.
While I didn't indulge as much as some folks, I'm glad I had a little bit of liquid courage to get me through the rougher points of an outdoor festival with weather challenges (thankfully the last day was really warm and sunny), and I'm glad I got to rediscover Jäger as an adult. When we got home, Shawn and I picked up a bottle and we've been experimenting with cocktails and other ways to enjoy this spirit.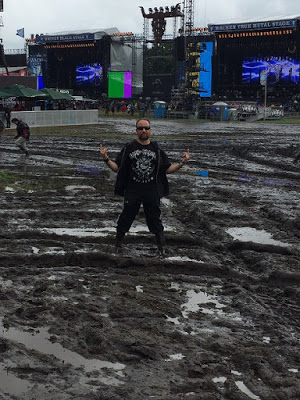 Shawn strikes a pose before the crowds descend.
And, no, it doesn't fit into my newly sugar-free lifestyle (there is some added sugar). However, I have declared it a worthy "cheat" option once in a while and when paired with sugar free mixers.
In honour of my big once-in-a-lifetime experience, I asked the amazing people at Jägermeister Canada if they would provide some cocktail recipes, which I wanted to share here.
While I will forever have memories of Jäger attached to my heavy metal adventure, it made me want to remind my readers that this is a surprisingly versatile addition to your liquor cabinet that pairs well with much more than metal.
Some more stylish ways to experience Jägermeister.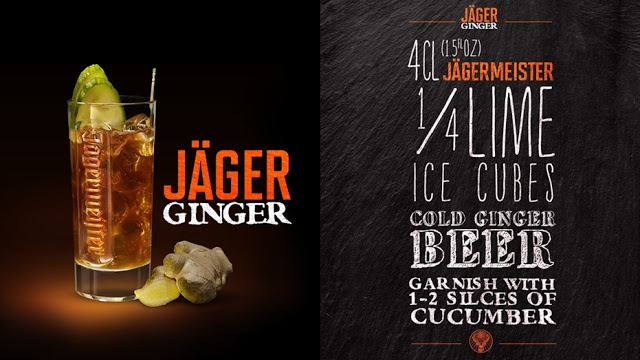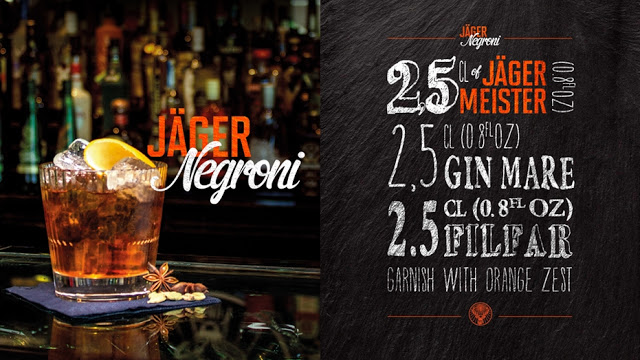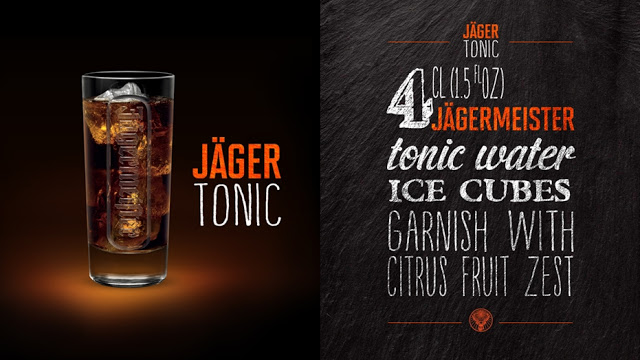 Have you ever had a Jager cocktail? Or rediscovered a drink on one of
your travel adventures? Share your thoughts in the comments or on
social.