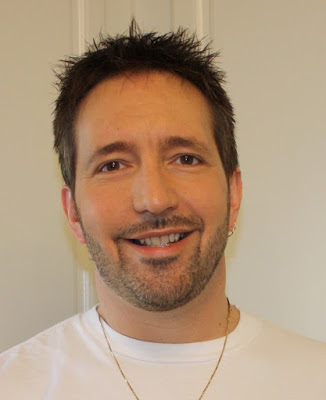 Chef Dez – Photo Provided
When I was working in the music industry, one of my favourite projects was partnering with Chef Dez on a series of country music recipes. Dez is a fabulous chef with a sense of fun and a lovely spirit and his recipes captured the spirit of some of Canada's best county artists. A culinary instructor and food columnist, Dez has competed on Chopped Canada and hosts a series of culinary travel experiences across the U.S., which I highly recommend checking out.
I was thrilled when he agreed to participate in my Food Pairing Friday series with a delicious sweet potato bisque recipe that's not only hearty, but healthy too. This is a perfect recipe for this time of year and just what you need to warm you up well into the winter – I think his pairing suggestions are spot on too.
Shawn and I are thinking this would be a great option for cool fall evenings and as a starter at the big Christmas dinner we always share with our families.
Cooking with Chef Dez – Fat Free Sweet Potato Bisque
The autumn season brings cooler weather and transforming leaves. It earmarks the beginning of how our vision of food and celebration starts to change. With the dog days of summer behind us, we are no longer as worried about our bathing suit images, and the calendar lineup of commemorations are welcoming us with open arms. For many, this means indulgences in comfort foods to warm the soul, satisfy our hunger, and highlight the gatherings of family, friends and loved ones.
Eating is a huge part of the social aspect of our lives, but this does not always have to signify an abandonment of healthy choices. There are many ways to pacify our desires with foods that are still very nutritious, without leaving us feeling void of pampered appetites.
Fat Free Sweet Potato Bisque is the perfect recipe to accomplish this. Sweet potatoes are loaded with beta carotene (recognizable from their orange colour) and are high in vitamins A and C. Their moist sweet texture is ideal for mimicking richness, when in fact there is no added fat in this recipe whatsoever.
Many are confused by the differences between sweet potatoes and yams, and this is due to the misinterpretation of the North American grocery industry. Sweet potatoes have orange coloured flesh, while yams are starchier, less flavourful, and have paler flesh. The names here are usually mismatched with each other, but in Europe, for example, the names are assigned accurately.
The steaming process of the diced sweet potato, instead of boiling, is important. Boiling of potatoes, or any vegetable, will cause nutrients to be lost in the discarded water, and the boiled product will take on excess water. Water has no flavour and thus will hinder the taste of the final product. Steam is hotter than boiling water and will provide faster cooking times without being as invasive.
Although this soup is great served as a meal itself, it is a remarkable first course to introduce a traditional holiday meal of stuffed turkey, cranberries, and all the trimmings. The addition of nutmeg and cloves gives it a warm earthiness and highlights the incredible natural flavour the sweet potato has to offer. The elegance of the presentation is heightened when beautifully garnished with swirls of sour cream and a sparse scattering of freshly chopped parsley. With the autumn air surrounding us, this soup will help to soothe our cravings of comfort food while helping us watch our waistlines… at least with the first course!
The perfect wine pairing for this soup is a Gewürztraminer or a Riesling with a sweetness code of 1 (or 2 if you so desire). The touch of sweetness in these fragrant white wines goes divinely with the characteristic flavour of the sweet potato, but it also offers diversity. If you were using this soup as a first course to a traditional holiday meal of stuffed turkey & cranberries, these wines would continue to compliment the rest of the meal as well.
With the recommendation of these wines, I would like to pass on a tasting tip. Traditionally white wines are supposed to be served chilled, however this does not mean ice-cold from the refrigerator. A glass of white wine should only have a slight chill to it, as the cold temperature actually hinders the flavour complexity. The closer it is to room temperature, the more fragrant and intricate the wine will become.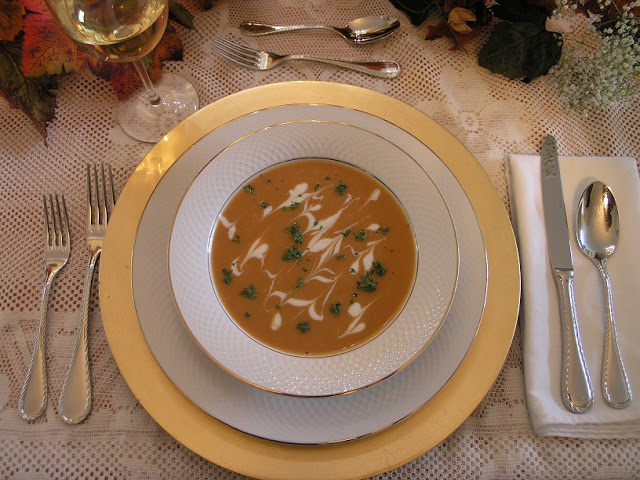 Fat Free Sweet Potato Bisque by Chef Dez – Photo Provided
Fat Free Sweet Potato Bisque by Chef Dez
Makes approximately 6 portions as a first course
1kg orange sweet potato, peeled, diced 1cm
1 tbsp dark brown sugar
1 tbsp salt
1/2 tsp ground nutmeg
1/4 tsp ground cloves
1/4 tsp ground white pepper
3 to 4 cups skim milk
For Garnish
1/4 cup no-fat sour cream
1 tbsp skim milk
Fresh parsley, finely chopped
1.    Steam the diced sweet potato over boiling water for 20 minutes until fully cooked and tender.
2.    Discard the water, and place the cooked sweet potato into a heavy bottomed pot, off the heat.
3.    Add the brown sugar, salt, nutmeg, cloves, and white pepper to the sweet potato and combine thoroughly with a potato masher, ensuring no lumps.
4.    Once fully mashed, start adding 2 cups of the skim milk slowly while continuing to mash with the potato masher. Switch to a whisk, turn the heat to medium, and blend in the remaining 1 to 2 cups of skim milk (depending on how thick/thin you want it), mixing thoroughly.
5.    Stir occasionally over medium heat until completely heated through. Taste and adjust the seasonings if necessary.
6.    While soup is heating, combine the sour cream with the tablespoon of milk.
7.    Portion the soup into bowls and drizzle small amounts of the sour cream mixture on each portion. Drag a toothpick back and forth across the surface to create a beautiful design.
8.    Sprinkle with chopped parsley and serve immediately.
Many thanks to Chef Dez for sharing this with us! I hope it inspires you to visit his site for more recipes and food insights. Do you have a favourite fall/winter recipe? Share your favourite pairings in the comments or on social.