Life has been busy around here! Shawn and I spent a fantastic week in Quebec City and Montreal at the end of April celebrating my birthday, and I've been spending lots of time writing, running and practicing yoga. I've also joined a book club and have been enjoying my self-imposed wine book hiatus. While I have absolutely loved all the wine-related books I've read over the last three years, every part of my brain was ready for a break. My book club just read the excellent American Housewife by Helen Ellis and it was a fabulous opportunity to kick back with a complex, deeply layered and still gloriously funny book and then talk it through with friends over copious snacks and big cups of tea.
I've also had plenty of wine adventures that I'm happy to share below in my latest round-up.
Birthday Bonanza
I love to travel and Quebec City and Montreal have the added bonus of feeling like a slice of Europe just a very short flight away. Shawn and I enjoyed some fabulous food in both cities, before indulging in an incredible birthday meal at Garde Manger in Montreal. It's a bit of a splurge, but I highly recommend this Chuck Hughes-owned restaurant. And what did we drink to celebrate my latest trip around the sun? Veuve Clicquot, of course. Which reminds me that I really want to read the biography of Madam Clicquot currently sitting on my shelf one of these days (see, I can't completely shake my wine reading ways).
Sip & Sizzle in Niagara
The lovely Wineries of Niagara-on-the-Lake invited Shawn and I out to enjoy their latest festival – Sip & Sizzle – which is running on weekends throughout the month of May. I like these fests, as they give you the opportunity to try a new and unique wine and food pairing at all of the participating wineries. Shawn and I went to Days of Wine and Chocolate in February (fun, but a tad too sweet on sweet for someone who doesn't eat a lot of chocolate) and were excited to try the more savoury pairings on this tour. Our favourites were the very flavourful chicken taco paired with the Reserve 2013 Shiraz Cabernet at Inniskillin and the cod fritter paired with Sauvignon Blanc at Two Sisters, but the prawn and Sauvignon Blanc pairing at Chateau des Charmes was also excellent. Ravine Vineyard's chicken wing with Moroccan rice and their dry Rosé was another fabulous option. You can check out the full listing of pairings and purchase a pass for the event at the Wineries of Niagara on the Lake site and we have photos of all our wine and food pairings on Twitter and Instagram. As always, they have a less expensive version of the pass for designated drivers, which is important and awesome.
This and That
There have been a few interesting bottles that crossed my path recently!
Te Awa Left Field 2016 Sauvignon Blanc – Shawn and I kicked back with Dateline and this Sauv Blanc sample over the weekend and we both enjoyed it. It was a good pairing for a lightly dressed chicken salad and it's a very nice value New Zealand wine at $18.95 (LCBO).
The Negroni at Big in Japan in Montreal – We had a bit of an adventure finding this hidden gem, but Montreal's Big in Japan bar lived up to the hype. Modeled after a Japanese speakeasy, this bar has no end of ambiance, elegant staff and they make a fabulous Negroni (and, yes, I judge a place on how they make one of my favourite cocktails). Worth checking out if you're in the city.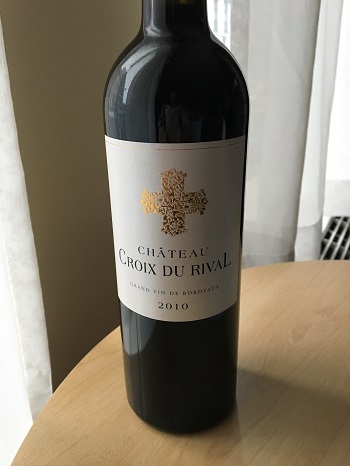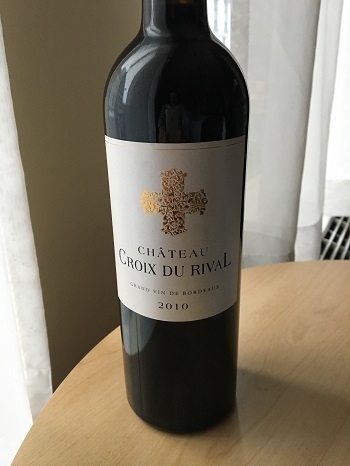 Chateau Croix Du Rival 2010 Grand Vin Du Bordeaux – What do you do when it's pouring rain in Quebec City and you just can't stand a minute more of walking around in the downpour? If you're Shawn and I, you buy a value bottle of Bordeaux ($25.30 at the SAQ) and camp out in your fabulous hotel room at the Hotel du Vieux-Quebec. Maybe it was the seemingly unending rain, the cozy hotel, or just being on vacation, but we both loved this big, bold red (a blend of Merlot, Cabernet and a dash of Cabernet Franc). I wish this rainy day hug of a wine was available at the LCBO because I'd definitely like to have this one again.
And that's just a few of our recent adventures! What have you been sipping? Share your thoughts below or on social.
* Shawn and I were guests at the Sip & Sizzle event and the Te Awa was a sample. All the others were purchases we made. Opinions are, as always, our own.