Driving into the parking lot of Wolfhead Distillery on our recent visit to Lake Erie North Shore, Shawn and I were surprised that it was attached to a lumber yard – not your traditional setting for a distillery. But as soon as we walked into this new building, all thoughts of lumber were quickly forgotten – the place was hopping. Only ten weeks after its opening and on a Wednesday night to boot, Wolfhead was packed with a dinnertime rush that was pretty darn impressive.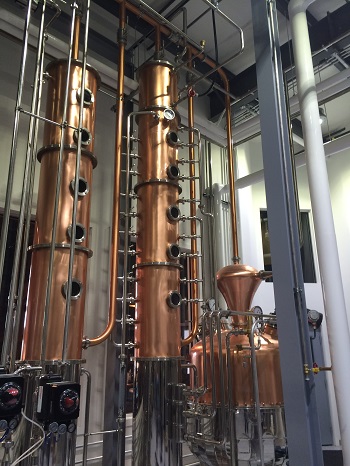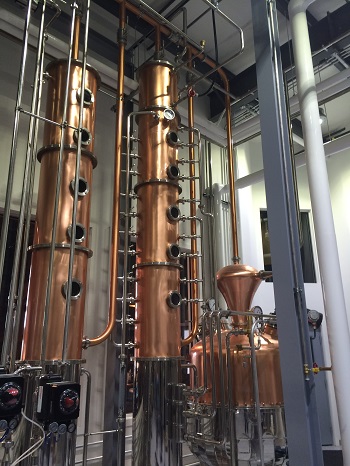 And the excitement over this new business is not misplaced. They seated us at the bar for a tasting of their spirits – three whisky and three vodka – and was hard not to be impressed. The vodka is wheat-based and seven times distilled with limestone filtration to remove impurities and impart a bit of minerality and salt.
The plain vodka is very good and would make for an excellent martini, but it's the grapefruit vodka that impresses me most and I'm not surprised to learn it's a best-seller. The flavours on this one really pop and there's not that confected sweetness some flavoured spirits have. It tastes a little bit like good quality ginger ale and would make an excellent cocktail or be fine to drink on its own. Wolfhead believes in using natural ingredients in their spirits and that shows through in the quality. The third vodka, the banana caramel, is more like a liqueur and a bit too sweet for my tastes, but I'm also not a big fan of banana flavours in general.
The whisky, which they had to purchase and then blend since their own will not be ready for several more years, is all Canadian and had more corn, making it closer to a bourbon. Surprisingly, the coffee whisky is a clear winner here. Made with cold brew espresso grounds it is not too sweet and has a nice bitterness from the use of real coffee. The apple caramel whisky is very approachable and would make a nice option for someone who wanted an alternative to American Honey.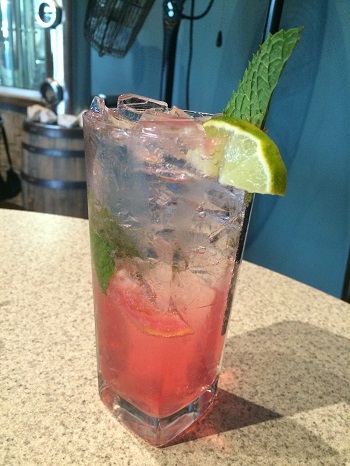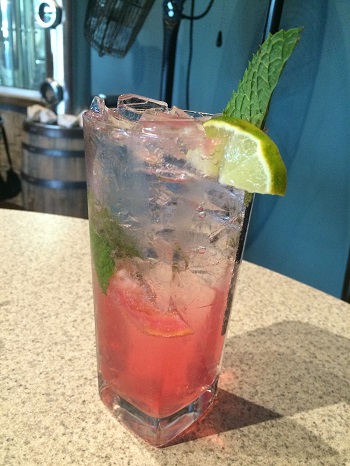 The Wolfhead team has invested a lot in their business, we take a tour of the distilling area and the equipment, imported from Italy, is high-quality and speaks to their seriousness. They are also very passionate about the water they use in their distilling process and there's no expense spared in that part of the process. Right now the focus is on small blends and they are all hand-bottled and labeled. This is a craft operation, with a focus on making high-quality spirits that can be sipped alone or in a cocktail.
At the end of the tasting and tour, my favourites are the premium whisky (the plain) and the coffee whisky, as well as the grapefruit vodka and I purchase both flavoured spirits to experiment more with them at home.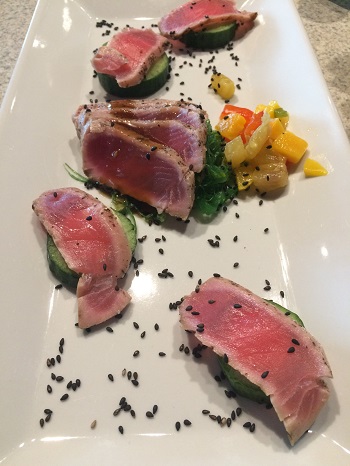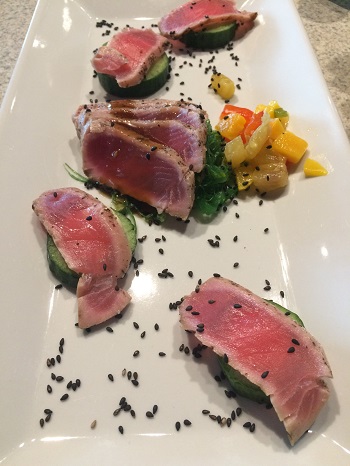 We're seated for dinner shortly after the tasting and I order the drunken shrimp and scallops (made with Wolfhead vodka, of course) and Shawn has the ahi tuna. I also order one of the mojitos, made with Wolfhead's grapefruit vodka. It's a great cocktail and a lot of fun, but with no mint or rum, it's not really a mojito – with that caveat, I highly recommend trying it.
The food is very good and the quality high, the flavours pop and each dish is vibrant and delicious. You can see why the restaurant is packed on a Wednesday night after only being open such a short time. And many patrons are moving from the dining room to the adjacent store after their meals, which is another good sign – sales of the spirits are brisk. This is a fun and friendly place for a meal or tasting.
Since our visit in August, Shawn is almost out of coffee whisky and I think we're both hoping to see it appear on LCBO shelves soon for easier access.
*I was a guest of Ontario's Southwest and Tourism Windsor Essex, so my meal was complimentary, but my opinions are my own. And I bought two bottles of Wolfhead spirits, so I definitely really, really liked them.