Last year, I had the opportunity to try Pukka on St. Clair West and was impressed with how they are elevating Indian cuisine and incorporating a serious wine program. When I learned the owners had opened a new restaurant – Concession Road – on the same St. Clair West strip in Toronto, I was eager to check it out. Luckily, I got the chance at a recent blogger dinner.
And it didn't disappoint – Chef Masayuki Tamaru has elevated French cuisine with a global twist and the results are delicious. As always, I'm told I missed out on the best items because I don't eat red meat, but I actually sampled a large amount off this menu – there were lots of options featuring chicken, fish and/or vegetables – and confess to enjoying each bite.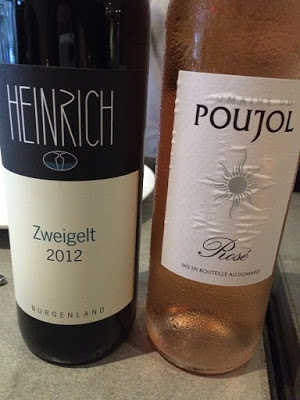 Concession Road also boasts a stellar wine and cocktail program. Their absinthe service is unique and fun – a little bit of ceremony and fuss that goes a really long way. And the cocktails are complex, well-made and tasty. But I'm all about the wine list and this one certainly didn't disappoint. As with Pukka, top Toronto sommelier Peter Boyd has put together a well-curated wine list that holds something for every taste and budget.
"It's a concise list, built from Masayuki's menu, with some wines chosen for customer familiarity and ease, but with a few more novel options, like Marche Pecorino or Austrian Zweigelt, for the more adventurous," explains Boyd. "Given the fare from the kitchen, it was important not to load up with a lot of heavy wines but, of course, we made sure there were a few heftier choices for those who prefer fuller-bodied wines."
And, for the most part, this is a menu that screams out for delicate sipping. The shrimp bonbon with citrus salad and red pepper gastrique is light and bursting with flavour, the steamed Portuguese rockfish with tomato beurre blanc and fresh dill is melt-in-your mouth lovely.
I was a big fan of the 'JFC' Mennonite-farmed fried chicken, buttermilk mash, tomato and preserved lemon mayo, as well as the vegetable-stuffed chard with vegetable sauce, chive oil, beet crisps and toasted pumpkin seeds. All of these dishes were flavourful and well-made – perfect for a lively dinner with friends (like this one) or a romantic date night. For me, I'd want a versatile white or rosé with this meal (and luckily enough, that's what was served), but there are plenty of bottles and by-the-glass options to explore.
Concession Road is a great stop for wine and food lovers in Toronto – for me it's more than worth the trip out to St. Clair West (and a reminder I need to get out there more often).
Have you been to Concession Road or Pukka? What to you think of the suggested pairings? Share your thoughts in the comments or on social.


* While my meal was complimentary, all opinions are my own.