March was a good month for Ontario wine in our house. I was impressed with several local wines I had the opportunity to try! I expect April will be all about California and Prince Edward County, with fabulous wine events representing both regions on my calendar.
You can read all about my favourite wines from March below but before you read further, I hope you'll take a moment to join the brand new Upkeep: Wine, Body & Soul Facebook page. You can find all the latest Upkeep posts, stories from our archives and must-read blog posts from some of my favourite wine bloggers. Sign up here!
And now, onto the wines!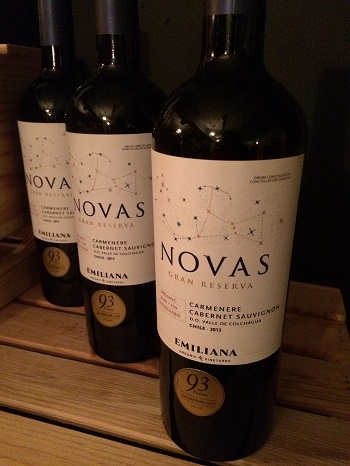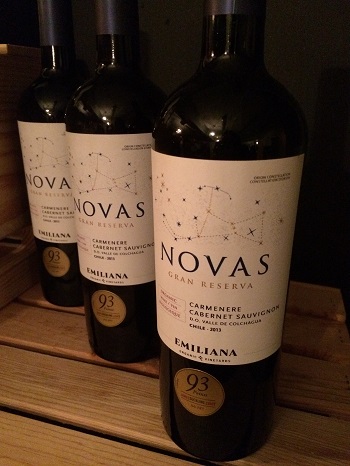 Emiliana – Novas Gran Reserva – 2013 Carmenere and Cabernet Sauvignon Blend – I always enjoy a good Carmenere and this Carmenere/Cabernet Sauvignon blend from Chile has all the hallmarks I like to see, black pepper, cigar box, cassis and vanilla on the nose and a lovely peppery finish with some deep, red fruit. This is such a smooth and drinkable full-bodied wine, but the rustic quality is also appealing—nice with dinner or just on its own. I had the chance to chat with the winemaker at their recent Toronto event. Emilio Contreras was lovely and we discussed Emiliana's decision to go organic in 1998 (they are now the world's largest grower of organic grapes) and how they have adopted a number of biodynamic principles. Emilio is interested in creating a wine that reflects the terroir far more than the grape varietal and that shows through in this wine. He also expressed a fondness for growing Pinot Noir and I have a soft spot for anyone who shares my love of the heartbreak grape. I look forward to one day trying his Pinot. The Novas Gran Reserva is available at the LCBO for $15.95 and is well worth the price.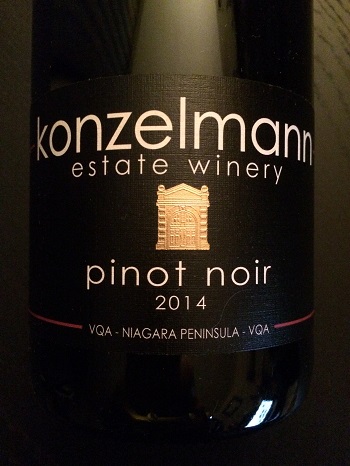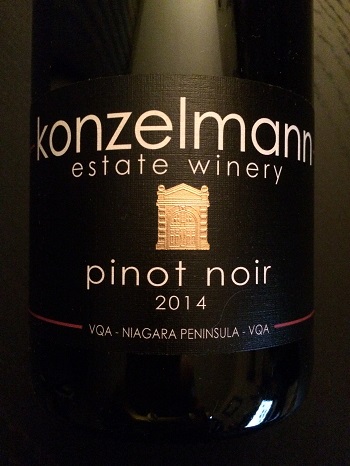 Konzelmann Estates 2014 Pinot Noir – Shawn and I made our first trip to Konzelmann Estates during the Icewine Festival in January and I suspect it won't be our last visit. The grounds are simply stunning and the Icewine was delicate and lovely. I was excited to try their Pinot Noir, which has root beer, raspberry, mushroom and cloves on the nose. The earthiness of the nose follows through nicely on the palate with some great herbaceous notes, but also enough fruit to make it quite tasty. This is a very light and drinkable Pinot Noir, which I think would pair nicely with pastas and lighter meat dishes. Shawn enjoyed this one very much, remarking on how light it was and how well it would go with a range of different foods. I heartily agree. At $13.45 this is a great value at the LCBO, but I highly recommend stopping in at the winery and checking out the breathtaking view from their observation deck as an alternate option. The only surprise? Lots of sediment on this one – be sure to decant accordingly.
Southbrook Vineyards' Seriously Cool 2015 Chardonnay – The Seriously Cool red blend made my best of February list, then I had the chance to try this lovely Chardonnay and was even more impressed. This wine has green apple and stone fruit on the nose, as well as a hint of vanilla (it's lightly oaked). The apple and vanilla follow through on the palate, making for a wonderfully refreshing wine experience. A great wine to transition into summer with.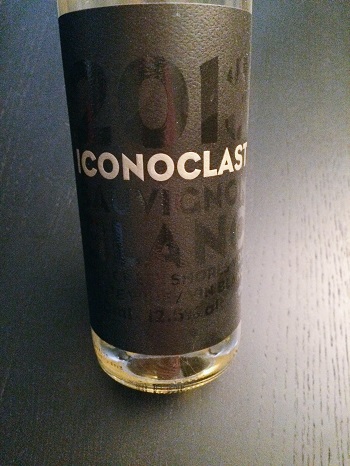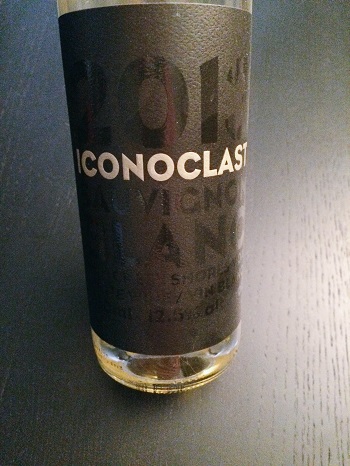 Creekside Vineyards' 2013 Iconoclast Sauvignon Blanc – Creekside is always a favourite stop when Shawn and I visit Niagara wine country. It's a laidback and fun winery experience and I'm so glad we picked up a bottle of this Sauvignon Blanc on our last visit. This has all the hallmarks of a Sauv Blanc on the nose: green apple, wet stone, cut green grass and, yes, a little bit of cat pee, and the palate is full of refreshing fruit notes.  There was pear, apple sauce and peach on the finish with a nice herbaceous-ness that makes this lovely for patio sipping or as a companion to a relaxed dinner. I look forward to having this one again soon, even though the label is one of the toughest I've ever tried to photograph!
What were the best wines you tried in March? Share your picks in the comments or on social.
*  Two of these wines were samples (Seriously Cool and Konzelmann Estate) and the Emiliana was tasted at an event where I was a guest. All opinions are my own.