Pairing wine and Indian food isn't easy. That's one of the reasons Pukka's wine program is so impressive – with co-owner Derek Valleau and top Toronto sommelier Peter Boyd working together to create something truly special and unique. Pukka hosts regular wine pairing events and their wine list is a top notch selection of wine options that work well with the array of spices and flavours that are the trademark of Indian meals.
And the food at Pukka – oh, the food. I was recently invited back for a blogger dinner to try out the new menu and was more than happy to attend. The general consensus at my table and in the room was that Pukka is one of the places in Toronto that is genuinely delicious all around.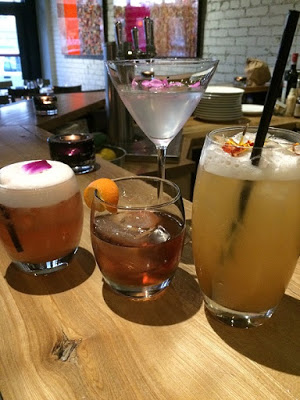 There was a deep sigh of relief when we discovered that the beloved okra fries are still on the menu (and likely to remain there permanently due to their popularity), but there was so much new to discover.
While their wine program is top-notch, they have also recently developed a cocktail program that highlights fresh and natural ingredients. I was happy to be able to try a coconut martini, as there was no refined sugar in the drink.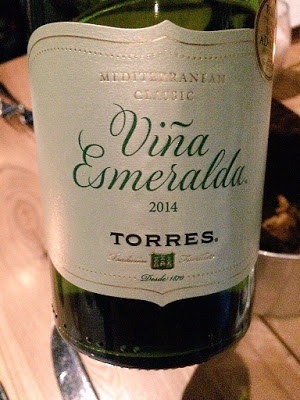 We all dug into Tandoori calamari (a personal favourite), herb-infused chicken tikka and string chaat for our first course and paired it with the 2014 Vina Esmeralda from Torres, a white blend featuring Gewurtzaminer and Muscat. A rare wine from the region, it is very floral on the nose with peach, orange and tropical fruit notes. This unique mixture of flavours and acidity paired well with all the appetizer dishes, though I particularly liked it with the calamari.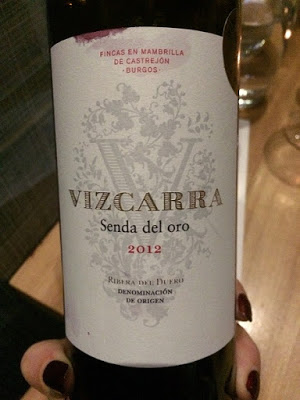 The second course was the boatman's fish and prawn curry, pumpkin curry, Punjabi chicken and beef short ribs (which I didn't try). For this course, Peter selected a red wine, the 2012 Vizcarra Senda del oro from Ribera Del Duero. This medium-weight red worked quite well. I'm told it was best with the beef short ribs, which makes sense, but I thought it was a good weight and just bold enough to pair well with the curry and strong spicing in all these dishes.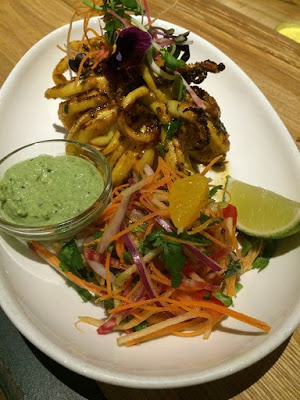 Tandoori calamari
Choosing wines that work so well with Indian food isn't easy, so I wanted to ask Peter more about how he made his selections. He admits he's learned a lot in the two years he's been working on the wine program at Pukka. "Most of the learning was about structure, I'd say. I came in knowing that the food variations would require wines with loads of fruit, and that played out as I knew it would," he says.
"But I assumed that high alcohol wines would be more of a problem with spice levels. As I became more familiar with the kitchen's output, I realized my fears were unfounded as they weren't pushing the limits, chili-wise. So, modern, 14-plus per cent New World wines fit in more easily than I first imagined. Still, the 'gotcha' moment came with Rhône Grenache. Fruity, yes, but not especially dense and full-bodied (despite moderately high alcohol), Grenache was a surprise supplied by Derek, and it really works."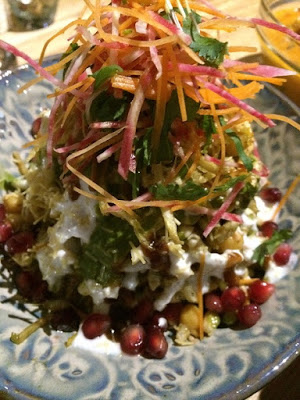 String chaat
When diners come to Pukka, they may initially be thinking about beer (or one of the excellent cocktails on offer). Beer is the traditional drink to pair with Indian food, given how difficult it can be to find a wine that works well with all the different flavours and spices. For Peter, getting patrons to take a chance is the first step. "My advice would be to step outside your comfort zone, your usual ruts. Ask for some assistance – and ask for the most qualified person currently on duty to help you with wine," he says.
"The whole world seems to be trying to 'curate' every minute of their existence. Remember that it's one night, one meal, one small bit of discretionary income. Take a flyer, a night off from chasing perfection, and remember that we all learn a boatload more when we are wrong, or
when things aren't perfect,"  he says.
This is great advice, which has served me well in my own wine journey, as taking a chance is all part of the magic of the wine experience.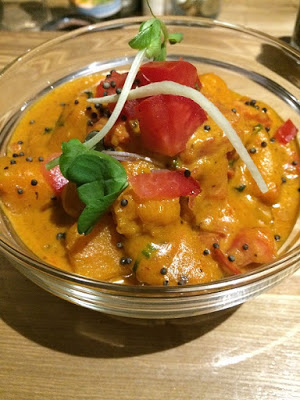 Pumpkin curry
At Pukka, thankfully, there are many skilled staff to help with wine pairing decisions and frequent event nights where patrons can come in and learn about how to pair Indian dishes with wines from various regions. These are great opportunities to learn and Peter is already planning a busy 2016 schedule.
"I'm looking forward to more dinners and wine dinner themes," he says. "I can't get too weird with themes at this point because we are trying to fill spaces at the tasting table but it's always fun to explore the outer limits, bring new wines to the table! Most of all, I'm looking forward to new dishes from the Pukka kitchen. We already have some customer faves that can't be taken off the menu for fear of revolt, but new stuff is always fun and mind-expanding. At last night's dinner, they produced a spinach and fig tikka that was outstanding! I hope it makes it to the regular menu."
Pukka is truly one of my favourite places to eat in the city and I can't wait to return. Thank you to the staff for the opportunity to enjoy this media dinner and to Peter Boyd for answering my many questions.
You can learn more about Pukka on their website and visit their events page to find out about the next wine and food pairing event.
For more blog reviews from the dinner at Pukka (which focus much more on the food than the wine) check out these great posts from some of my favourite bloggers:
The Yum Yum Factor
Libby Roach 
KiKi's BFF
*While my meal was complimentary, my opinions are most-definitely my own.