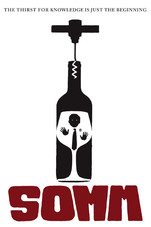 Recently, I attended a showing of the documentary SOMM at the Bloor Hot Docs Theatre. If you are a wine lover and you haven't seen SOMM yet, you must do so soon. It's already available for download on iTunes, so there's really no excuse not to! I saw it the night before my Wines 2 exam, when my head was already swimming with wine knowledge, and I'm so glad I decided to take the night off and indulge in this movie.
SOMM
follows several young men who are studying intensely to pass the hardest wine exam in the world (given the pass/fail rate, it may even be the hardest exam in the world). The absolute passion and dedication that wine students (most of them already at the top of their game in the wine industry) put into this insanely difficult test is absolutely fascinating to watch.
Now, I am admittedly a nervous tester when it comes to wine, so the amount of pressure that these guys put on themselves is pretty incredible to see. I can't even imagine. Well, that's the thing, I sort of could imagine, as I watched. And that part of me that is so wildly obsessed with wine understood in a weird way why someone would put themselves through this. I don't know that I'll ever be in a place where I can take a year off my life to study for a test I have next to no chance at passing, but I can imagine doing it. I get it.
And the movie was so well done. I totally felt for each of these people as they went through the process.
SOMM
manages to be funny and heartwarming while still giving you sweaty palms as you find yourself intently invested in whether these guys will pass this test they want so desperately to master. You know the odds are long (six people out of 50 passed the year the movie filmed, one in 70 this past year), but you still hope.
I haven't stopped recommending
SOMM
since I saw it and I anticipate that I'll see it a few more times in the months to come. They talk quite a bit with the spouses of master sommelier candidates and I think Shawn would be interested in seeing that side of things! I suspect he'd already have something in common with them.
There has been some criticism of the fact that no women candidates are featured in the movie. I don't think that took away from my enjoyment of
SOMM,
but it would have been interesting to see a woman's take on the journey. Maybe there's a separate movie to be made about that one day. I'd certainly watch it.
There was a reception prior to the movie featuring wines from
Creekside Estate Winery
and
Tawse Estate Winery,
which I was happy to indulge in. While I had tried the four wines available for sampling in the past, I think it's always fantastic when a new crowd is exposed to Ontario wine. It was great to see people coming back to the table near me to find out where they could find Creekside's Laura's Blend. I hope many people picked up a bottle at their local LCBO the next day!