I've been a little MIA on the blogging scene lately, as I try to juggle finishing the first draft of my novel with a busy period at my day job and a whole lot of the fitness stuff that helps me balance all this wine stuff. Sometimes I feel like I have gotten so into writing about wine that I've forgotten to talk about the healthy living things that help me keep my life in balance. It's important for me to remember that this space was always supposed to be about living a happy, healthy, wine-infused life. As I prepare for a busy race season and continue my yoga journey (I'm proud to say that I've hit my mat every single day in 2017 so far), that part of my life has definitely been front and centre on my social media and I hope to see more of it here. But don't worry, there's still lots of great wine content too!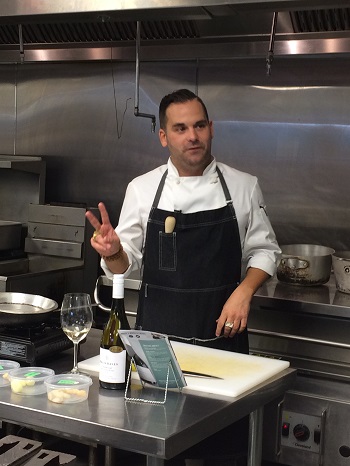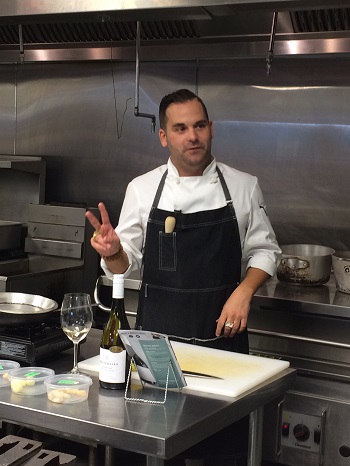 Today's post is about an event I attended in the fall (yes, I'm that far behind – sorry) that fits into all three themes of the blog. I was one of a few lucky bloggers invited to join one of my favourite chefs, Matt Dean Pettit, for a sustainable wine and seafood pairing lesson. If you don't know Matt, he's the amazing chef behind the now defunct Rock Lobster chain (I really miss that place) and the brains behind Matty's Seafood (available in grocery stores across Canada). He's also a fabulous and funny guy who made us all feel really confident and comfortable when it was announced that not only would we be learning about pairing, but also cooking with wine.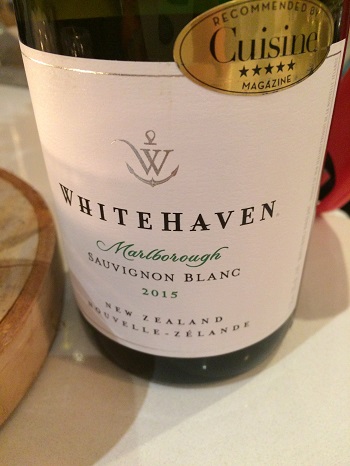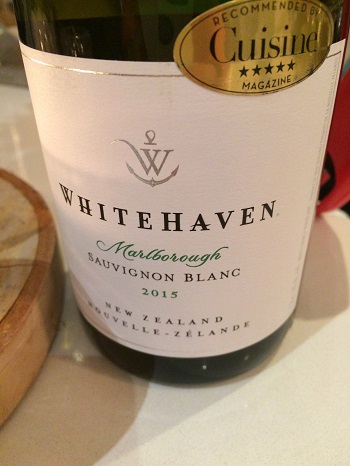 Those who know me are well aware that I am NOT a cook. Thankfully, I married someone who is or I would still be existing on those frozen dinners you heat in the microwave and mini-popsicles. I'm not even kidding. This event was all about enjoying sustainable seafood. We had a really interesting session from Ocean Wise, who taught us that over-fishing is the single greatest threat to our oceans and how to choose easy, accessible and sustainable options. I was very relieved to learn that two of my favourite foods—oysters and mussels—are farmed and, therefore, very sustainable. Wine, of course, pairs very, very well with both.
At first, I was a little disappointed when I learned we would be pairing and cooking with just one wine—Whitehaven's 2015 Sauvignon Blanc—but this crisp, refreshing New Zealand Sauvignon Blanc was actually a strong pairing with every dish we tried. Sauvignon Blanc is a great option with seafood and the ethos of the winery (they're passionate about sustainability, have a zero waste winery and use sheep in their vineyards), worked very well with the theme of the night.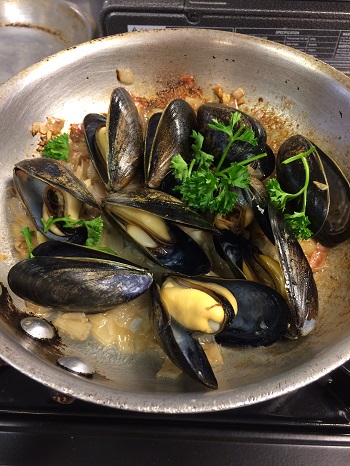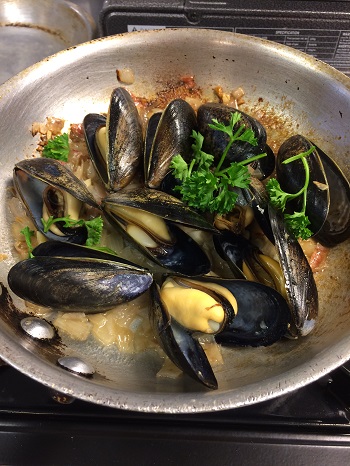 And then we cooked! And it was so much fun. Matt is a fantastic teacher and he even had a non-cook like me enjoying my time in the kitchen. We made a wine-soaked mussel dish and then worked in teams to create a fun fondue. Both involved lots of wine being cooked and consumed, which is always a recipe for a great time.
After our cooking class, we got to try all the dishes on the menu prepared by actual chefs in a group meal that showcased the freshness and flavours of the seafood dishes and how well they complimented the wine. This was truly a fabulous event and a great way to learn about sustainability in a fun environment. It definitely has me thinking a lot more about the seafood we buy and consume.
There are some great videos of the event available (and, yes, you can see me attempting to cook in one of them) and the recipe for Matty's Moules Frites (one of the dishes we made) is available too. Visit the Whitehaven page on Facebook to check them out!
Do you have a favourite wine and sustainable seafood pairing? Share it in the comments or on social.
*I was a guest at this event, but my opinions are my own.