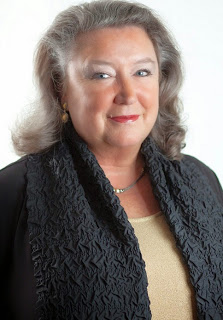 Cathy Ace
A wine-soaked mystery set in British Columbia wine country, Cathy Ace's The Corpse with the Golden Nose was the perfect book to bring along on my recent visit to Prince Edward County.
Part of the Cait Morgan Mysteries series, the book revolves around the murder of a well-respected winery-owner and includes a cast of kooky wine-industry characters. Full of food and wine imagery, as well as some serious sleuthing, this is a great book for your summer wine country vacation.
I reached out to Cathy (who recently won the 2015 Bony Blithe Light
Mystery Award for her fourth Cait Morgan Mystery, The Corpse with the Platinum Hair) with a few questions about the book, BC and, of course, wine.
 
What inspired you to write a mystery novel set in BC wine country?
When I planned the series of Cait Morgan Mysteries I knew she'd be a traveling sleuth because I love to travel myself. I also knew she'd have to visit places with which I was already familiar, and I've spent a fair amount of time in BC's beautiful wine region, especially around Kelowna and on the west bank of Lake Okanagan. With a wonderful micro-climate, and opportunities for many different grapes to be grown, it's not just a beautiful area, but also diverse in terms of terroir and now populated by small wineries. It is also a honey-pot for chefs! It's an area where field-to-table dining is very popular, and foodies revel in the fruits which grow happily alongside the vines in the region. I wanted to share my love of the place, and the people, and this book gave me the chance to do just that – I hope!
Does Cait's love for wine and food show up in other books in the series?
Oh my goodness me, yes! Cait's rarely met a food or beverage she isn't at least prepared to try, and I am happy to admit that I have consumed everything she eats or drinks (by way of research, of course!). There are mystery books by other authors where recipes are included, or the occupation of the sleuth is very food or drink oriented. I don't go that far, but Cait's love of nibbling and imbibing does tend to show up in every book. To be fair, she's more of a gourmand than a gourmet, but that's just because she can't afford to eat as much gourmet fare as a gourmand would enjoy!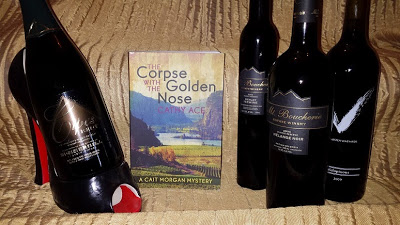 Photo supplied by Cathy Ace
Do you think Cait will visit wine country in a future book? Or might you revisit wine country as part of a different series?
Because Cait travels the world, it's not beyond the bounds of reason that she might encounter another wine producing region of the world, but I don't think I'll be taking her back to Kelowna again. That said, she did spend time at a tequila producing agave plantation near Puerto Vallarta in Pacific coastal Mexico in The Corpse with the Emerald Thumb. Although she's already "done" France in The Corpse with the Silver Tongue, I like the idea of her visiting the Champagne region. Of course, I'd have to spend a few weeks there myself just to be sure I got the details right!
Do you have a favourite or a few favourite BC wines?
Surprise, surprise – I do! Seriously, because I live just a few hours away, and because it's such a lovely place to visit and spend time, I find that wine-purchasing excursions are great fun. There are so many wonderful wines to choose from, of course, but I have to admit I am not a drinker of white wines, generally speaking. Thus I veer towards the reds. The Mt Boucherie Family Estate Winery produces a delightful, light, fruity Gamay Noir, which I enjoy chilled in the summer, Blaufrankish pairs very well with lamb and pork, and their Melange Noir gets me through heavier winter meals with a good edge of tannin, as well as being a delightful accompaniment to cheeses – even the strong, runny type, which I love.
I also enjoy a glass of Voluptuous, from Van Westen Wines on the Naramata Bench; it's fruity, full bodied and works well with or without food. When it comes to bubbles, the Cipes Brut from Summerhill Pyramid Winery is a fresh and delicious way to enjoy a glass of something that suits family celebrations, as well as any day when you want a little zip, and the rosé is a favourite option in my house. For special celebrations their Cipes Ariel is a worthy adversary for imported wines.
Finally, I cannot speak about the BC region without mentioning Icewine – there's something incredibly special about sipping a wine made from grapes that have frozen on the vine, and have become intensely sweet because of that condition. Once again I favour the reds. I don't know if it's still available, but Mt. Boucherie produced a fabulous Pinot Noir Summit Reserve 2002 Icewine and we snapped up a fair few bottles, which is a true indulgence. And their Merlot Icewine from a few years ago transforms any chocolate dessert with which it is paired into heaven. Though Icewine isn't cheap, it has the ability to elevate the end of any meal into an event all on its own!
Did you get any feedback from the Canadian wine community about the book?
I was delighted when Mt Boucherie said they'd offer my book for sale in their wine store after I did an afternoon signing there. I hope that people who bought the book enjoyed being able to picture the landscape about which I'd written, and where they'd picked up a wine-related mystery.
Thanks so much to Cathy for taking the time to answer my questions about her book.
Do you have any favourite fiction books set in wine country? Share them in the comments below or on social.
Want to learn more about Cathy Ace or the Cait Morgan Mysteries? More info here:
Website: http://cathyace.com/
Facebook: Cathy Ace – Author
Twitter: @AceCathy