Over the years, I've had the opportunity to attend a few wine and chocolate pairing events. It's a fun alternative to cheese pairing and I am always fascinated by the diversity of flavours and how unique some of the pairings can be. So when Ganong offered me the opportunity to try doing some wine and chocolate pairings for the holiday season, I was quick to say yes.
Chocolate is definitely a sometimes food in our household, but over the holidays it's nice to indulge a little. I think a wine and chocolate pairing experience can be a great addition to your holiday party and I wanted to provide a few tips from my own experiments to help make yours a success!
A little chocolate goes a long way.
I love the idea of a wine and chocolate pairing party, but when I started my planning I quickly realized that it's a great companion to a fabulous event. Focussing exclusively on sweet treats sounds awesome in theory, but your guests (and you) may max out much faster than you expect. Try saving the pairing for after your holiday dinner or as a fun addition to a holiday cocktail party where you're also serving savoury snacks (and lots of water).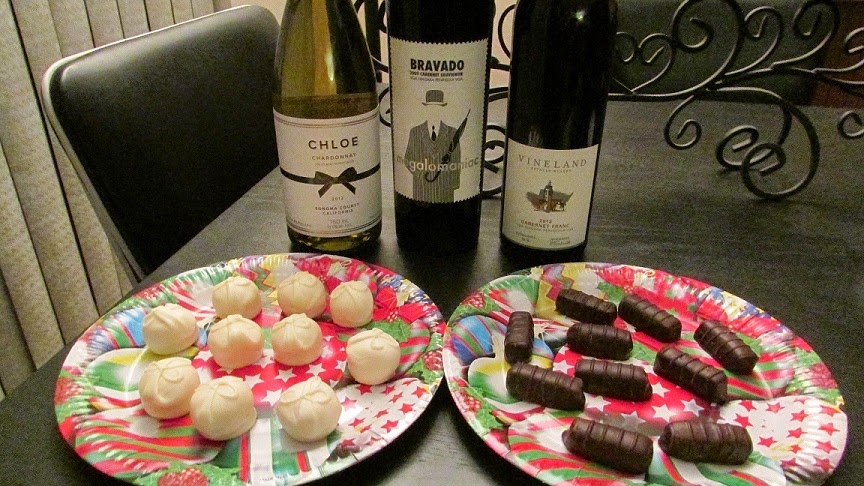 Offer a few pairing options.
Wine pairing success is partly skill and partly luck, because a certain amount of your success depends on personal preferences meshing with your selections. While I think dark chocolate and Cabernet Franc is pretty darn awesome (and is one of my personal pairing picks for Ganong plain dark chocolate), a lot of my wineaux friends turn up their nose at that mix of sweet and savoury. Have small wine glasses available and two wines to test per sample. While my Cabernet Franc pick may fall flat with some, they may find their heart soars for dark chocolate and Cabernet Sauvignon or even Syrah.
Don't count out white wines.
While red wine and chocolate seems a lock, don't completely discount white wines. One of the best Ganong pairings I tried was their white chocolate and orange truffle with Chloe Chardonnay. The citrus notes in the wine were a delicious match for the orange in the truffle. And, if you're a fan of orange chocolate, those truffles are pretty darn spectacular – pulling out a plate full of those with the Chloe Chardonnay to end off a holiday dinner may just keep you on the 'nice' list well into 2016.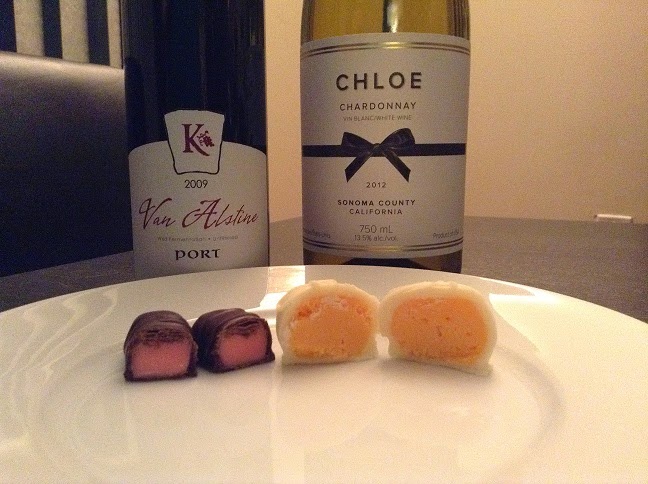 Be a little adventurous.
When I tried the Ganong Chicken Bone Nougat (a sweet red mix that tastes like Christmas, with lots of cinnamon notes and a little bit of mint), I was stumped for a pairing. They recommend Cabernet Sauvignon, and that could work, but I was curious about other options. The closest taste match I could think of was Swedish Fish (they share a cinnamon heart sort of taste) and I checked in with my friends on Twitter for suggestions. Their thoughts? A slightly sweet Prosecco, Vidal Icewine (maybe a bit too sweet on sweet, but a fun experiment) or even a Pinot Noir. What would I pick? Likely the Prosecco because you can't ever go wrong with bubbles and I think the hint of sweetness would be a good balance. Another option? Port! And I was pleasantly surprised to discover that the Chloe Chardonnay was actually a pretty good match for this chocolate too. It could be fun to try a few options and see what your guests think.
In the photos, you can see some of my picks for wine and chocolate pairing this holiday season. These may not be the wines you'd choose, so I look forward to hearing your suggestions in the comment section. What pairings would you pull out to impress your guests?
Thanks to Ganong for the chocolate samples to make this post possible. They currently have a contest where you can enter to win some of your own for the holiday season. Click on the banner below to learn more.