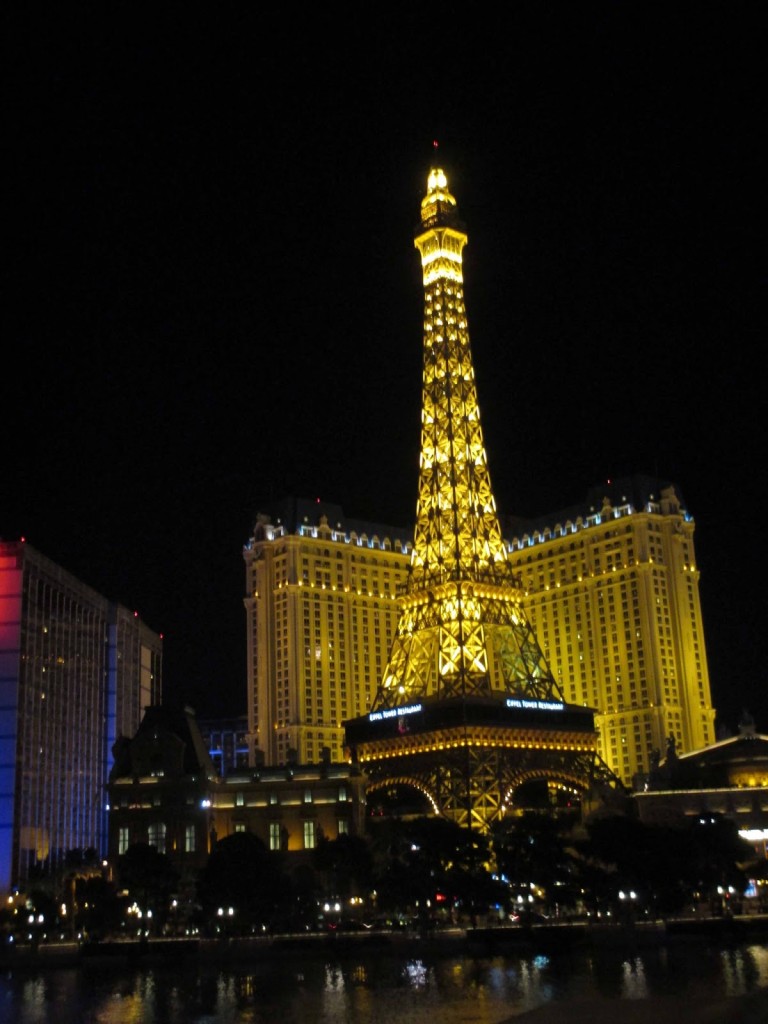 Shawn and I have both been to Las Vegas separately and have always wanted
to go back together – this February we decided to grab a great flight deal and
re-discover the city. I have to say, as much fun as Vegas can be, it sure is
tiring! I came back exhausted (and really sick), although I can't help but
wonder if all those people with drinks so large they needed a neck strap were
worse for the wear!
Our home base for this trip was
Paris Las Vegas.
It's an
older property and is showing some wear and tear, but we had a nice,
comfortable and clean room so we've got no complaints. It's a great location
and the staff were all really nice to deal with.
I had hoped to spend the week trying all sorts of California wines, but I
was surprised that a lot of the restaurants we tried didn't have the greatest
wine lists. Right now, cocktails seem to be super hot in Vegas and that's just
fine with me. I did have some good glasses of wine during our stay, but I was
happy to switch to a margarita when that made more sense.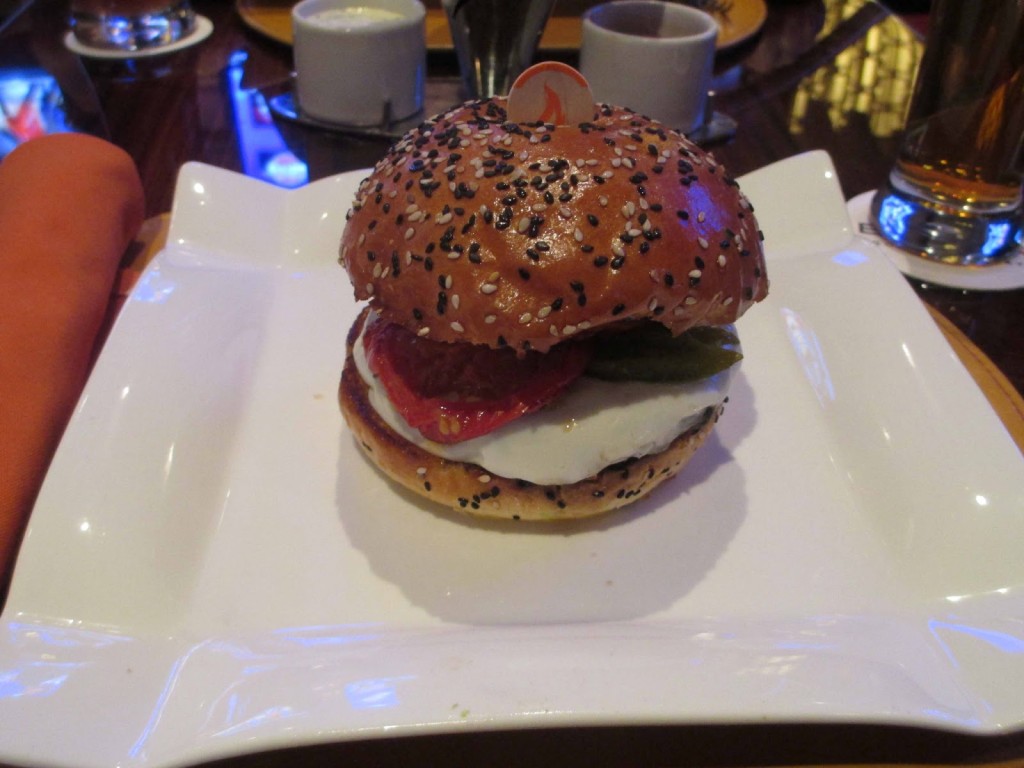 Hell's Kitchen Burger
We had some great meals in Vegas, but the best was at
BurGR.
This is Gordon Ramsay's newest Vegas restaurant and they specialize in burgers,
as the name implies. Nothing disappointing here – Shawn swears the Hell's
Kitchen burger was the best he's ever eaten (and he's kind of a burger
connoisseur), the truffle fries were to die for and I really enjoyed my chicken
wings. I opted for one of their fancy whisky drinks (the cocktail menu is super
fun) and Shawn went with beer.
We were almost too full for dessert, but I
couldn't resist trying the push pops with peanut butter ice cream and layers of
sticky toffee pudding. Quite possibly the best dessert I've ever had – not too
much, incredible flavours and who doesn't love a push pop? I wish we could have
eaten here every night.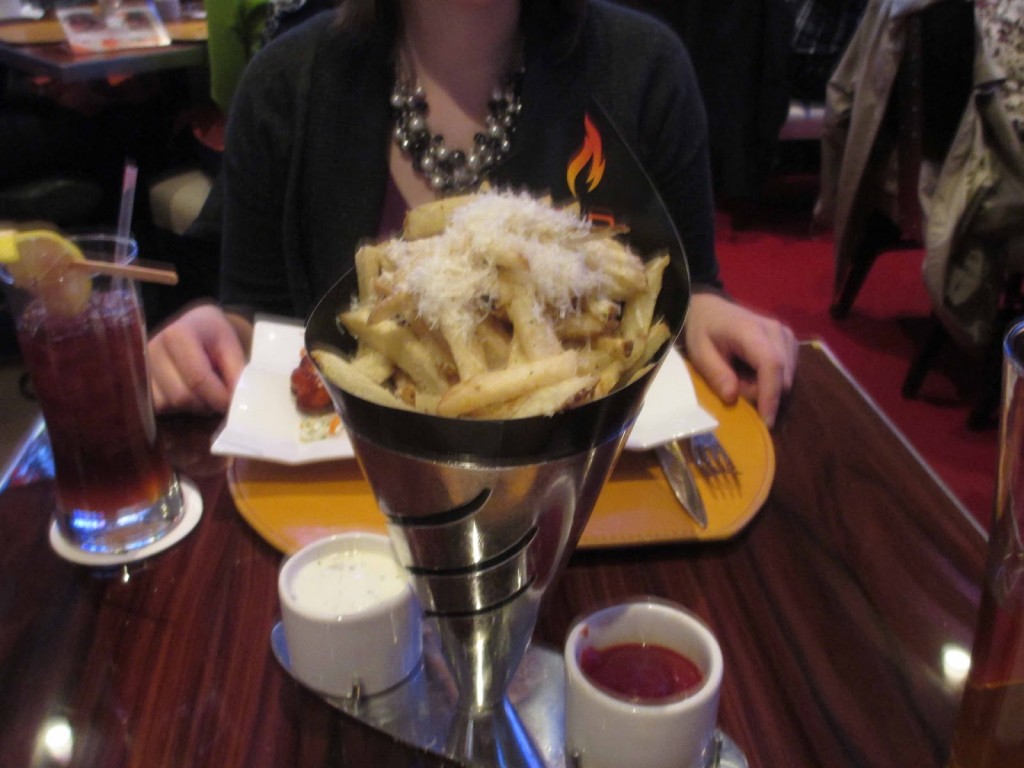 Truffle Fries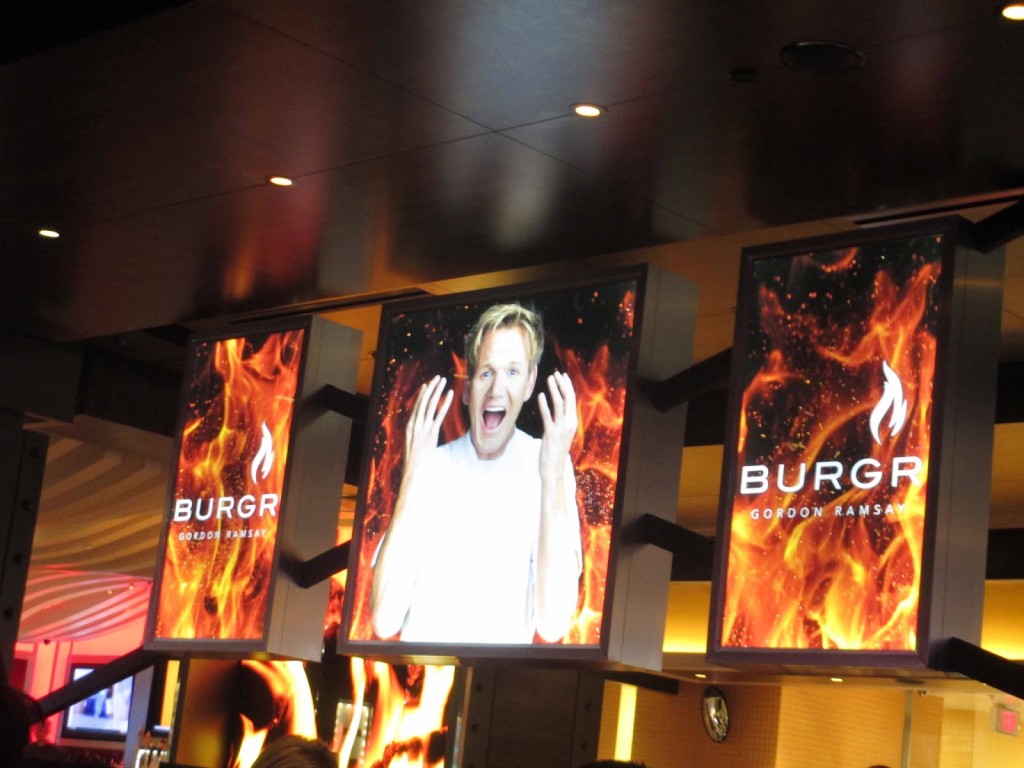 Mr. Ramsay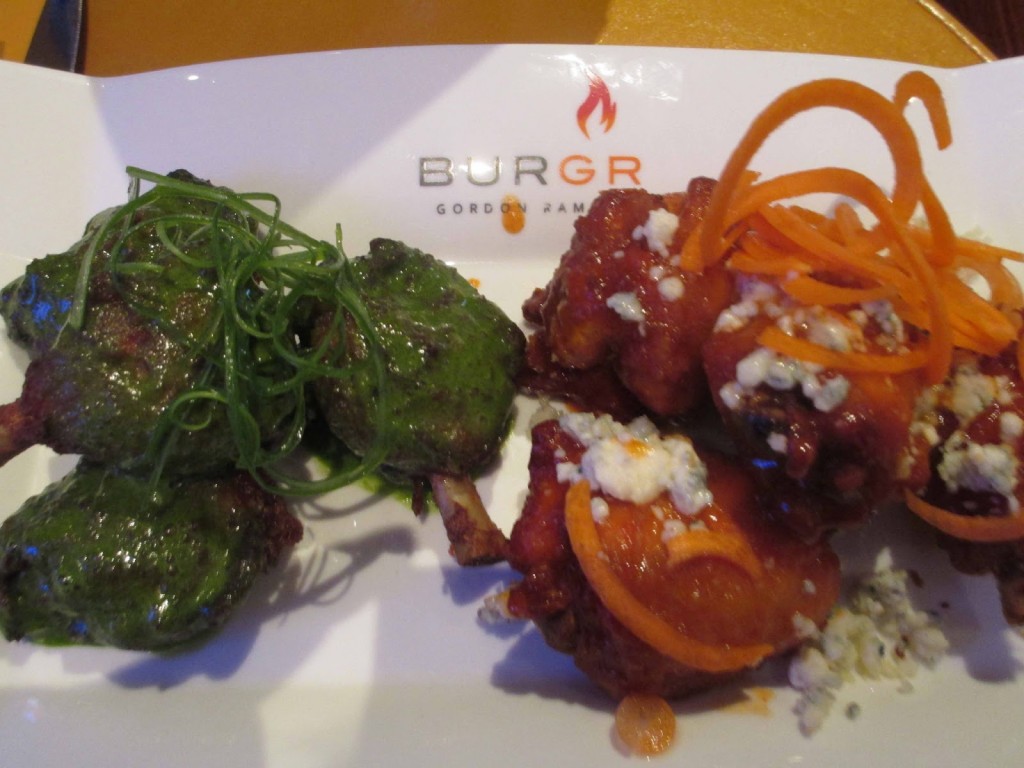 Chicken Wings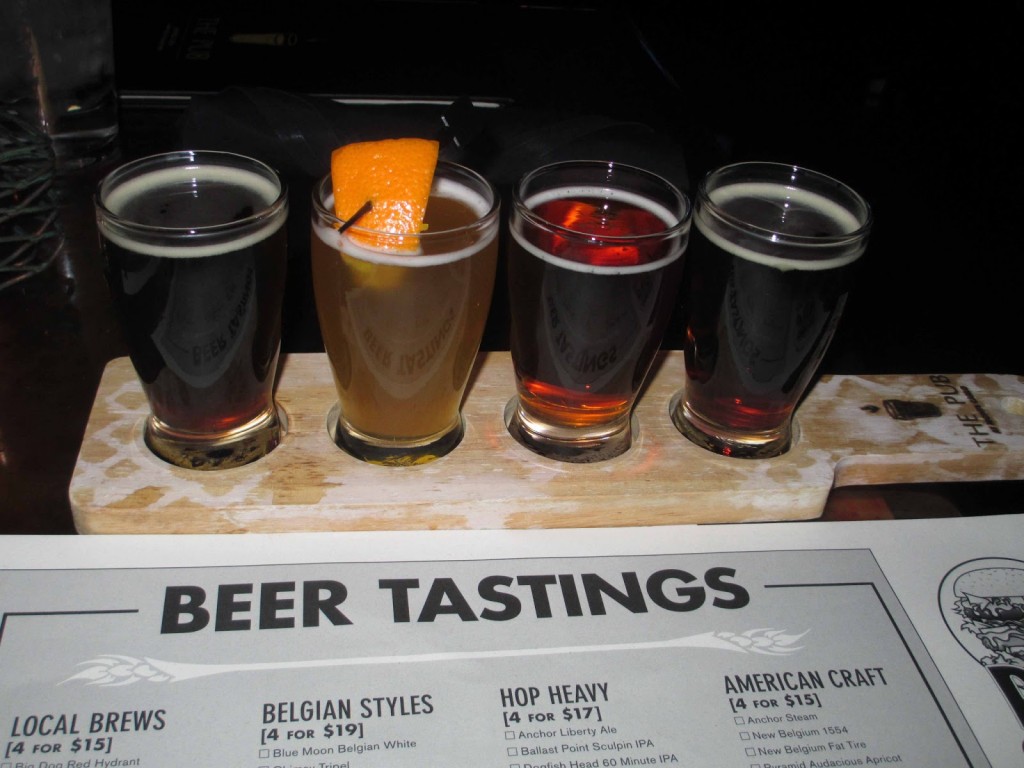 Another great night out was at
The Pub in the Monte Carlo.
It used to
be an actual brewery (production has since moved to another location) and they
have a beer menu that would thrill any fan. It's pages and pages of brews from around
the world and they offer a fantastic beer tasting menu. I opted for a margarita
and let Shawn pick out interesting beers to his heart's content. He went with
the local sampler and really enjoyed trying all the different Nevada options. Our server was extremely
knowledgeable about the beers and was super friendly, which made the experience
so much nicer.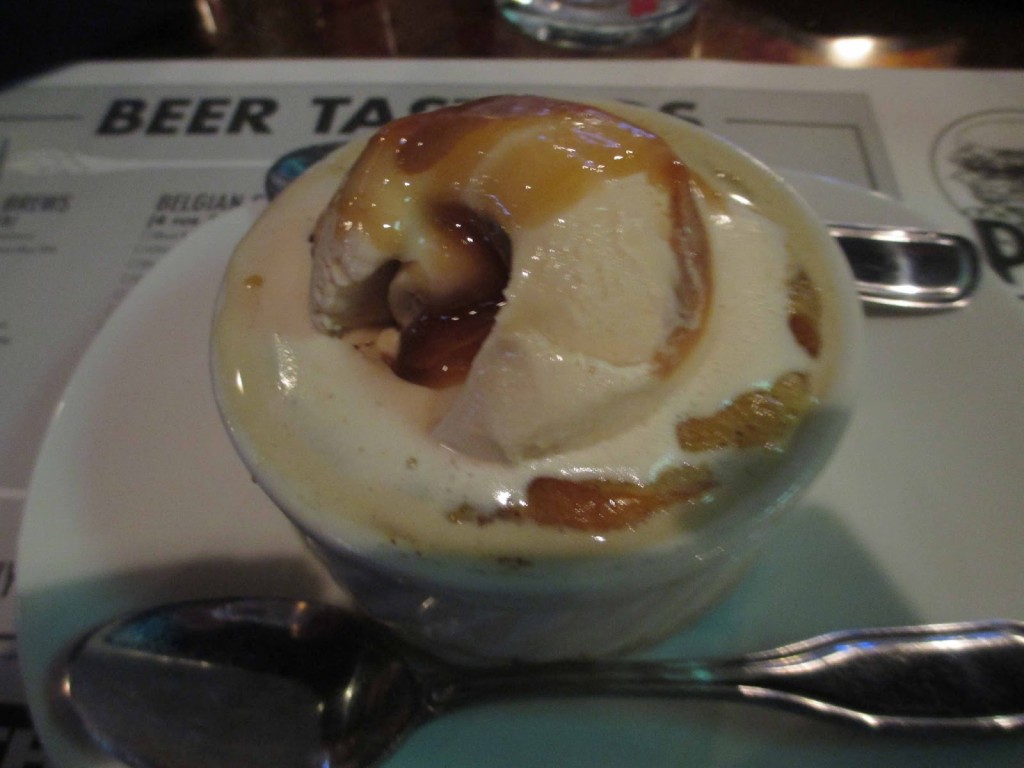 Bread Pudding
Shawn raved about his wiener schnitzel, but I didn't love my
entrée. I think I just made a bad selection, as I've read the other food
reviews and they're all pretty great. Dessert, however, was fabulous. They
definitely know their bread pudding. This is another one we'd go back to again.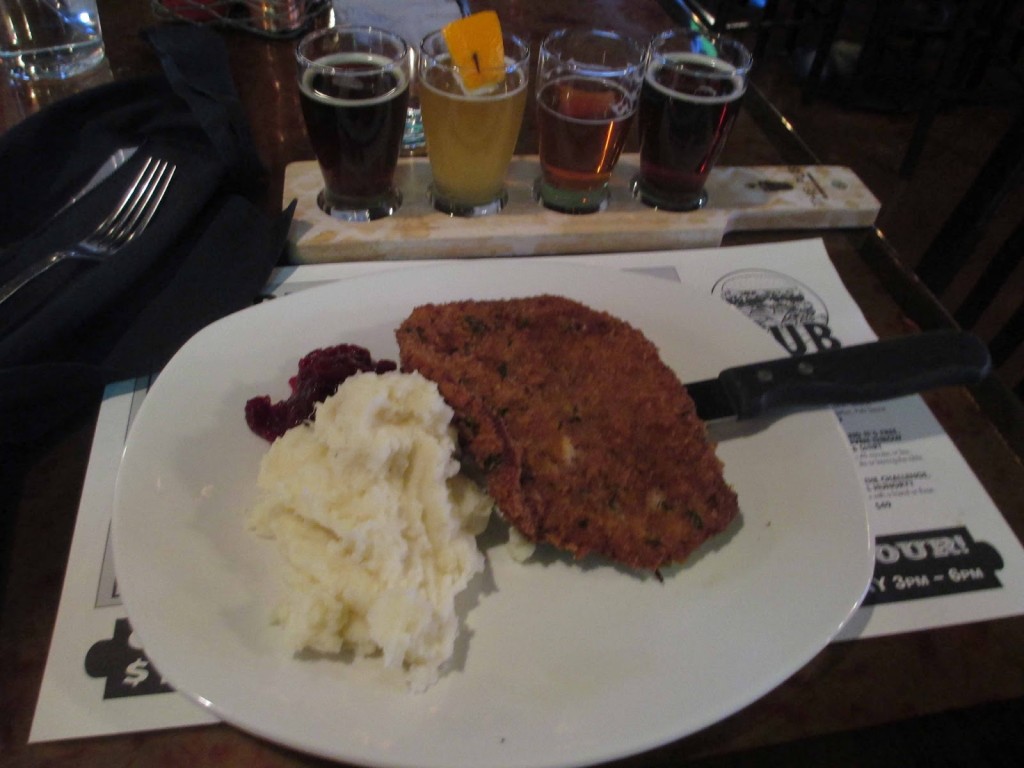 Wiener Schnitzel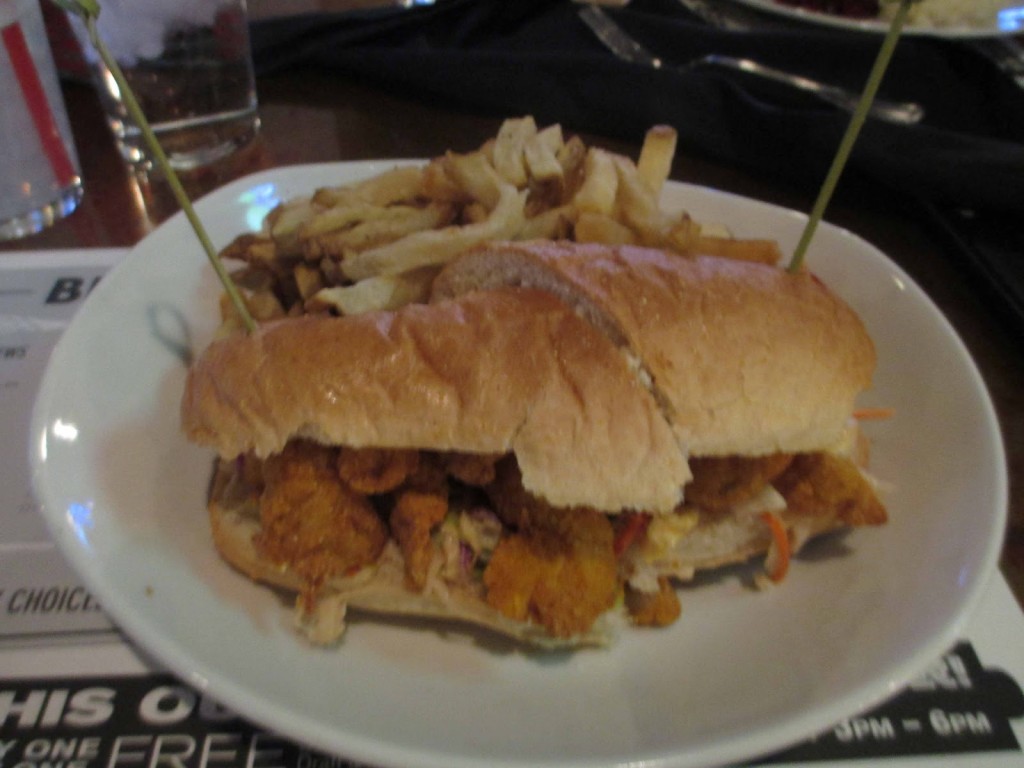 Shrimp Po'Boy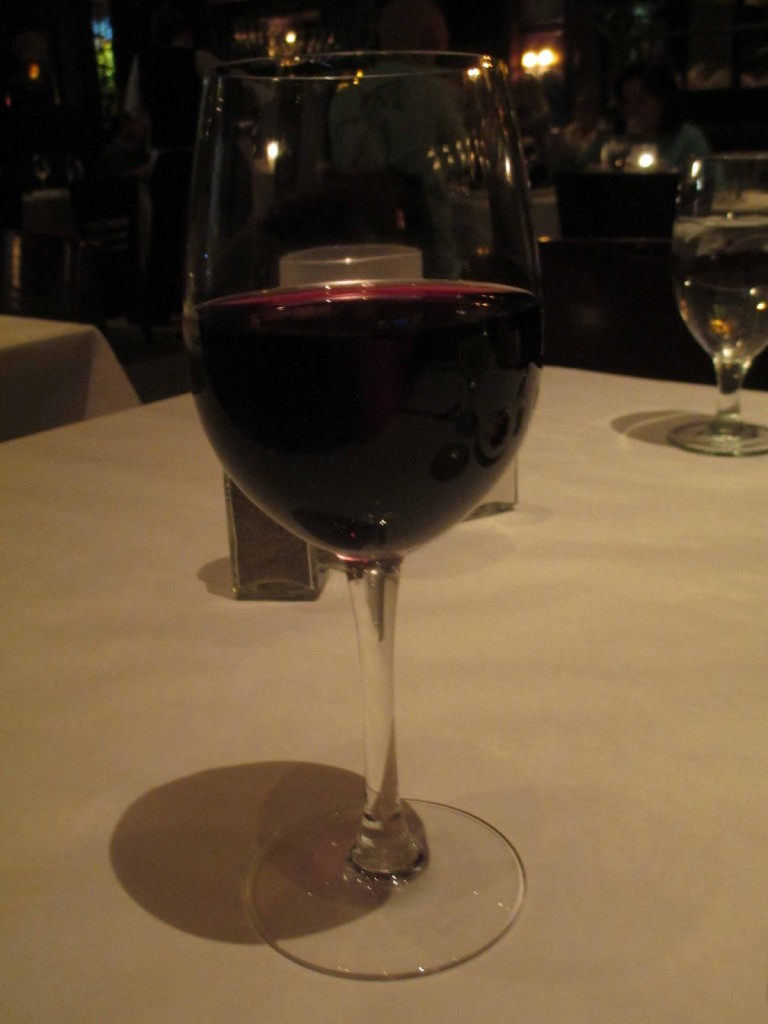 Hob Nob Pinot
We opted to try
Mon Ami Gabi in Paris
for our big night out and we were very
happy with that selection. The food was fantastic (I had chicken, Shawn had
steak, both were delicious) and they have an extensive wine menu. It was super
hard to pick, but I went with a Mon Ami Gabi Chardonnay, as I was interested in
how the restaurant's own wine would be, and Shawn had a Hob Knob Pinot Noir,
which he really enjoyed. Nothing fancy, but both wines were good food pairing
options.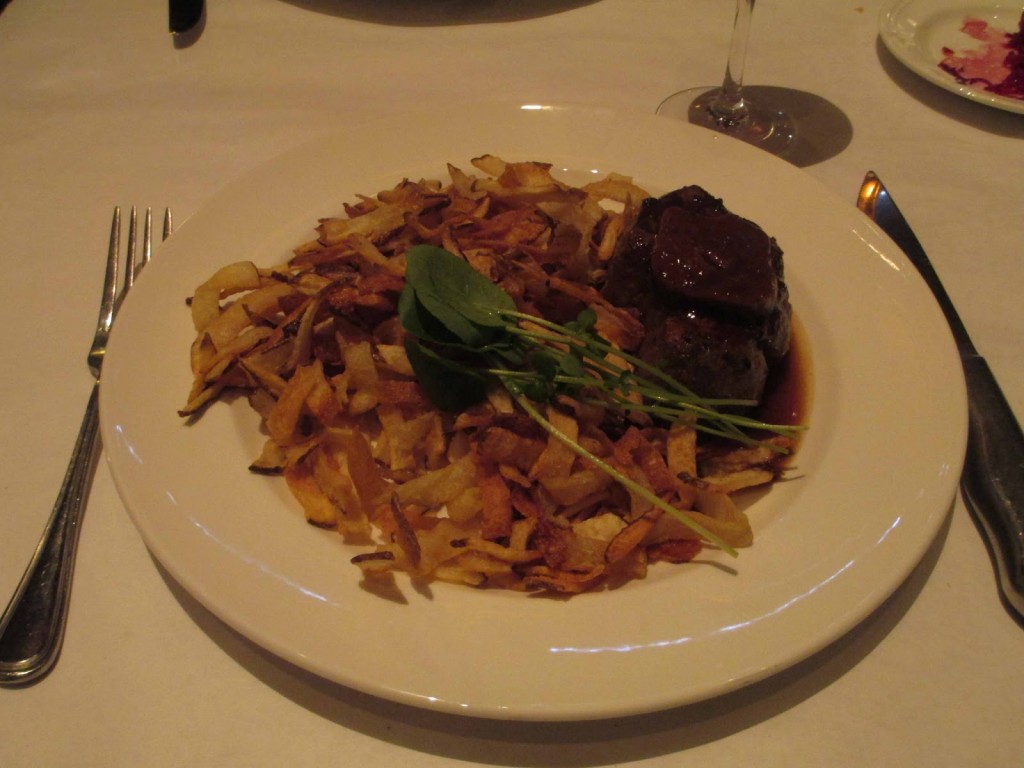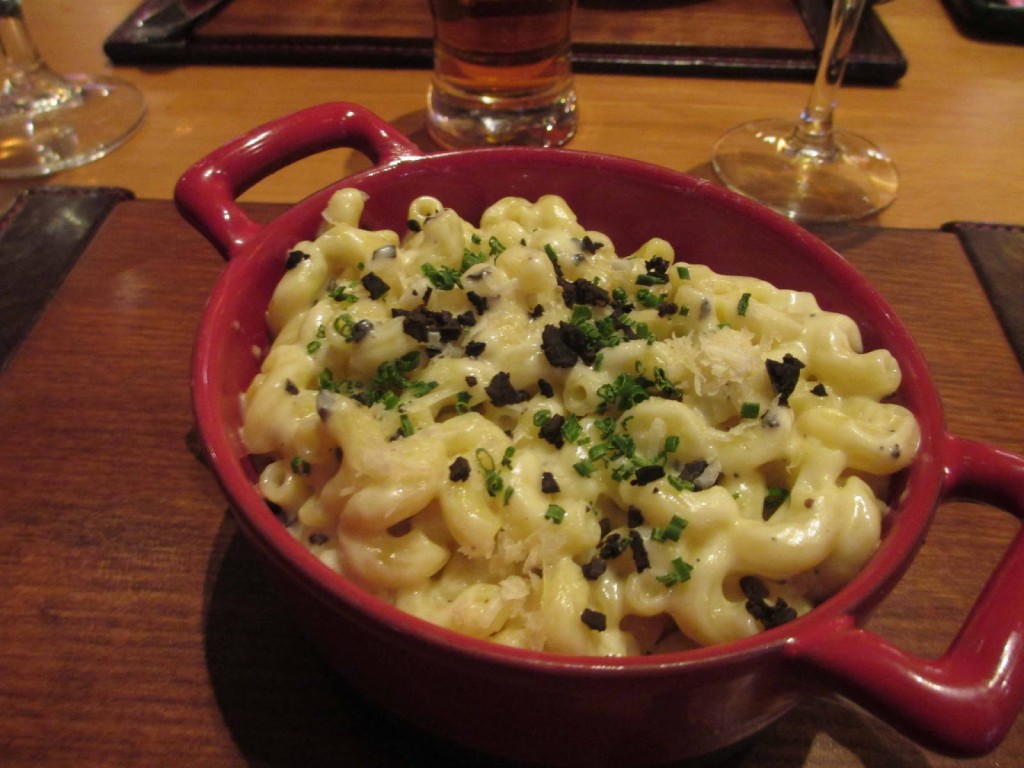 Truffle Mac and Cheese
The best wine I had was at
Gordon Ramsay's Pub & Grill in Caesar's Palace.
I had a Riesling, which I believe was from Washington. For maybe
the first time ever, I forgot to put the name of the wine in my phone and now
I'm kicking myself because it was definitely the best wine I had on our trip.
The Pub doesn't have their menu online, so I guess I'll just have to hope I
stumble upon this one again. Lesson learned. I had the mac and cheese (incredible)
and Shawn had the sliders (very good). I wish we'd brought bigger appetites
because the food was stellar and our server was excellent.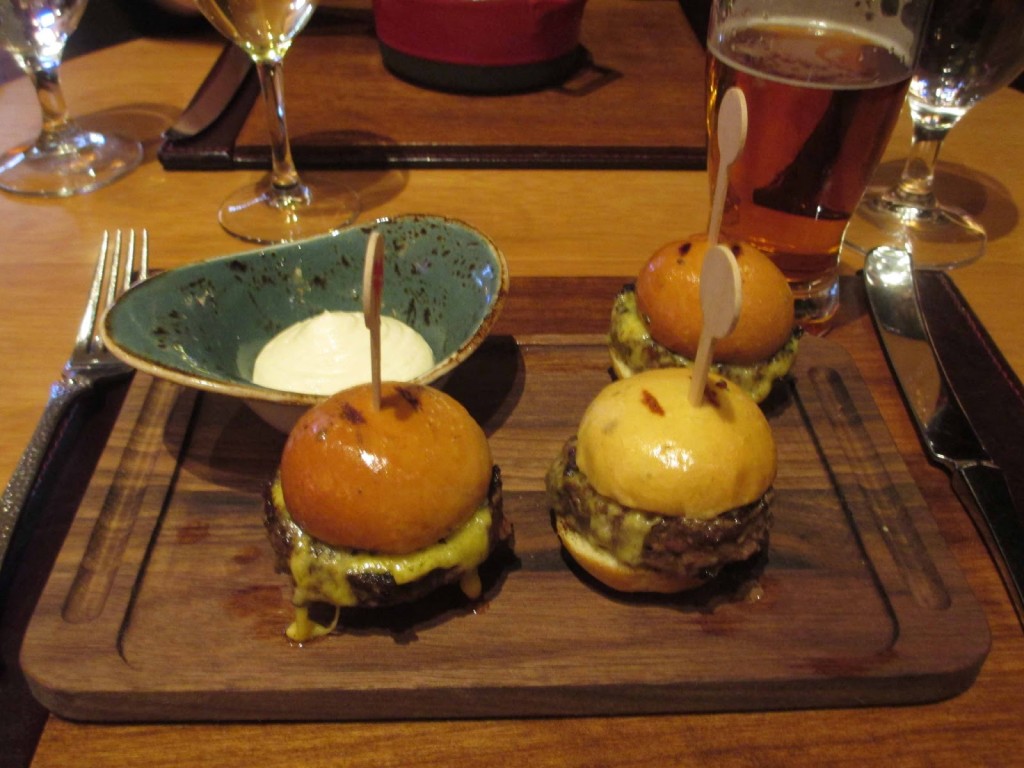 Sliders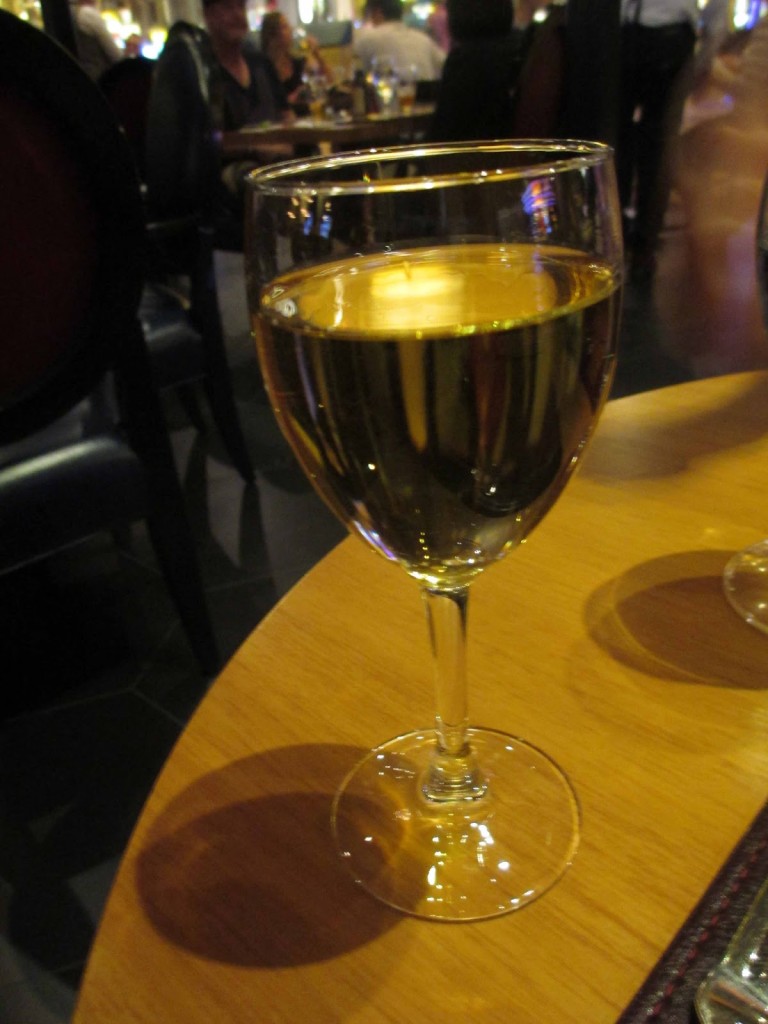 Riesling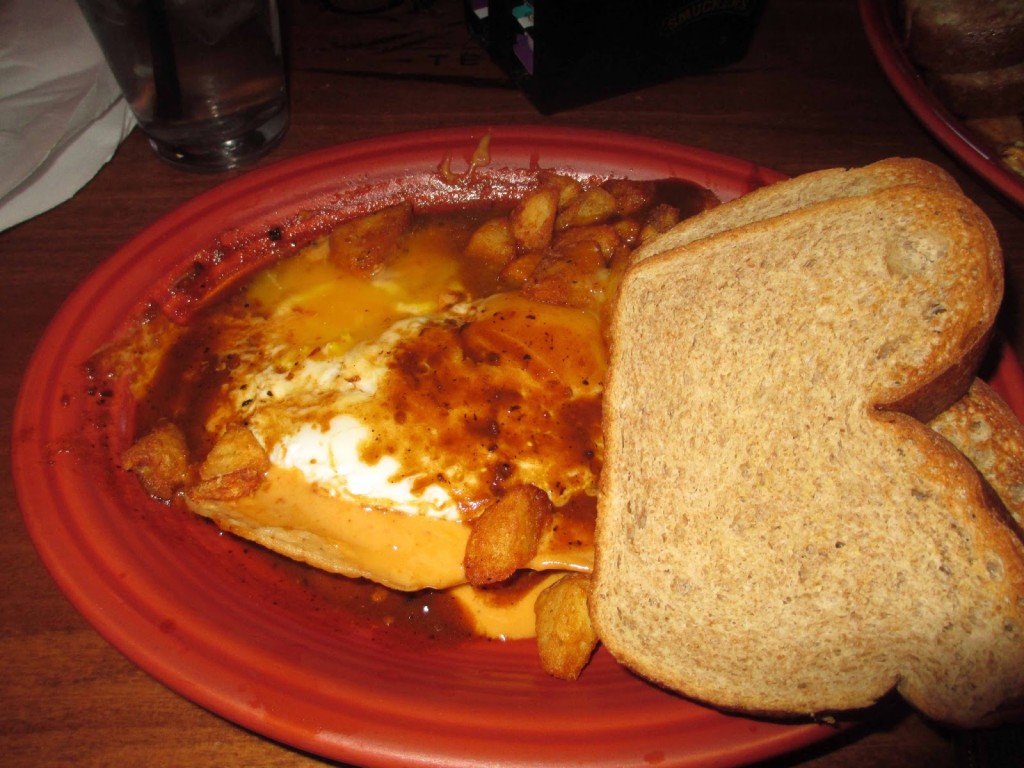 Huevos Rancheros at Cabo Wabo
Fun things we did:
Kiss Mini-Golf
(a great way to spend an
hour – staff are fabulous and this was just so fun),
Shark Reef Aquarium
at Mandalay Bay (small, but
well done),
Freemont Street Experience
(Shawn was brave enough to go ziplining
and declared it a fantastic experience). There are so many other things, but
those two stood out as big winners for us.
Vegas was a blast. I'm not sure I need to go back for
awhile, but I'm glad we got to take a break from this Toronto winter and indulge in some great
food, wine, shopping and fun.