One of the fun parts of blogging has been taking on the occasional recipe challenge. I love these. For someone who rarely, if ever, cooks, these challenges are a great opportunity to learn something new and stretch a bit creatively.  Shawn also loves when I do them because he can watch me do the cooking – although he still gets called in to assist fairly often.
Usually, I try to do a wine pairing for whatever I make. That's gone well for the most part, but when I received the recipes for
U.S.A.Rice
I realized that might be problematic. You see, while I do eat some meat, I won't cook with raw meat. Yes, I know that's weird, but we all have our things, right? Shawn is rolling his eyes right now if he's reading this.
So I could have made this and paired it with a Riesling: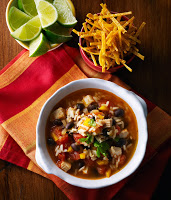 Or this and paired it with an unoaked Chardonnay: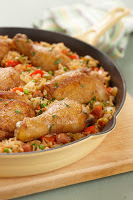 Or this… well, I actually bought the stuff to make these, but they looked kind of hard to make and then I thought they might be too sweet to pair with an Icewine (the dessert should be less sweet than the wine). Super sweet desserts are not easy to pair.
Instead, I decided to make
Brown Rice Power Bars.
They looked like something I'd like to eat and they seemed reasonably easy to make. I also thought it was kind of cool to make something so different with rice. It's definitely not my go to ingredient when I decide to cook up some squares! This left me with a challenge, though, as to what wine I could pair with this. It's kind
of a breakfast-y type dish, so I was thinking about a sparkling wine or maybe a Moscato. But then I was reading about Halloween wine pairings on
The Daily Sip on Bottlenotes
and they mentioned that a big California Cabernet would go well with peanut butter treats – and these are super peanut buttery, so I think that would be my choice if there was ever a chance I'd want to pair these with wine. To be honest, I think they pair best with a big glass of milk.
I chose an organic brown rice from California and Bob's brown rice flour from Oregon – we're big fans of Bob's products, so that was an easy choice. I usually cook rice in the microwave (hello, Uncle Ben's), but I decided to challenge myself and make this on the stove top. I was a little freaked out to discover it takes an hour to make on the stove, but I was in this to learn, right? And once Shawn talked me through the whole math part of figuring out the ratio of water to rice I was good to go. And the rice turned out really, really well. I made more than I needed and it was great with
dinner.
These bars have a lot of stuff in them, including brown sugar, which is not something we would normally eat. I'd actually like to try and make them without that as I found them a bit too sweet for my tastes. I also thought maybe it would be better if the instructions suggested chopping big pieces of the trail mix – mine had whole dried apricots and Brazil nuts and that threw things off. Yes, I could have just done it anyway but remember when I said I don't cook? Chopping is high on the list of reasons why.
Anyway, I mixed all the ingredients – including two cups of cooked rice – and then baked them for 30 minutes. They smelled fantastic. And they tasted really great too. They were super moist, which I actually think is because of the rice – not something I was expecting at all. And, as long as you choose a glutton-free baking powder, this recipe is glutton free.
The ingredients
The rice is ready – and super delicious even on its own.
Mixing it all up – who knew you could make squares with rice?
Ready to bake.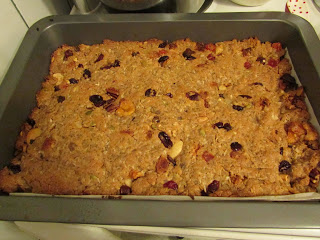 Hot from the oven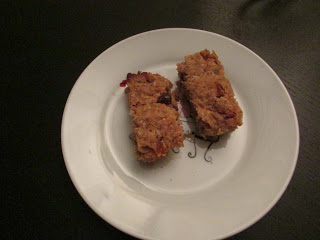 Ready to eat – and super tasty.
So another fun recipe challenge under my belt. It may not be the best item to pair with wine, but it was a lot of fun to make and I bet these would be a great breakfast treat for guests on a wine tasting weekend.
Rose Reisman has a video on the U.S.A. Rice Federation site that will give you some tips on cooking rice and you can also find lots more great recipes there:
http://riceinfo.com/