So our monthly wine tasting group has a name— #blendedcru—and I hope you will follow our hashtag on Twitter the first Wednesday of every month when we meet at 5 p.m. ET to talk, taste and tweet about new and interesting wines.
April had us enjoying rosé on April Fool's Day—one of my favourite things to drink! Rosé really does go with pretty much everything, and because it can be made from a number of different grapes it is always interesting to taste multiple bottles back-to-back. For this tasting, we had three bottles—two from Ontario and one from New Zealand—to say they couldn't have been more different would be a huge understatement.
First up, the 2013 Pelee Island Cabernet Franc rosé. Host, André Proulx loves Pelee Island wine, so they are becoming a staple at our tastings. This one had a surprisingly pale colour for a Cabernet Franc-based wine, it was a very pale, almost blush, pink. In the glass, this had lots of peach, strawberry and melon on the nose, but was much dryer than I would have anticipated on the palate. With a medium finish and strawberry notes, I would prefer this one with food.
Henry of Pelham 2014 rosé was next and the colour was an impressive dark pink. A blend of Pinot Noir, Merlot, Gamay, Cabernet Sauvignon and Cabernet Franc, this wine has a distinct candied fruit nose featuring watermelon and strawberry. It's dry on the palate with that blend of red fruit and savoury notes that I love in a rosé. Of the three, this is the one I'd most like to enjoy on my patio this summer.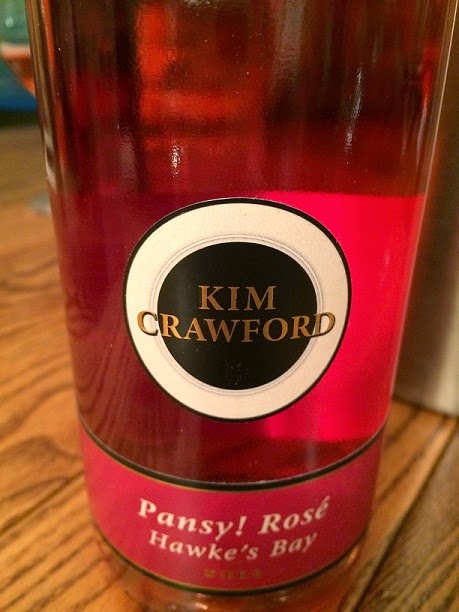 Finally, we tried the Kim Crawford Pansy! rosé, which was the brightest pink of all the bottles—almost fuchsia in colour, which is always fun. On the nose, this was like a fruit market on a summer morning, lush and full of strawberry, apple, peach, melon and more, which made the heavily vegetal notes on the palate a bit of a surprise. Imagine drinking a strawberry salad and that sort of sums this wine up—a bit too earthy for my tastes with lots of green notes. That said, if you're looking for something to pair with a summer salad or a lentil-based dish, this would be pretty perfect. I can't say I'd want to sip it on the dock at the cottage, but with lunch? Absolutely.
Overall, a fun tasting opportunity and a reminder that I need to stock up on some new rosé for the season. One favourite that didn't make it into this tasting? Creekside Estate Winery's delicious rosé—I can't wait to try their new vintage.
As always, you can check out other reviews from this tasting by my #blendedcru partners in wine: André Proulx and Jason Solanki.
Do you like rosé? What are your favourites?