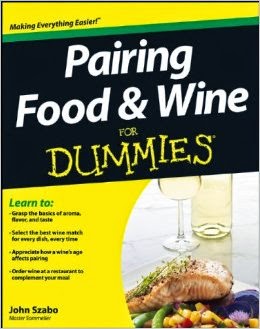 Sometimes I think there is a bit of a stigma around the 'For Dummies' books, as the title can make it seem like these books are, well, for dummies. I hope that doesn't discourage serious people away from their excellent wine titles – including John Szabo's Pairing Food & Wine for Dummies, which I read in 2014.
One of the first wine books I ever read was Wine for Dummies by Ed McCarthy and Mary Ewing-Mulligan and it was a very valuable resource for a newbie. They covered the basics in a straight-forward and easy-to-understand way. I referenced the book frequently during my early wine classes.
Szabo's book is another excellent reference for any wine-lover to have on hand. As with the rest of this series, his book breaks down the basics of food and wine pairing into easily digestible chunks so even a wine novice can benefit. He also looks at wine and food from regions around the world and includes some really useful and interesting pairing suggestions – I have to admit I'd never thought about what to pair with a Portuguese custard tart, but now I really want to try his recommended wine.
One of only three Master Sommeliers in Canada, Szabo is an authoritative voice on wine and it's nice to see that his book is both accessible and informative. Whether you are new to wine or a seasoned aficionado, this book is worth having in your collection. I expect I'll be pulling it out on many occasions in the years to come.
You can read more of John Szabo's writing at WineAlign.com or on his website http://www.johnszabo.com/.