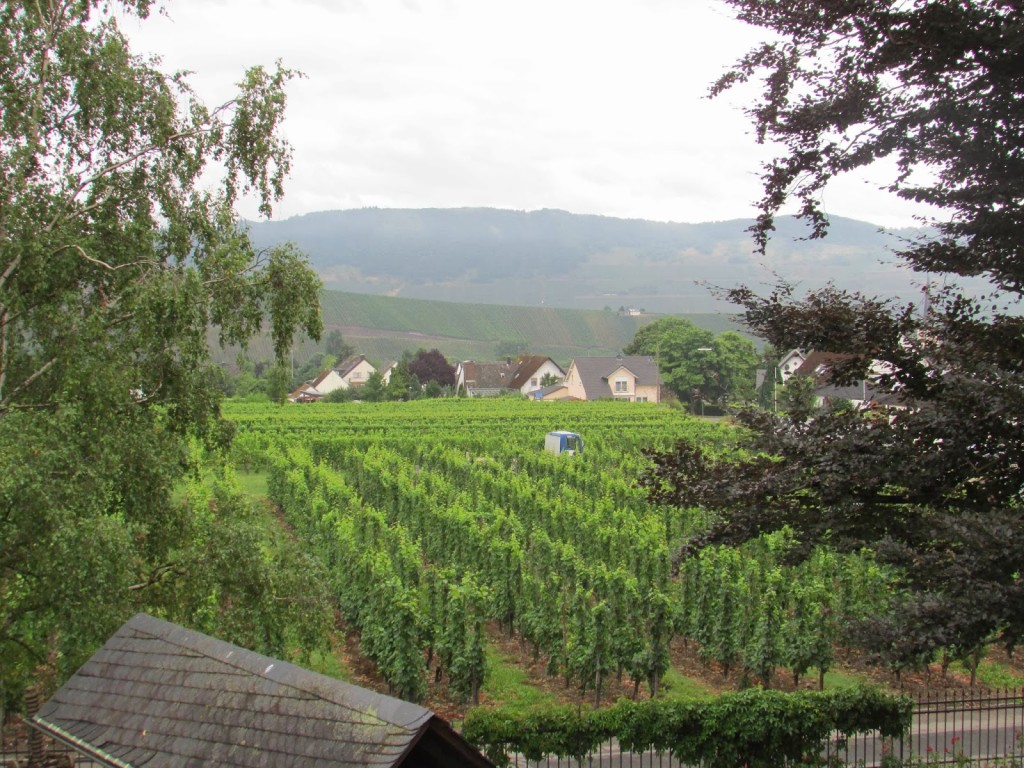 Every year, Shawn flies to Germany to attend the world's biggest heavy metal festival. It's one of his favourite things to do and I am more than happy not to join him – camping with 70,000 people at a giant outdoor music festival? Not for me. However, it's a great opportunity to tack on an extra week of touring somewhere in Europe and this year I decided to fly in and meet him for a week driving through the Mosel Valley.
What an incredible trip! I can't say enough about the
Mosel Valley
– it is truly breathtaking and one of those places I hope everyone gets a chance to experience at some point. We started in Hamburg (the city closest to the concert), drove to Koln (stunning – just wish we hadn't spent four hours of our day here completely lost) and then drove on to Bernkastel-Kues in the Mosel, where we spent three days. We made a side trip to Trier (which wasn't to our tastes), but otherwise were happy to spend those days exploring Bernkastel-Kues.
We were especially lucky that our hotel in B-K, the
Burgblick,
also has a wine bar. The proprietors are very knowledgeable about wine and were able to teach us much about different styles. I even tried some German reds, which were… interesting! They're quite tasty, although you rarely see them outside Germany, and I actually found them somewhat similar to Niagara reds in style and character. If you ever find yourself in B-K, I highly recommend staying at the Burgblick – it's lovely, with a wonderful daily breakfast, beautiful views (we had a view of the castle ruins from our room), and that great wine bar. It's also walking distance from the Medieval Village, so you can get there easily without having to stay right in the heart (I suspect that would be very loud).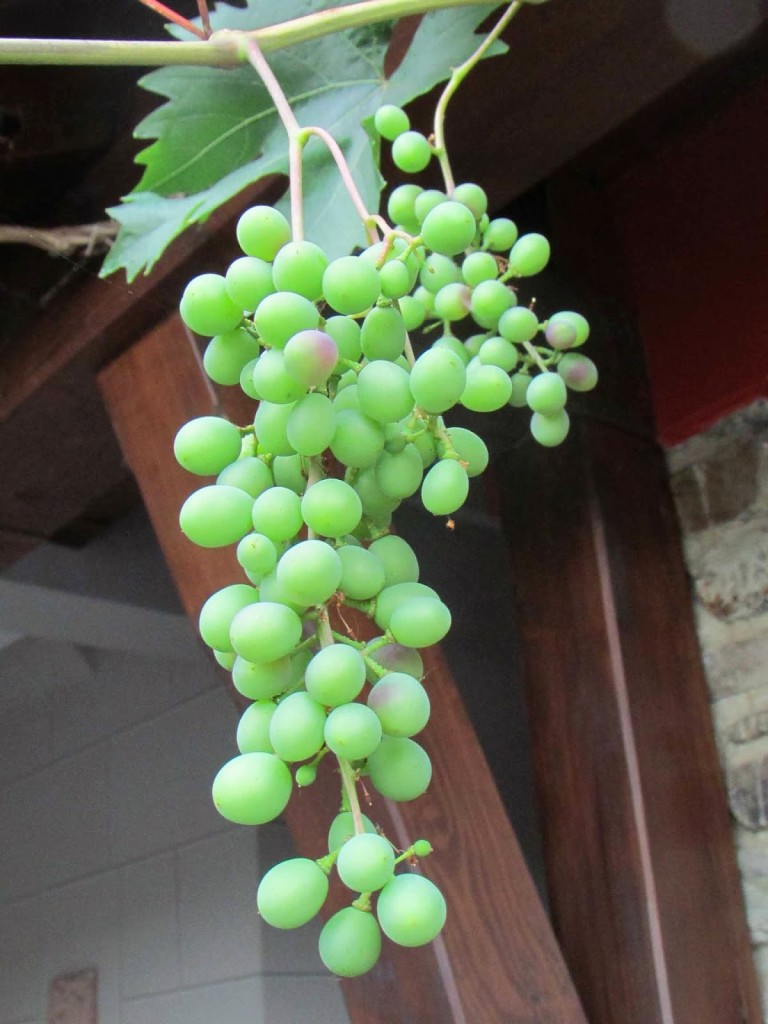 While B-K is full of wine – seemingly every house we passed had a sign up offering wines from their family vineyards – we were lucky enough to have been able to book a private tour and tasting at St. Urbans-Hof. For those unfamiliar, Nicholas Weis and his family have been making wine in the Mosel for generations. Mr. Weis was also one of the first to bring German-style Riesling to Niagara when he founded Vineland Estates. In fact, the grapes for my favourite Ontario Riesling (Vineland's Elevation) are cloned from Mosel grapes from St. Urbans-Hof.
On a beautiful day in August Shawn and I went to visit. What a stunning place. The building is gorgeous and it is surrounded by acres of vineyards. Not all of
St. Urbans-Hof
grapes are grown here (they have several vineyards in Germany), but many of them are. We were led through an incredible tasting by one of the
staff and it truly was like having a private tutorial on the Mosel region.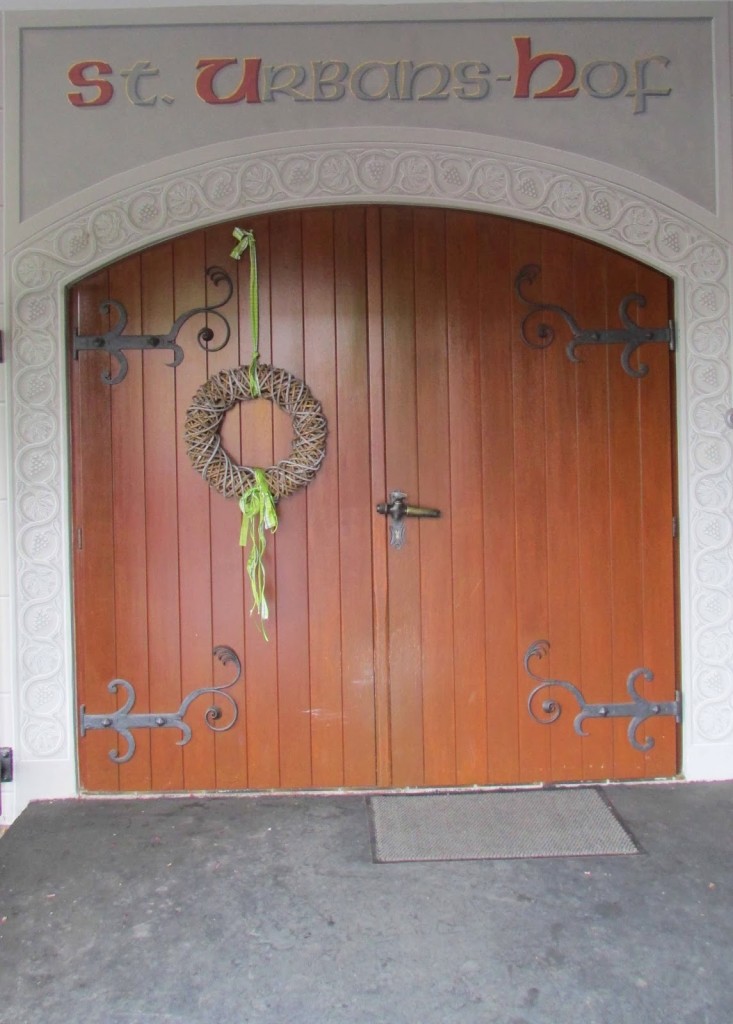 St. Urbans-Hof
has such spectacular Rieslings and they are all so unique and different. What you anticipate from a German Riesling – crisp acidity, low alcohol, a sweeter style – is there in some of the wines, but in others there were such unexpected characteristics – bone dry Rieslings with beautiful floral notes, older
vintages with petrol notes (or a surprising lack thereof). I was blown away by how each wine expressed the terroir in its own individual way and so differently than many of the other wines we had tried.
As a special treat, we were given a tour of the production area and the cellars, which was such an incredible learning opportunity. Shawn and I were impressed by the size of the operation and how even with a modern style, so many of the old world touches were present in the cellars.
This was a once in a lifetime tasting opportunity and it was a highlight of a spectacular trip. I came home with a few bottles of
St.Urbans-Hof
and such a hugely expanded understanding of German wines from the Mosel area. A huge thank you to Brian Schmidt, Nik Weis, Nicole at
St. Urbans-Hof
and everyone else who made our visit possible.
You can get some
St-Urbans-Hof
wines at the LCBO and I highly recommend searching them out. We drove out to Oshawa to scoop up the last bottle of their Kabinet recently, as it was just incredible.