* This is my fourth in a series about Prince Edward County Winemakers that Uncork Ontario and I will be doing during the lead up to Terroir: The County Wine Celebration on May 3rd. I'm so excited to introduce my readers to even more PEC wineries!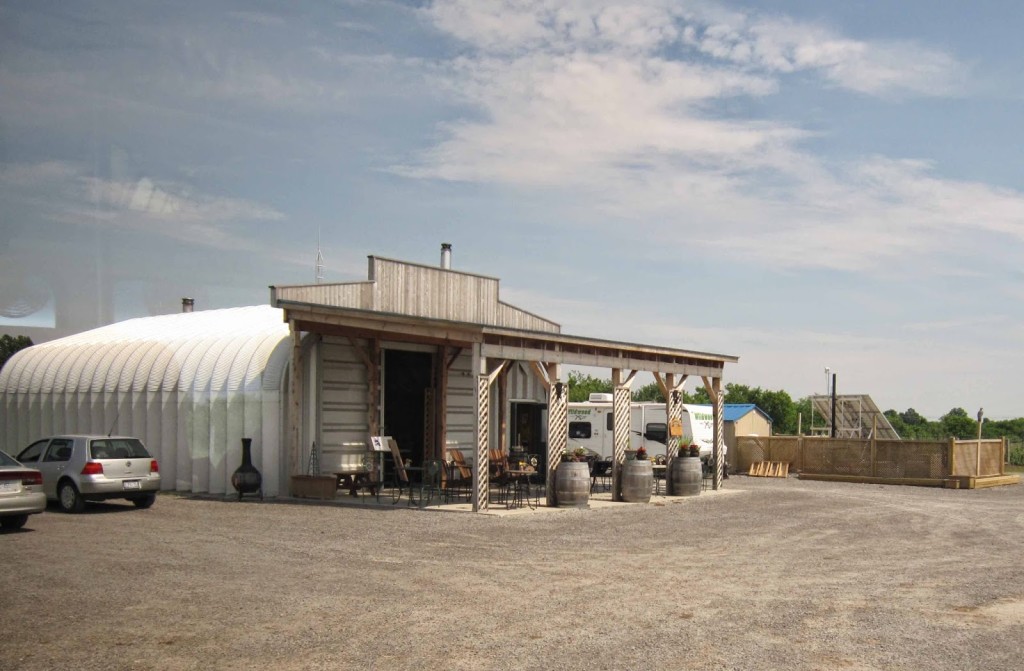 Growing up, mine was the family in the neighbourhood with a large coil of black tubing on our roof. My dad affixed it to the back side of the roof so the neighbours wouldn't complain about how it looked, but it was still a strange site. However, we had the warmest pool in the neighbourhood and our electricity bill was never high.
If you had told me then that solar power was going to one day be enough to support a fully functioning winery, I may have looked at you little funny. But people like my dad were smart enough to know that sometimes the sun is a more than effective way to support your energy needs. Harwood Estates in Prince Edward County is the province's first fully solar winery and, as co-owner John Rode can attest – it's working out just fine for them.
Harwood, with its stable of award-winning wines, is competing on the national stage with limited use of fossil fuels. It's a new level of environmental awareness – and one that they are hoping to improve on as they grow. This year, they are starting to collect their rainwater and will also be experimenting with collecting and storing water from their pond to use to water their vines during the dry season. It's an impressive feat – especially for a winery that's making almost 3000 cases, including their first LCBO product in the coming year.
"We have three big buildings – our barrel cellar, our winery building and another trailer and workshop – all running off a modest solar panel," explains John. There is definitely a cost to running solar power, but it's about 15% of what another winery will pay and Harwood never has to deal with blackouts – a fairly regular occurrence in the County.
"We're able to live up to [our production levels] with the amount of energy that we have. And if we need more, we'll just buy more solar panels," he says.  It's definitely impressive – especially given the surprising lack of government support for programs such as this.
Harwood, which opened in November 2009, has proven that regardless of their power source, their wines are some of the best in the County. They continually place at the top in wine competitions and have won great critical acclaim.
"In 2007, when we were getting ready to open in the County, I remember someone said to us, 'just make good wine and people will find you,'" says John. "This is not the case. Even if you're making Opus One, they will not just find you. The best way is to make a wine that is confirmed by the authorities to be a good wine." He believes strongly that if your wine shows well at events, it will lead to the sort of awareness that simple word-of-mouth isn't going to attain. And there is certainly validity in that thinking – as can be seen by the growth in PEC tourism based on the growing acclaim for and awareness of PEC wines.
Their Frontenac Gris dessert wine and St. Laurent are two of their award winners and best sellers, as is their Windward White. This year, the Windward blend is changing, with Riesling replacing Vidal, and they are very excited about the results thus far. It is one that you will definitely want to try in their June release. Their fall release will feature a Meritage that they think is shaping up to be extraordinary – another must-try.
Harwood wines will be on display at Terroir on May 3rd in Picton. "If people have a good reason to come to the County, they will," says John."One or two wineries is not a good enough reason. If there are 40 good wineries and a very big percentage of them are winning awards, that's a very good reason to come to the County. Terroir Festival makes it possible to hold up a sign that says 'we're making a lot of good wines here.'"
To learn more about Harwood Estates visit: http://www.harwoodestatevineyards.com/
To learn more about Terroir Festival visit: http://www.countyterroir.com/