Yes, I am woefully behind with my blog posts, it's true. But as I know several wine-loving friends who are planning trips to California, I thought it was high time to start telling the stories of some of my favourite winery visits during our recent trip to the state. I'll start with Buttonwood Farm Winery and Vineyard and you can expect updates on Daou and Hope Family Vineyards to come very soon!
On the Friday evening of the Wine Bloggers Conference, each of the 300+ blogger and industry reps attending were whisked away to one of ten surprise winery visits. Our mini-bus driver gave us a few hints as we drove through beautiful Santa Barbara wine country and we were all thrilled when we learned that our destination was Buttonwood Winery.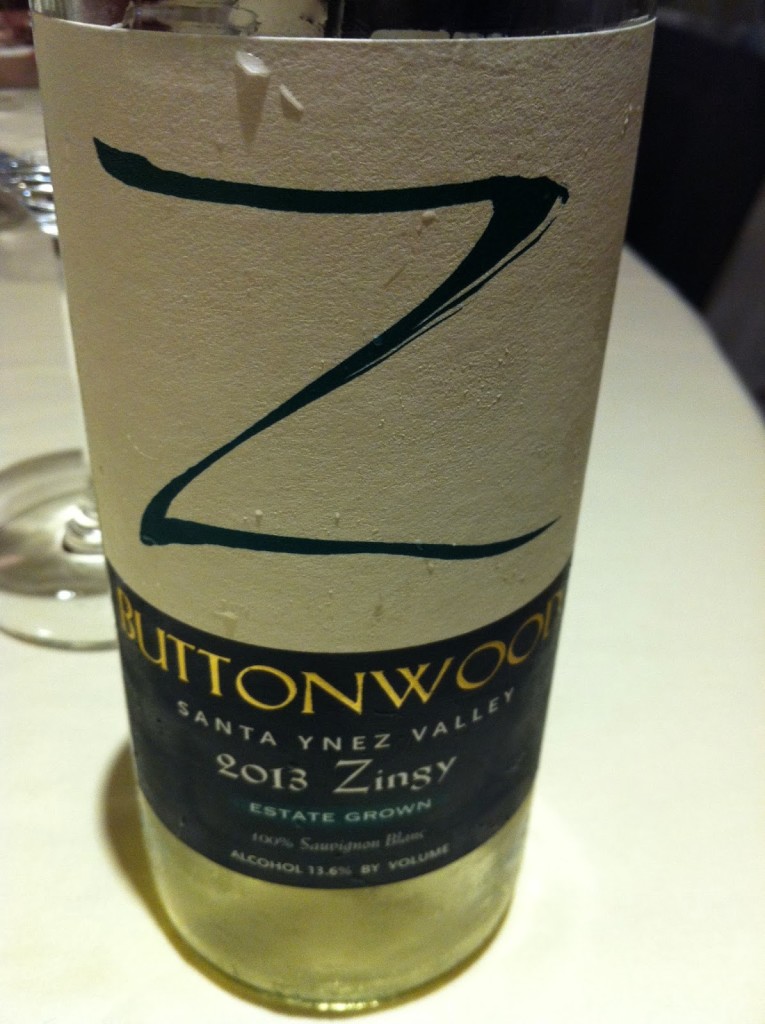 Zingy – one of the fabulous Buttonwood wines
We had tried one of Buttonwood's wines at that afternoon's speed tasting, but seeing this location in person is spectacular. The winery is set on 106 acres of gorgeous land (39 acres are vineyard). We started our visit with a hilltop toast, overlooking the beautiful grape vines surrounding us. Our host, winemaker Karen Steinwachs introduced Brander winery owner, Fred Brander, to provide an overview of the proposed changes to the Santa Ynez Valley AVA, which they are hoping to get approved very soon. I find the AVA issue an interesting one, though I have to admit I need to educate myself more on it.  I found a good explanation of the changes on the Brander Vineyards site, which some of you may find helpful in understanding this: http://www.brander.com/we-need-more-avas-2/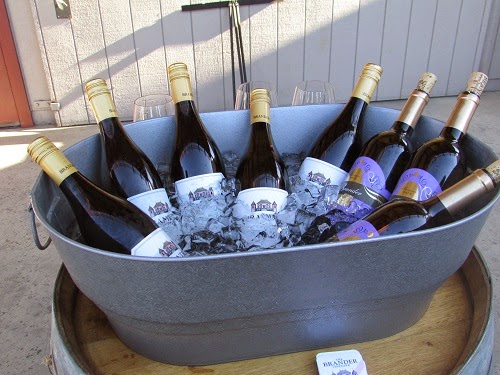 The incredible Brander Sauvignon Blanc line-up.
After the spectacular views, we walked down to the winery for a delicious course of appetizers and wine tasting. The wines, all from the Santa Ynez Valley, were very high quality, although I was really blown away by the Brander Vineyards Sauvignon Blanc. I tasted through their recent vintages with winemaker Fabian Bravo and was so impressed. I am hopeful I can find them in Toronto, as I'd really like to have these again.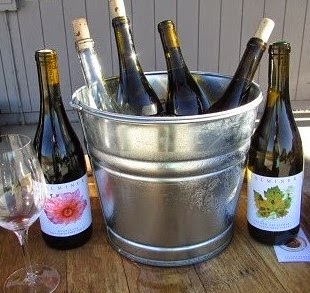 Wines from Solminer
I also really enjoyed the Solminer wines I tried – this is a newer (and smaller) winery, so they do not currently have distribution in Canada. I hope that changes soon, as I think they are well worth seeking out. Shawn and I are already planning to visit the area again in a year or two and Solminer will definitely be on my 'must' list, as the wines were so well done.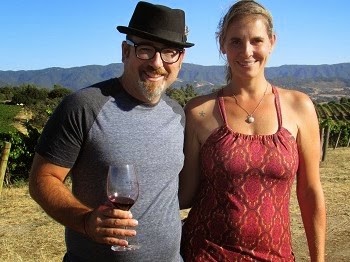 Anna and David deLaski of Solminer
Over an incredible dinner catered by The Ballard Inn & Restaurant, and held in Buttonwood's beautiful barrel room, I was able to try Buttonwood's 2013 Syrah Rosé, which was a wonderful compliment to the meal. Over a delicious peach cobbler (made with peaches grown on Buttonwood's farm), I tried a lovely dessert wine from Rideau Vineyard – a unique and delicious blend of Riesling and Viognier. This was my first California dessert wine and I was impressed.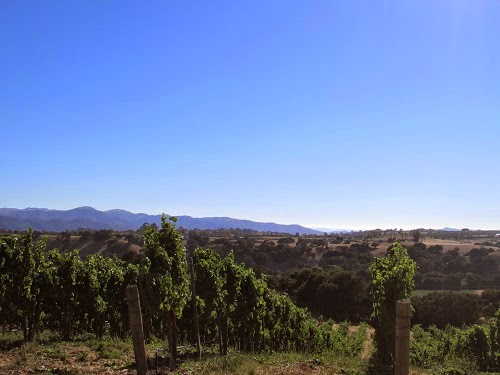 Seriously, how could you not want to visit Buttonwood?
I cannot speak highly enough of our wonderful visit to Buttonwood. I know that I'll want to visit again when next we're in California – the wines are well worth trying and the location is breathtaking. I also had a wonderful conversation with winemaker Karen Steinwachs, whose passion for winemaking is infectious. You must visit if you are in the Solvang area – this is a winery that won't disappoint.
For more information on Buttonwood Farm Winery and Vineyard: http://www.buttonwoodwinery.com/
For more information on Solminer Wines: http://www.solminer.com/
For more information on Brander Vineyards: http://www.brander.com/